It's no secret that Kanye West is a controversial figure in the fashion world: his signature style and outlandish statements have made him one of the most unpredictable celebrity designers in recent memory. His latest release is the Adidas Yeezy Slide.
Over the years, Kanye West and Adidas have created countless sneaker models that sneaker lovers worldwide covet. Including versions of Yeezy Boost and much more, of course. Adidas and Ye released a new line called Yeezy Slides with unique and striking color schemes to expand the reach and gain more support and acclaim.
With such a variety of sizes, it will help users to choose the most suitable size for their feet and create a highlight with eye-catching colors. So which size should you get? This article will help you answer this question by providing helpful guidelines on choosing the best sizes.
Yeezy Slides Size Chart for Men & Women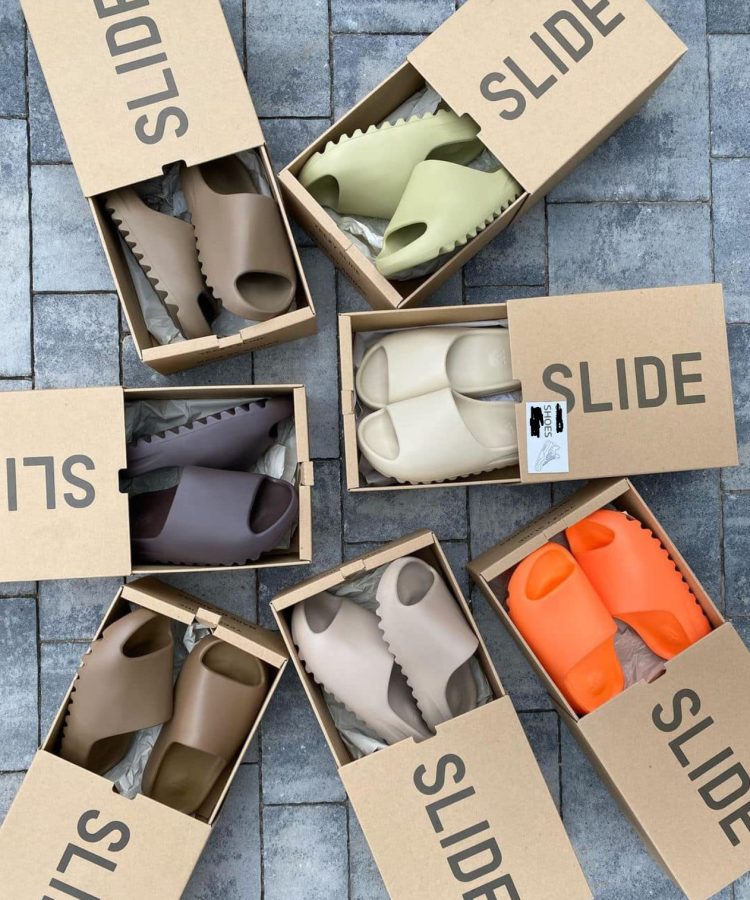 It has become abundantly clear that the size conversions for Yeezy Slides differ from those used for other Adidas & Yeezy footwear ever since they were released into the public eye. If you are interested in purchasing a new pair of Slides, the information you need regarding the size chart is provided below.
The Yeezy Slides are designed for men and women and are not offered in half sizes. If you are typically a size 10.5, you should opt for the size 11 rather than the 10.5, in my opinion. And if your feet are vast, you might even require size 12 footwear.
| | | | | | |
| --- | --- | --- | --- | --- | --- |
| US Size | EU Size | UK Size | Brazil Size | Japan Size | Korea Size |
| 3.0 | 36.0 | 2.0 | 34.0 | 21.0 | 210 |
| 3.5 | 36.5 | 2.5 | 34.5 | 21.5 | 215 |
| 4.0 | 37.0 | 3.0 | 35.0 | 22.0 | 220 |
| 4.5 | 37.5 | 3.5 | 35.5 | 22.5 | 225 |
| 5.0 | 38.0 | 4.0 | 36.0 | 23.0 | 230 |
| 5.5 | 38.5 | 4.5 | 36.5 | 23.5 | 235 |
| 6.0 | 39.0 | 5.0 | 37.0 | 24.0 | 240 |
| 6.5 | 39.5 | 5.5 | 37.5 | 24.5 | 245 |
| 7.0 | 40.0 | 6.0 | 38.0 | 25.0 | 250 |
| 7.5 | 40.5 | 6.5 | 38.5 | 25.5 | 255 |
| 8.0 | 41.0 | 7.0 | 39.0 | 26.0 | 260 |
| 8.5 | 41.5 | 7.5 | 39.5 | 26.5 | 265 |
| 9.0 | 42.0 | 8.0 | 40.0 | 27.0 | 270 |
| 9.5 | 42.5 | 8.5 | 40.5 | 27.5 | 275 |
| 10.0 | 43.0 | 9.0 | 41.0 | 28.0 | 280 |
| 10.5 | 43.5 | 9.5 | 41.5 | 28.5 | 285 |
| 11.0 | 44.0 | 10.0 | 42.0 | 29.0 | 290 |
| 11.5 | 44.5 | 10.5 | 42.5 | 29.5 | 295 |
| 12.0 | 45.0 | 11.0 | 43.0 | 30.0 | 300 |
| 12.5 | 45.5 | 11.5 | 43.5 | 30.5 | 305 |
| 13.0 | 46.0 | 12.0 | 44.0 | 31.0 | 310 |
| 13.5 | 46.5 | 12.5 | 44.5 | 31.5 | 315 |
| 14.0 | 47.0 | 13.0 | 45.0 | 32.0 | 320 |
| 14.5 | 47.5 | 13.5 | 45.5 | 32.5 | 325 |
| 15.0 | 48.0 | 14.0 | 46.0 | 33.0 | 330 |
| 15.5 | 48.5 | 14.5 | 46.5 | 33.5 | 335 |
| 16.0 | 49.0 | 15.0 | 47.0 | 34.0 | 340 |
| 16.5 | 49.5 | 15.5 | 47.5 | 34.5 | – |
| 17.0 | 50.0 | 16.0 | 48.0 | 35.0 | – |
Yeezy Slides Size Chart for Kids
According to an announcement from the Adidas brand, these slides will be a family product like the previous Yeezy Boost shoes. The reason is that it was released in 3 versions for adults, children, and babies. This design is a tradition of Yeezy's collaboration with rapper Kayne West.
It's not surprising that Yeezy Slide is also for kids; you can find the size that your child need. If your kids have a large foot, the best way is to look at the information in the table below. Most likely, your child will be able to fit into an adult version of the Slides or some other form of footwear offered by Adidas.
US Size
UK Size
EU Size
Kids Age
Foot Length

(In Inches)

Foot Length

(In Cm)

1.0 Inf

0 Inf

16

0-3 Mth

3.7″

9.3

2.0 Inf

1.0 Inf

17

3-6 Mth

3.9″

10.0

3.0 Inf

2.0 Inf

18

6 Mth

4.3″

11.0

4.0 Inf

3.0 Inf

19

9 Mth

4.6″

11.6

5.0 Inf

4.0 Inf

20

9-12 Mth

4.8″

12.3

5.5 Tod

4.5 Tod

21

12-18 Mth

5.1″

13.0

6.0 Tod

5.0 Tod

22

18-24 Mth

5.4″

13.7

7.0 Tod

6.0 Tod

23

2 Years

5.7″

14.4

8.0 Tod

7.0 Tod

24

2 Years

5.9″

15.0

9.0 Tod

8.0 Tod

25

3 Years

6.1″

15.6

9.5 Tod

8.5 Tod

26

3 Years

6.4″

16.3

10.0 Kids

9.0 Kids

27

4 Years

6.7″

17.0

11.0 Kids

10.0 Kids

28

5 Years

7.0″

17.7

12.0 Kids

11.0 Kids

29

6 Years

7.2″

18.4

13.0 Kids

12.0 Kids

30

7 Years

7.5″

19.0

13.5 Kids

12.5 Kids

31

8 Years

7.8″

19.7

1.0 Kids

13.0 Kids

32

8 Years

8.0″

20.4

2.0 Kids

1.0 Kids

33

9 Years

8.3″

21.0

3.0 Kids

2.0 Kids

34

10 Years

8.5″

21.7

3.5 Kids

2.5 Kids

35

11 Years

8.8″

22.3

4.0 Kids

3.0 Kids

36

12 Years

9.0″

23.0
Benefits Of Using Yeezy Slide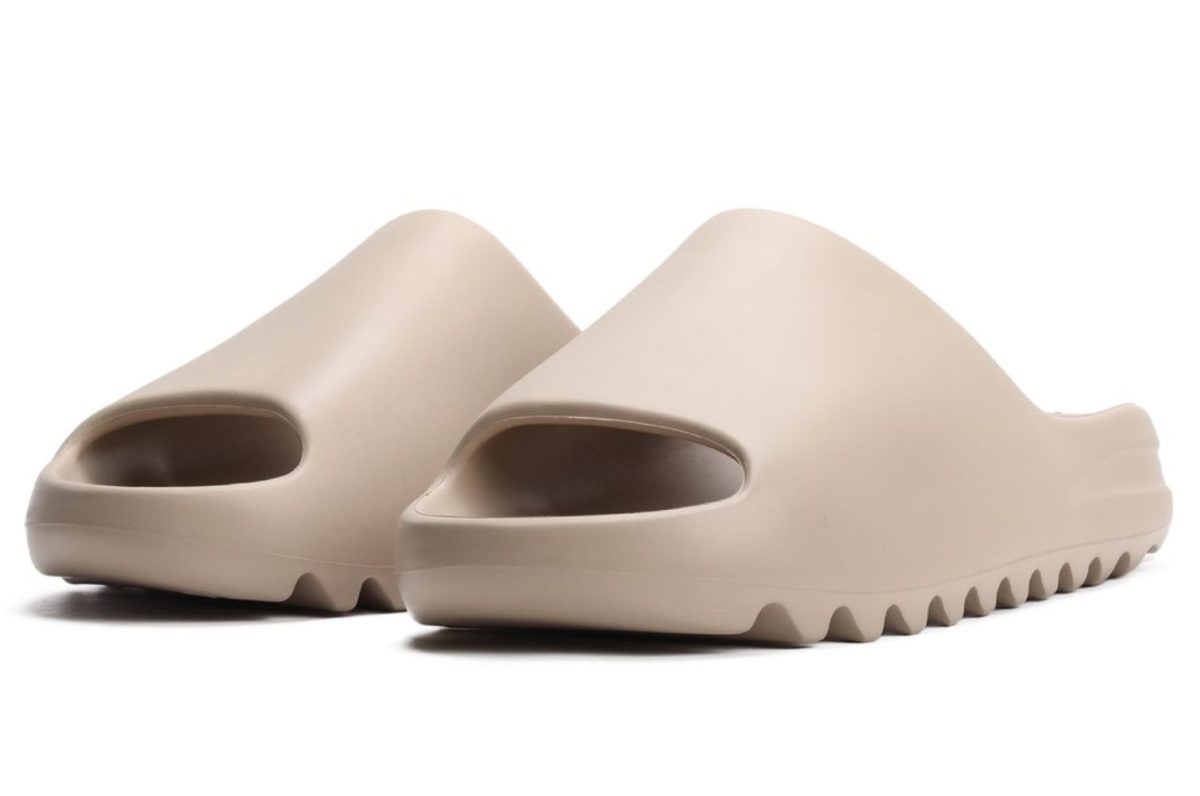 Since its launch until now, Yeezy Slide have made people worldwide love and hunt for their unique and innovative design. However, this product still faces many difficulties; not as successful as other products, but it still receives a lot of praise from fashion fans. This product line offers many advantages thanks to the Yeezy Slide characteristics discussed earlier. The following are some of those benefits:
Help increase height
Users can add a few inches to their height by hacking their shoes to have a sole that is 6 centimeters high. It is easy to enhance one's height through slides if one knows how to combine different clothing items.
It's a pair of rain slides
Because EVA foam serves as the primary construction element, wearers of these slides won't have to worry about their feet getting wet even if they are out in the pouring rain. Additionally, the soles have deep grooves that contribute to the shoe's high level of slip resistance. Consequently, the slides may now be used for a far wider variety of purposes, and the product has evolved into a one-of-a-kind and stylish pair of rain slides.
Catch the hot trend following the trend very well
Young folks consistently choose Yeezy Slides with one-of-a-kind designs as their top picks. Those who utilize it will be better able to exhibit their sense of style if it is new and distinctive. In addition, slides are simple to match with other clothes and come in a wide variety of patterns, which means that you will be more noticeable and more appealing to others.
Bring comfort to the user's feet
This is not an incorrect statement when discussing the advantages of slides, particularly when discussing the Yeezy Slide. It will be uncomfortable for people working in offices to wear shoes all day. If they wear slides, they will have less foot discomfort, feel more comfortable overall, and be able to increase their job productivity as a result.
Basic Information About Adidas Yeezy Slide
Right from their debut, the Yeezy slides have had a scorching attraction in the market. Not only because of the success of the popular Yeezy shoes but also because of the charm of Kanye West, a talented rapper, and many scandals.
Therefore, right from the time of its debut, Yeezy Slide has had a great attraction. Adding to the trend of wearing socks with sandals makes Yeezy Slide even more sought after.
Materials
Yeezy Slides are constructed using an EVA foam substance that is then molded into a single piece. This is an exceptionally long-lasting material, and it is also incredibly lightweight, which means that consumers may utilize it comfortably without sacrificing the beauty of the sandals. Using these types of materials will assist in making your feet feel comfortable, light, and not secretive, even when wearing slides for an extended period.
Design
The slide is designed to be extremely simple, hugging the shape of the wearer's foot. There are no decorative patterns on the slide body, only the original color of the product. The slide base has a simple structure, just horizontal lines that create friction and a higher grip. The same simplicity creates the luxurious, gentle, and delicate beauty of Yeezy Slide.
Color
Yeezy Slide launched to the market with primary colors, including colors:
Resin

Soot

Ocher

Bone

Core

Pure

Enflame Orange

Green Glow

Onyx (2022)

Flax (2022)
Size
All the colors above are in various sizes and suitable for children, adults, and even infants because they include a heel strap. Because there is a wide variety of sizes, the customer may select the most appropriate for their foot and then make it stand out with captivating colors.
Read more Adidas shoe size chart in this article to compare
Price
The scarcity created a cult, which pushed the Yeezy brand's market price higher. The retail price for each pair of slides is 55 USD for an adult size while children's size retails at 45 USD and infant size is 35 USD, but the market price is much higher when double or triple, quadruple about $200 to $500.
How To Clean Yeezy Slide?
For the slides to be durable and always like new ones, it is essential to preserve Yeezy Slide properly. Proper storage keeps slides away from dirt, water, and sunlight; this will help prevent them from fading or deforming during use.
Make sure you don't stack the slides on top of each other or throw them, as this will cause your slides to be deformed and extremely dirty.
Prepare
 A soft bristle brush, maybe a toothbrush

 A clean towel moistened with moisture

 Diluted soapy water
Implementation steps
 You take a brush, wet it with soapy water, and apply it to the stain in circular motions.

 Gently rub in the vertical direction, then horizontally, diagonally, left, and right. Do not use force to push too hard.

 Afterward, wipe the slide with a fresh towel and repeat the process.
4 Yeezy Slides For Men And Women 
Yeezy slides are a million-dollar handshake between Adidas and Kanye West; thus, these slides' quality and style will never let you down. Do not overlook the four pairs of Yeezy slides in the following paragraphs if you wish to be well-dressed for the next summer season.
Yeezy Slide Earth Brown
Yeezy Slide Earth Brown has a deep, basic and straightforward brown color. The entire slide body is made of monolithic EVA foam, so it feels uniform and extremely light when walking on the foot. The slide midsole is relatively thick and helps you cheat a bit more height.
The heel sole is slightly raised compared to the mid-body to create a comfortable feeling, reducing the force put on the foot when participating in activities such as walking, running, or exercising.
The plus point of this brown slide is simplicity and cleanliness. Different from the bright slides, Yeezy Slide Earth Brown will help young people confidently and comfortably participate in outside activities without worrying and preserving. Cleaning dark slides will also reduce costs and be much easier.
Yeezy Slide Core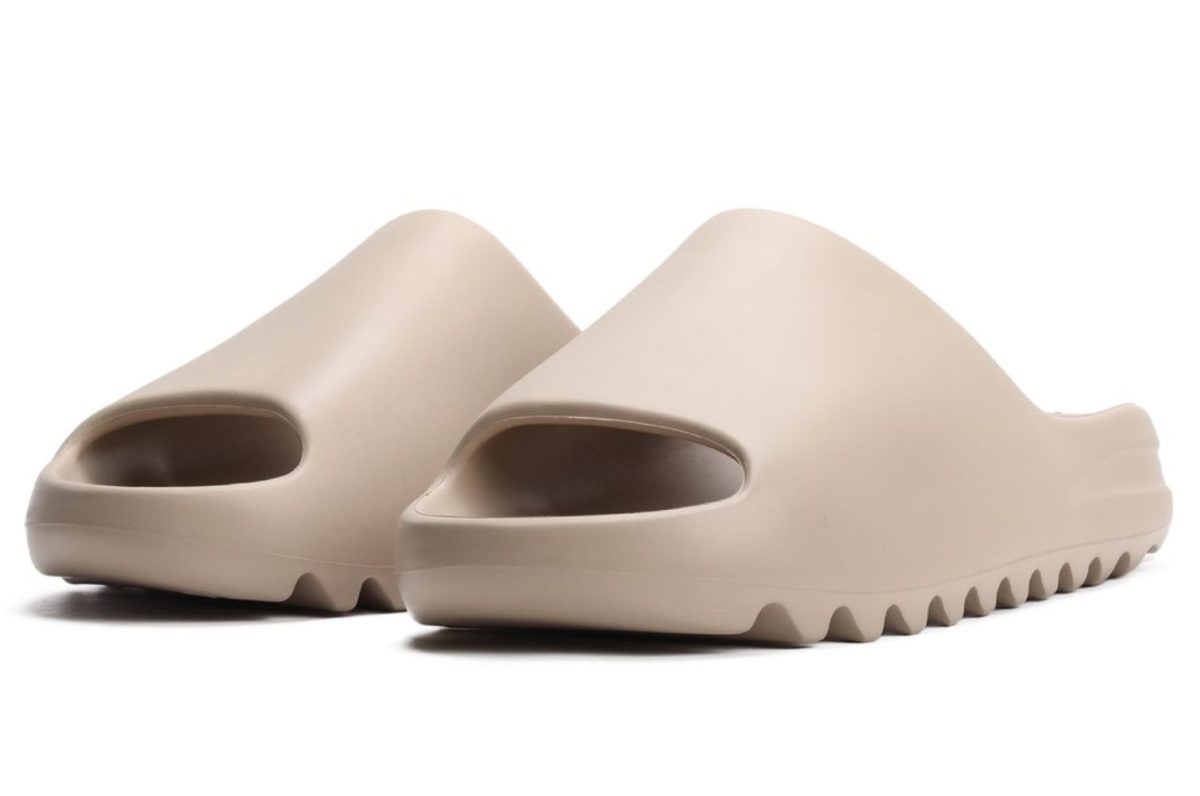 The conventional flip-flop sandals designed by Kanye West will be given a modern makeover in the Adidas Yeezy Slide "Core." The Yeezy Slides "Core" and "Soot" are introduced by Adidas as a manifesto for the brand's new direction. The world of sandals may be used in either the summer or the winter. 
Because it is constructed of EVA foam that is both safe and delicate, the Yeezy Slide "Core" is exceptionally long-lasting. The arch wraps around the foot to provide a secure fit and improve traction.
Yeezy Slide Bone
Yeezy Slide Bone made young people crazy when watching the web for hours to hunt. The popularity of the Slide Bone was so hot that it sold out instantly on the Adidas website after just a few minutes of restocking.
The highlight of Yeezy slide bone is its high aesthetic in simplicity and convenience. Those who love creativity can express their personality with separate, unmatched custom drawings thanks to the bright colors. In addition, this Yeezy Slide pair is extremely loved by Kanye West and is worn in many outfits. Players need to glance to know the brand and quality.
The durability of Adidas slides is also highly durable, instead of having to spend money to change 2-3 pairs of sandals per year. You can invest in a pair of Yeezy Slide Bone for 3-5 years.
Yeezy Slide x KAWS
Those who love the cute, youthful and bright should immediately own this Yeezy Slide x KAWS—a bright summer yellow color and unique illustrations that cannot be found on other Slides. This illustration is a collaboration between Yeezy and KAWS – a talented artist with many iconic patterns. The characteristic cute drawings only KAWS can create make this Yeezy Slide x KAWS extremely special.
Beautiful, unique, and easy to wear, the Yeezy Slide x KAWS pair is scorching in the market and is sought after by many people. Quickly place an order to own this exclusive sandal right away.
3 Ways To Coordinate With Yeezy Slide
Are you looking for clothing to wear with Yeezy Slide? This article explores some of the best clothes to match with Yeezy slides.
Comfy outfit with high-collar white socks
Select clothing and socks that are uncomplicated. A laid-back style may be achieved by wearing plain white socks with an essential pair of shorts or joggers with a loose fit. 
Or, loose-fitting pants are another excellent option on a day like today in the summer. When worn by men, it is necessary to wear shorts and white socks to make ladies fall in love with them; however, when worn by women, it makes them look significantly taller and slimmer.
Color matching with Austria
Wear your Yeezy slides with clothing that are casual and comfy. The fact that everything is in perfect harmony and the earth tones complement each other is what I enjoy best about this combination. 
The comfy green sweatshirt goes perfectly with the beige shorts, making the outfit seem pretty cheery. The fact that it and the slide are the same tones, however, is the most critical aspect of this ensemble since it gives the impression that everything is finished.
Oversized outfit
I styled the slides relaxed for the loose outfit, wearing them with plain white socks, a loose t-shirt, and some neutral accessories like a black bag, black cat eye sunnies, and some gold jewelry. This type of outfit is my go-to for those days when I want to be more laid-back but still look stylish with ease.
Anything oversized is my favorite, and I always recommend going at least two sizes bigger when shopping for t-shirts or sweatshirts. Not only are they neater, but they instantly elevate your outfit and make it look so much more relaxed. I usually style my Yeezy slides with an oversized t-shirt or sweater worn as a dress or jogger pants and a tanker tank top or crop top.
FAQs
Are the Yeezy Slides true to size?
In addition to measuring feet, you can choose the size of Adidas Yeezy Slide shoes through the shoes you already have. If you already know your proper size, choosing the size for the Adidas Yeezy Slide is very simple. If you have wide feet, you may securely size up with the Adidas Yeezy Slide or stay true to size.
How long does Yeezy slide last?
The Yeezy Slide is a shoe that has a remarkable level of durability, especially considering its lightweight design. In fact, similar to the Yeezy Foam Runner, the sandal hardly shows any signs of wear at all, even after being worn for a whole month.
How well-known are Yeezy slides?
By a significant margin, the most well-liked shoe for the warm weather season is the Yeezy slide. You should have no trouble finding a pair of Yeezy Slides that complements your look, thanks to the reasonable retail price and the plethora of color variations available.
How comfortable are the Yeezy slides?
The Yeezy slides are pretty cozy if you have the appropriate size. Because of how spongy they are, it gives the impression that you are walking on clouds. In addition, they provide an excellent snug fit and make the feet feel quite solid once they are on.
Find more Yeezy shoe size chart by Adidas in this post