Stride Rite is an iconic American footwear company that has been in business for over a century. Founded in 1919, Stride Rite specializes in children's shoes and has a reputation for providing high-quality and durable footwear for kids of all ages.
One key factor that sets Stride Rite apart from other children's shoe brands is its commitment to proper fit and sizing. Stride Rite recognizes that children's feet are constantly growing and developing, and they understand the importance of providing shoes that fit properly and offer adequate support.
Stride Rite brand offers a thorough sizing chart that accounts for foot length and width to ensure parents can discover the ideal fit for their kids. Overall, Stride Rite has become a well-liked option among parents searching for dependable and cozy shoes for their children due to its focus on quality, durability, and good fit.
Stride Rite Shoe Size Chart
A shoe company started by Philip Green and Jacob A. Slosberg in 1919. A global footwear manufacturer that creates sporty and stylish footwear for kids in sizes 3T (US) to 7 (US). 
Children should wear Stride Rite shoes for every season and associated activity. Entire collections of shoes that offer stability, security, and support are available for both boys and girls. 
As kids age, the most crucial characteristics of footwear are comfort and convenience, which are found in Stride Rite footwear for kids. The tables below contain all of the sizes for Stride Rite shoes.
Stride Rite Baby Shoe Size Chart
| | | |
| --- | --- | --- |
| US Size | Inches | Centimeters |
| 3.0T | 4.25 | 10.7 |
| 3.5T | 4.34 | 11.2 |
| 4.0T | 4.63 | 11.6 |
| 4.5T | 4.75 | 12.0 |
Stride Rite Toddler Shoe Size Chart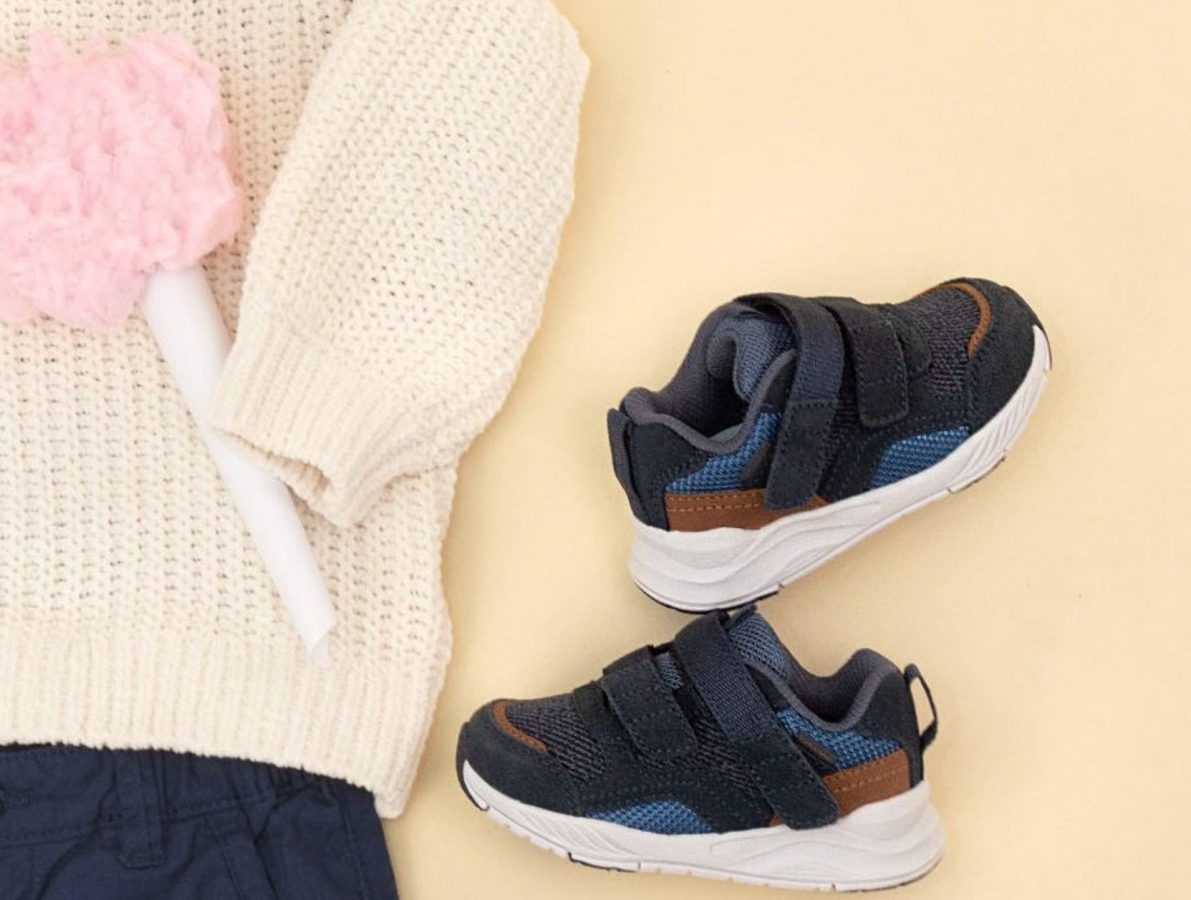 | | | |
| --- | --- | --- |
| US Size | Inches | Centimeters |
| 5.0T | 4.90 | 12.4 |
| 5.5T | 5.10 | 12.9 |
| 6.0T | 5.25 | 13.3 |
| 6.5T | 5.34 | 13.7 |
| 7.0T | 5.63 | 14.1 |
| 7.5T | 5.75 | 14.6 |
| 8.0T | 5.90 | 15.0 |
| 8.5T | 6.10 | 15.4 |
| 9.0T | 6.25 | 15.8 |
| 9.5T | 6.34 | 16.3 |
| 10.0T | 6.63 | 16.7 |
| 10.5T | 6.75 | 17.1 |
Stride Rite Little Kid Shoe Size Chart
| | | |
| --- | --- | --- |
| US Size | Inches | Centimeters |
| 11.0 | 6.90 | 17.5 |
| 11.5 | 7.10 | 18.0 |
| 12.0 | 7.25 | 18.4 |
| 12.5 | 7.34 | 18.8 |
| 13.0 | 7.63 | 19.2 |
| 13.5 | 7.75 | 19.7 |
| 1.0 | 7.90 | 20.1 |
| 1.5 | 8.10 | 20.5 |
| 2.0 | 8.25 | 20.9 |
| 2.5 | 8.34 | 21.3 |
| 3.0 | 8.63 | 21.8 |
| 3.5 | 8.75 | 22.2 |
Stride Rite Big Kid Shoe Size Chart
| | | |
| --- | --- | --- |
| US Size | Inches | Centimeters |
| 4.0 | 8.90 | 22.6 |
| 4.5 | 9.10 | 23.1 |
| 5.0 | 9.25 | 23.5 |
| 5.5 | 9.34 | 23.9 |
| 6.0 | 9.63 | 24.3 |
| 6.5 | 9.75 | 24.8 |
| 7.0 | 9.90 | 25.2 |
Why Choose Stride Rite Shoes?
Choosing the right shoes for your child is important, as proper footwear is crucial for healthy foot development and overall well-being. With various styles and sizes, Stride Rite shoes are perfect for every child, from infants to older kids. Whether you're looking for shoes for playtime, school, or special occasions, Stride Rite is a brand you can trust to provide the best possible footwear for your child.
Quality
You can trust the quality of Stride Rite shoes because the brand has a long history of producing durable, high-quality footwear for children. Stride Rite has been in business for over 100 years. During that time, they have developed a reputation for using premium materials and manufacturing techniques to create shoes that can withstand the wear and tear of active children.
Stride Rite also strongly emphasizes the design and engineering of its shoes, focusing on providing proper support and cushioning to promote healthy child's foot development. Their shoes are tested rigorously to ensure that they meet strict quality standards and can meet active children's demands.
Furthermore, Stride Rite has received numerous awards and recognition for its quality, including the American Podiatric Medical Association's Seal of Acceptance. This seal is only awarded to products that have been found to promote good foot health and proper development.
Safe Materials
Stride Rite shoes are considered safe materials for children's footwear because the brand is committed to using high-quality materials free from harmful chemicals and substances. Stride Rite understands that children's feet are still developing and growing, and therefore, it is important to use materials that are safe and non-toxic.
Stride Rite uses various materials in its shoes, including leather, synthetic, and rubber. All of these materials are carefully selected and tested to ensure that they meet the brand's high standards for safety and quality.
In addition, Stride Rite has developed its own set of standards for materials safety, known as the Stride Rite Safe Material Program. This program includes rigorous testing and evaluation of all materials used in their shoes to ensure that they do not contain harmful substances or chemicals that could harm children.
True-to-life Last
It is important to highlight that Stride Rite shoes use a last shape like the human foot to make them, resulting in a more comfortable and better-fitting shoe. A last is a 3D form that shoemakers use to create the shape of a shoe, and Stride Rite uses a last designed to mimic the shape of a child's foot.
By using a last shaped like the human foot, Stride Rite can create shoes that fit better and provide more support. The last is designed to follow the foot's natural contours, which helps ensure that the shoe fits properly and provides adequate support in all the right places.
This approach is especially important for children's shoes, as their feet are still developing and require proper support to ensure healthy foot development. Babies feet are normally smooth and flat, with no instep. When they aren't going barefoot, they want flexible, rounded shoes that cushion their feet without impeding mobility. That's exactly what customers receive with true-to-life lasts.
Promote Healthy Foot Growth
Stride Rite shoes are designed to fit kids properly and promote healthy foot development. The brand recognizes that children's feet are constantly growing and changing, so it is crucial to provide shoes that fit well and offer the right amount of support.
Stride Rite uses various technologies and features in its shoes to ensure a proper fit and promote healthy foot development. Some of these features include:
Multiple width options: Stride Rite offers shoes in multiple width options to accommodate different foot shapes and sizes. This ensures a proper fit and helps prevent common foot problems like blisters, calluses, and bunions.
Room to grow: Many Stride Rite shoes have room to grow, meaning that they are designed with extra space in the toe box to accommodate growing feet. This helps ensure that kids can wear their shoes for longer periods without needing new shoes every few months.
Flexible soles: Stride Rite shoes have flexible soles that allow for natural foot movement, which can help strengthen the muscles in the feet and promote healthy development.
Cushioning and support: Stride Rite shoes include plenty of cushioning and support to absorb shock and relieve strain on the foot. This can help prevent injuries and promote comfort during active play.
Superior Craftsmanship
Stride Rite strongly emphasizes the design and engineering of its shoes, focusing on providing proper support and cushioning to promote healthy foot development. The brand uses premium materials and manufacturing techniques to create shoes that can withstand the wear and tear of active children.
In addition, Stride Rite has a team of skilled craftsmen who carefully assemble and finish each shoe by hand. This attention to detail ensures that each shoe has the highest quality and meets the brand's exacting standards.
Stride Rite is committed to continuous improvement and innovation and regularly invests in new technologies and materials to improve the quality and durability of its shoes. This commitment to excellence has earned Stride Rite a reputation for superior craftsmanship and quality.
Rigorous Product Testing
Stride Rite has strict product testing protocols to ensure its shoes' safety, quality, and durability. Stride Rite's dedicated Quality Assurance team conducts rigorous testing on all of its shoes, from the materials used to the finished product. The team tests for durability, slip resistance, and flexibility to ensure that each shoe meets the brand's exacting standards.
Stride Rite also conducts field testing of their shoes, involving having children wear and test them in real-world environments. This feedback is used to identify areas for improvement and ensure that each shoe meets the needs of active children.
Find more Oshkosh Shoe Size Chart in here
How To Recognize A Good Shoe Brand For Children?
When looking for a decent shoe brand for children, there are various variables to consider:
Fit
When it comes to children's shoes, proper fit is crucial. Shoes that do not fit well can cause discomfort and pain and even lead to foot problems. While determining the fit of children's shoes, keep the following elements in mind:
Size: Children's feet grow quickly, so it's important to measure them regularly to ensure they wear the correct shoe size. Shoe size can vary from brand to brand, so measure both feet and try on shoes before purchasing.
Toe room: There should be enough room at the front of the shoe for the toes to wiggle comfortably. Shoes with a narrow toe box can cause blisters, ingrown toenails, and other foot issues.
Heel fit: The heel should fit snugly but not be too tight. Shoes that are too loose in the heel can cause blisters and slip off the foot.
Arch support: Children's feet need proper arch support to prevent overpronation or supination, which can cause foot and leg pain. Look for shoes that provide enough arch support & cushioning.
Comfort
When it comes to buying children's shoes, one of the most crucial elements to consider is comfort. Uncomfortable shoes can cause your child not to want to wear them, leading to foot problems and a lack of physical activity. Padding and support are two key features that help ensure good comfort in children's new shoes.
Good padding can help cushion the foot and prevent rubbing or irritation. The collar and tongue of the shoe should be adequately padded, and the insole should provide cushioning and support. This can aid in the prevention of blisters and other foot issues caused by shoes that are excessively tight or too loose.
Support is also important, especially around the arch and heel of the foot. Shoes that provide good support can help prevent foot fatigue and pain and promote healthy foot development. Look for shoes with a molded footbed to assist in distributing weight evenly across the foot, as well as a solid sole for stability and support.
Durability
Durability is an important consideration when choosing shoes for children. Kids are active and can be hard on their shoes, leading to wear and tear over time. Purchasing a well-made pair of shoes will save you money in the long term since you will not need to replace them as regularly.
Look for shoes made from high-quality materials that can withstand daily wear and tear. Leather and synthetic materials are often durable, and shoes with reinforced stitching and rubber soles can be particularly resilient. Avoid shoes with cheap plastic components or flimsy materials likely to break down quickly.
In addition to materials, the shoe's design can also impact its durability. Look for shoes with a sturdy toe box that can withstand scuffs and scrapes and a secure closure system (such as laces or velcro) to keep the shoe in place during physical activity.
Safety
Safety is a critical factor to consider when selecting the right shoes for any task. To minimize slips and falls, shoes should have a strong grip, especially in hazardous locations where the floor may be slick or uneven. Proper traction can help to prevent injuries caused by falls, which can be particularly dangerous in work environments. 
Moreover, since contact with these chemicals can result in skin irritation, respiratory troubles, or even more serious health concerns, shoes should be created from materials that are safe and do not contain any dangerous compounds. Therefore, choosing shoes made from safe and durable materials is essential to ensure protection and reduce the risk of harm to the wearer.
Reputation
When selecting shoes for children, reputation is a crucial factor to consider. It is important to look for a brand with a good reputation for making quality children's shoes. A renowned company is likely to have made an investment in the caliber of its footwear, making certain that they are constructed from strong materials that can resist normal wear and tear.
A reputable brand is likely to be more conscious of the health and safety aspects of the shoes, ensuring that they are made from safe materials and designed with the child's comfort in mind. Reviews and recommendations from other parents can provide valuable insight into the brand's reputation, giving you a better idea of the quality of their products and the level of satisfaction among customers. 
You may be sure that you are spending your money on shoes that will offer your child's feet the support and safety they require by going with a reputed brand.
Read more Carters Shoe Size Chart in this post
FAQs
How do I know which size to order for my child?
Stride Rite provides a sizing chart on its website that can be used to determine the best size for your child based on their measurements. Measuring your child's feet at the end of the day when their feet are the most swollen is recommended to ensure a proper fit.
Are Stride Rite shoes true to size?
Stride Rite shoes are designed to fit true to size. However, measuring your child's feet and consulting the sizing chart before making a purchase is always recommended.
What should I do if my child's Stride Rite shoes are too big or too small?
Stride Rite offers free returns and exchanges, so if the shoes do not fit properly, you can return them for a different size.
On the toe of my child's Stride Rite shoes, how much space should there be?
Approximately a thumb's breadth should separate your child's longest toe and the end of the shoe. This enables room for expansion and appropriate foot mobility.
Can I have my child's feet measured at a Stride Rite store?
Yes, Stride Rite stores offer free fitting consultations to ensure that your child gets the right size and style of shoe for their feet.