Onitsuka Tiger is a popular Japanese fashion brand specializing in footwear, clothing, and accessories. Established in 1949 by Kihachiro Onitsuka, the company has a rich history of producing high-quality products that have gained a reputation for being stylish, comfortable, and durable.
Onitsuka Tiger shoes, in particular, have become a popular choice for people worldwide. They are available in a variety of patterns and styles, from timeless classics to contemporary trends. Onitsuka Tiger provides something for everyone, whether you're searching for a pair of sneakers for a casual day out or running shoes to help you reach your fitness objectives.
One important aspect to consider when purchasing Onitsuka Tiger shoes is sizing. The right size ensures the shoes fit comfortably and support your feet. We'll cover all the information you need to know to get the best pair of Onitsuka Tiger shoes, from the company's background to pointers on how to gauge your foot size and interpret the size chart.
Onitsuka Tiger Shoe Size Chart For Adults
This guide will delve deeper into Onitsuka Tiger's shoe size chart for adults. We will also explore how to interpret the size chart to find the best fit for your feet, whether buying sneakers, running shoes, or any other type of footwear from Onitsuka Tiger. With our guide, you can confidently purchase the right size of Onitsuka Tiger shoes and enjoy a comfortable and stylish fit every time.
| | | | |
| --- | --- | --- | --- |
| Men's | Women's | Euro | CM |
| 4.0 | 5.5 | 36.0 | 22.8 |
| 4.5 | 6.0 | 37.0 | 23.0 |
| 5.0 | 6.5 | 37.5 | 23.5 |
| 5.5 | 7.0 | 38.0 | 24.0 |
| 6.0 | 7.5 | 39.0 | 24.5 |
| 6.5 | 8.0 | 39.5 | 25.0 |
| 7.0 | 8.5 | 40.0 | 25.3 |
| 7.5 | 9.0 | 40.5 | 25.5 |
| 8.0 | 9.5 | 41.5 | 26.0 |
| 8.5 | 10.0 | 42.0 | 26.5 |
| 9.0 | 10.5 | 42.5 | 27.0 |
| 9.5 | 11.0 | 43.5 | 27.5 |
| 10.0 | 11.5 | 44.0 | 28.0 |
| 10.5 | 12.0 | 44.5 | 28.3 |
| 11.0 | 12.5 | 45.0 | 28.5 |
| 11.5 | 13.0 | 46.0 | 29.0 |
| 12.0 | 13.5 | 46.5 | 29.5 |
| 12.5 | 14.0 | 47.0 | 30.0 |
| 13.0 | 14.5 | 48.0 | 30.5 |
| 14.0 | 15.0 | 49.0 | 31.0 |
Onitsuka Tiger Shoe Size Chart For Kids
Choosing the right shoe size for kids is important to ensure they can run, jump, and play comfortably without causing foot problems. Onitsuka Tiger, the popular Japanese fashion brand, offers kids a comprehensive shoe size chart to help parents find the perfect fit. This guide will explore the Onitsuka Tiger shoe size chart for kids.
| | | |
| --- | --- | --- |
| U.S | Euro | CM |
| K4 | 19.5 | 12.0 |
| K5 | 21.0 | 13.0 |
| K6 | 22.5 | 14.0 |
| K7 | 23.5 | 14.5 |
| K8 | 25.0 | 15.0 |
| K9 | 26.0 | 16.0 |
| K10 | 27.0 | 17.0 |
| K11 | 28.5 | 17.5 |
| K12 | 30.0 | 18.5 |
| K13 | 31.5 | 19.5 |
| 1 | 32.5 | 20.0 |
| 2 | 33.5 | 21.0 |
| 3 | 35.0 | 22.0 |
The History Of The Development Of Onitsuka Tiger
How did Onitsuka Tiger only take five decades to become the biggest sportswear brand in Japan? The brand's founder, Mr. Kihachiro Onitsuka, never thought he could invent a pair of shoes that made history while eating octopus and cucumber salad.
Born in 1918 in Japan's Tottori prefecture, Kihachiro Onitsuka was a former military officer. In 1949, after World War II ended, the 32-year-old opened a sports footwear company, Onitsuka Inc. He wanted to make something fun for the kids after a tough war period. But the best way to raise the spirit, according to him, is to practice sports.
While pondering this matter, Kihachiro Onitsuka ate a salad.
Suddenly, he looked down at an octopus tentacle in his dish. These tentacles allow the octopus to stick to its prey like a basketball shoe needs to stick to the floor.
Eureka!
Immediately, he asked a factory to make shoe soles with an octopus tentacle-like design. But this model has tentacles that grip too tightly, making it impossible for athletes to lift their feet off the floor! After re-aligning the design and shrinking these tentacles, the shoes turned out great.
The history of the Onitsuka Tiger is associated with the shoes of Olympic athletes
A year after launching the basketball shoe line, the company teamed up with Kenji Kimihara, a marathon runner representing Japan at the Olympics, to research a running shoe that does not cause calluses.
Mr. Kihachiro Onitsuka presented the finished design to athlete Abebe Bikila from Ethiopia. This athlete is famous for his love of running barefoot. Mr. Kihachiro convinced Abebe that wearing Onitsuka shoes would bring better results. As a result, in 1957, Abebe wore Onitsuka shoes to attend a marathon in Japan – his first time running in sneakers! The athlete then won two Olympic gold medals in the marathon.
The Japanese Olympic basketball team was also impressed by Onitsuka's technology. All team members wore Onitsuka's shoes when they attended the 1956 Summer Olympics in Melbourne.
Onitsuka Tiger's influence goes beyond Japan
Although Onitsuka's shoes were so good, he didn't have a wholesale relationship when he started his career. Mr. Kihachiro Onitsuka had to go to each store by himself. At first, because he did not have enough money, he only dared to sleep overnight on the benches at the train station to reduce costs. After years of austerity, founder Onitsuka Tiger contracted tuberculosis.
But without his effort, Onitsuka's products were well received. By the end of 1952, sales were quite good. In just three years, the products were sold in all sports stores in Japan.
The fame of the Onitsuka Tiger also spread beyond the borders of Japan. In the late 1950s, Philip Knight discovered Onitsuka Tiger shoes during a tour of Japan.
Philip Knight is an athlete at the University of Oregon in the US. He partnered with Bill Bowerman, a marathon trainer, to start Blue Ribbon Sports, a sports product distribution company. They want to distribute Onitsuka Tiger shoes in the US because they think this product will sell well.
In 1963, the first order of Onitsuka Tiger arrived in the US port. This is also the first order that Blue Ribbon Sports distributes. Today, the company has researched and produced its products and changed its name to Nike.
Onitsuka Tiger has continuously improved quality throughout its history
Onitsuka Tiger has started investing in research and improving the quality of Japanese sports products. Throughout the 1950s and 1960s, Onitsuka Inc. continued to expand into other shoe lines. Examples include tennis, volleyball, and running shoes. The sports shoes that made the brand's name, such as Fabre and Mexico 66, were born during this period.
ASICS was born
In 1977, Kihachiro Onitsuka's company merged with two other companies – GTO and JELENK – to form the ASICS corporation. At that time, the name Onitsuka Tiger was deleted and replaced by the ASICS brand. The brand expands the market, producing sports equipment such as baseball, skiing, golf, etc.
Mr. Kihachiro Onitsuka continues to promote research into new technologies. In the 1980s, ASICS applied GEL technology to shoes, providing better foot protection when running. The company also innovated running shoes inspired by motorcycles to create breathable shoes for athletes. ASICS even makes shoes for the Japan Aerospace Research and Development Agency.
Onitsuka Tiger shoes become fashion icons
When he invented the Mexico 66 line of sneakers with iconic lines, Kihachiro Onitsuka probably never thought his product would become a fashion icon.
The person who contributed to the name Onitsuka Tiger was Bruce Lee and Uma Thurman. The actor often wears the brand's shoes, from the street to the movie sets.
It seemed that the development of the brand would go smoothly. But not. The Japanese economic crisis in the 1990s caused ASICS to go downhill. It took eight years for the company to recover. It's also partly because they reinvigorated the Onitsuka Tiger brand in 2002 when the European market fell in love with retro shoes.
In 2003, actress Uma Thurman wore a pair of yellow Onitsuka Tiger shoes in Kill Bill. Immediately, consumers rushed to buy similar shoes. Thanks to that, Onitsuka Tiger opened 23 independent retail stores in Japan, then in Hong Kong, Paris, Berlin, London, and Seoul.
Mr. Kihachiro Onitsuka passed away in 2007 at the age of 90. Before his death, he saw the company he built become the largest sportswear and product manufacturing group in Japan and the fifth largest in the world. The Onitsuka Tiger brand, on the other hand, was developed into a youthful fashion and streetwear line.
Read more Mizuno Shoe Size Chart in here
7 Reasons You Must Own Onitsuka Tiger Mexico 66 Shoes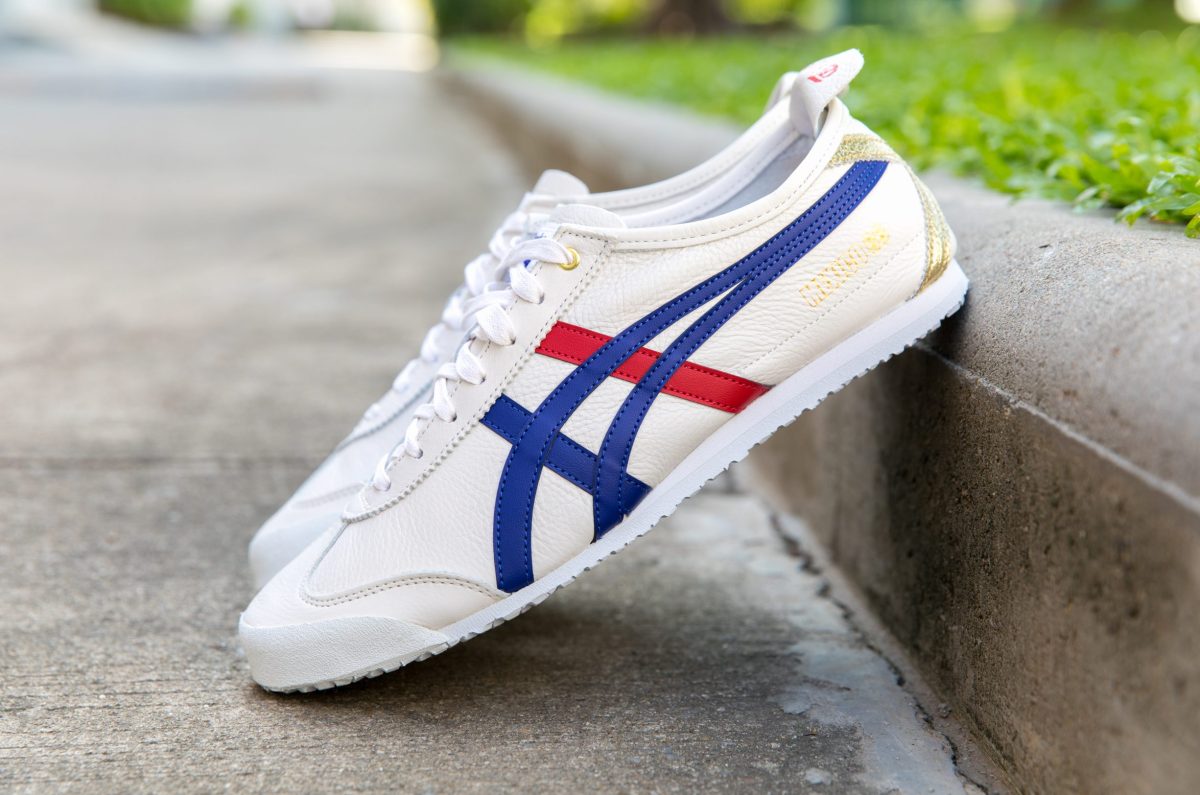 The Mexican 66 sneakers have long been an icon of the Onitsuka Tiger. These shoes have appeared on the feet of superstars such as Bruce Lee and Uma Thurman in the Kill Bill series. This iconic design was made exclusively for the Japanese team by Kihachiro Onitsuka 50 years ago. Through many improvements in shape, it still retains the essence of Japanese culture and is associated with a love of sports.
Easy To Transform
The Onitsuka Tiger Mexico 66 shoes are known for their versatility and ability to transform any outfit. The abundance of color and texture combinations accessible is one of the causes of this. The brand offers many options to suit different styles and occasions.
The black model with white veins is a popular choice for those looking for a cool and trendy look. The black and white combination is timeless and these shoes can be worn with various outfits. The white veins add a unique touch that makes the shoes stand out.
Overall, the wide range of color and texture combinations available for the Onitsuka Tiger Mexico 66 shoes allows easy transformation and customization to suit different styles and occasions. Whether you want to be cool, sophisticated, or futuristic, there is a version of the Mexico 66 that will fit your style.
Soft And Comfortable
Onitsuka Tiger Mexico 66 sneakers are known for their soft and comfortable design, which makes them a popular choice among many loyal customers. The sneakers are designed to provide a comfortable fit for the wearer, with a soft, cushioned sole and a flexible upper material that molds to the foot's shape.
The softness of the sneakers is achieved through the use of high-quality materials such as leather, suede, and rubber, which are carefully selected to provide a comfortable and durable shoe. The leather and suede are supple and pliable, allowing the shoe to be flexible and move with the foot, while the rubber sole provides a cushioned and supportive base for the foot.
The design of the Onitsuka Tiger Mexico 66 sneakers also helps to make them comfortable for walking. The sneakers have a low profile, meaning they sit close to the ground and provide a stable base for the foot. This makes them ideal for walking long distances, as the foot is less likely to slip or slide on uneven surfaces.
Light On Foot
The Onitsuka Tiger Mexico 66 shoe is known for being light on the foot, which adds to its comfort and makes it a popular choice for many customers. The shoe's light weight and flexibility make for a more pleasant and natural walking experience.
The lightweight design of the Onitsuka Tiger Mexico 66 shoe is achieved through the use of durable and lightweight, high-quality materials. The top portion of the shoe is constructed of soft, supple leather or suede, which offers a snug fit and molds to the curve of the foot. Using lightweight materials in the shoe's sole also contributes to its lightness, with a thin layer of rubber that provides just the right amount of traction and support while keeping the shoe lightweight.
The Onitsuka Tiger Mexico 66 shoe is a light and comfortable option for anyone looking for a high-quality sneaker with style and performance. Its lightweight design, flexibility, and use of high-quality materials make it a popular choice among many customers who value comfort and functionality in their footwear.
Excellent Sweat Absorption And Breathability
The Onitsuka Tiger Mexico 66 shoe is known for its breathable design, which makes it an excellent choice for hot and humid weather. The shoe's breathable design allows air to circulate around the foot, which helps regulate temperature and prevent the buildup of moisture inside the shoe. This, in turn, helps to prevent discomfort and odors, making the shoe an ideal choice for wear in hot and humid conditions.
In addition to its breathable design, the Onitsuka Tiger Mexico 66 shoe is known for its good sweat absorption properties. Even in hot and muggy weather, the shoe's ability to absorb perspiration and moisture helps to keep the foot dry and comfortable. This is achieved by using materials such as cotton or wool in the shoe's lining, which are highly absorbent and help wick moisture away from the foot.
The Sole Has Good Elasticity And Flexibility
The elasticity and flexibility of the sole are achieved through the use of durable and flexible, high-quality materials. The shoe's sole is typically made of rubber, known for its elasticity and ability to withstand wear and tear. The rubber sole is designed to be thick enough to provide cushioning and support for the foot but also flexible enough to allow for a natural range of motion.
The flexibility of the sole is especially important for activities such as riding motorbikes and cars, where the foot is required to press the accelerator continuously. The flexible sole of the Onitsuka Tiger Mexico 66 shoe allows for a more natural and comfortable foot motion, reducing the risk of fatigue or discomfort during prolonged periods of use.
Easy To Put On Shoes
The Onitsuka Tiger Mexico 66 shoe is designed to be easy to put on, making it a convenient choice for everyday wear. The ease of putting on the shoes is achieved through several design features that make slipping them on and off quick and easy.
The ease of putting on the Onitsuka Tiger Mexico 66 shoe is also enhanced by its lightweight design. The shoe is designed with premium, lightweight, and durable materials that are simple to put on and comfortable to wear all day.
The ease of putting on the Onitsuka Tiger Mexico 66 shoe makes it a convenient choice for everyday wear. Whether in a rush or simply looking for a comfortable and stylish shoe that is easy to wear, the slip-on design and other features of the Onitsuka Tiger Mexico 66 shoe make it an excellent choice.
Affordable Price
The Onitsuka Tiger Mexico 66 sneaker is renowned for being both high-end and reasonably priced. This makes it a popular option for those seeking a high-quality, reasonably-priced shoe. The Onitsuka Tiger Mexico 66 shoe can provide good quality at a low price for several reasons.
In conclusion, the Onitsuka Tiger Mexico 66 shoe is affordable and offers high-quality craftsmanship, and is true to Japanese culture. By using traditional Japanese techniques, focusing on functionality over luxury, and valuing accessibility over exclusivity, Onitsuka Tiger can offer a shoe that is both affordable and of excellent quality. This has made the Onitsuka Tiger Mexico 66 shoe a popular choice for people worldwide.
Find more ON Cloud Shoe Size Chart in this post
FAQs
What is the history of Onitsuka Tiger shoes?
Onitsuka Tiger was founded in 1949 by Kihachiro Onitsuka to create comfortable and functional athletic shoes. The company's first product was a basketball shoe called the "Tiger," which was a hit among athletes in Japan. Over the years, Onitsuka Tiger has expanded its product line to include running shoes, lifestyle sneakers, and more.
What are some popular styles of Onitsuka Tiger shoes?
Some of the most popular styles of Onitsuka Tiger shoes include the Mexico 66, the Serrano, and the GSM. These shoes are known for their sleek design and comfortable fit and are often worn as casual sneakers.
Is Onitsuka Tiger shoes good for running?
Yes, Onitsuka Tiger shoes are designed for running and other athletic activities. Many of the company's shoes feature supportive cushioning and traction, which can help runners stay comfortable and perform their best.
How do I care for my Onitsuka Tiger shoes?
To care for your Onitsuka Tiger shoes, it's important to follow the manufacturer's instructions. This may include cleaning the shoes with a soft cloth or brush, using a specialized cleaner or conditioner, and storing the shoes in a cool, dry place.
Where can I buy Onitsuka Tiger shoes?
Onitsuka Tiger shoes can be purchased online through the company's website and through various retailers and specialty stores. It's also possible to find Onitsuka Tiger shoes at some sporting goods stores, fashion boutiques, and department stores.