Many people pour a lot of money into their wardrobe, but when winter comes, they realize that they don't have shoes that keep their feet warm when the temperature drops below 5 degrees. Although the high-necked black leather boots are extremely trendy and easy to coordinate, they do not help keep warm, making bones crackle because of hypothermia. Therefore, more and more famous stars prefer Moon Boots shoes that are both beautiful and flattering.
Dua Lipa, Vanessa Hudgens, Queen of Pop Madonna, etc., celebrities have reinvigorated the legendary moon boots this season. The revival of moon boots is evidenced by the photos that famous superstars proudly show on their pages about the legendary padded shoes (another name for moon boots) that make their fans go crazy. 
So this winter, if you decide to buy yourself a pair of moon boots but don't know how to choose the boot size, we are here to help.
Moon Boot Size Guide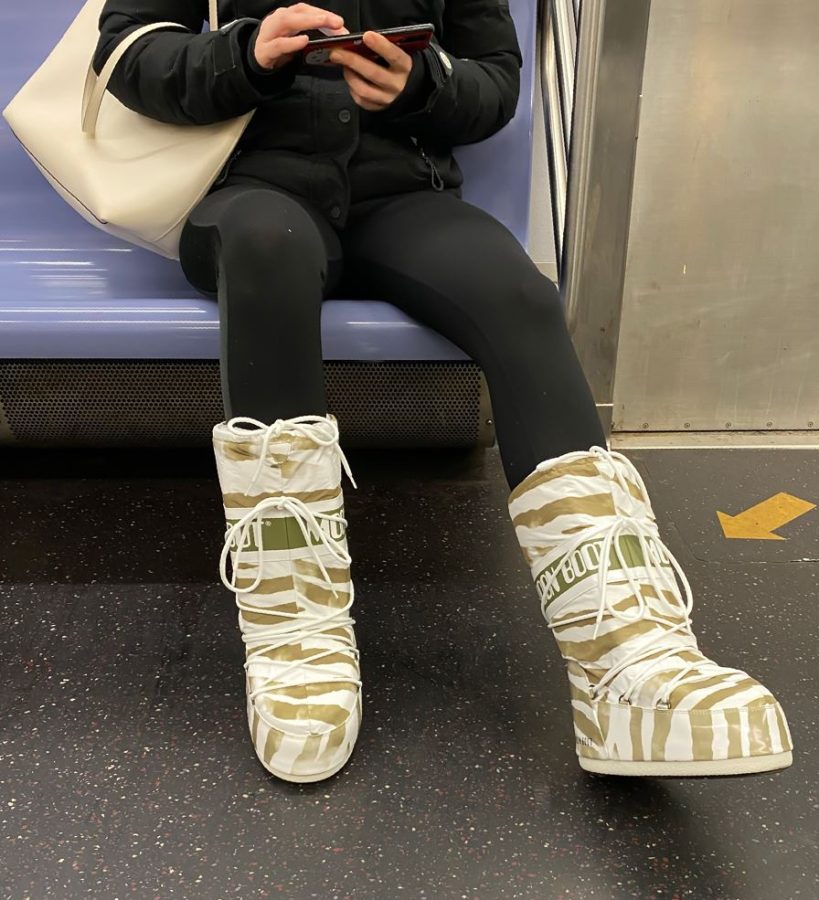 Are you sick of figuring out if your feet are an EU 37, 38, or 39? Icon Moon Boots come in various sizes, so you can purchase them with assurance and be certain you're getting the right pair. Select a size bigger than you typically would. Every pair has a smaller fit than standard shoe sizing. We advise choosing the EU 39-41 if your normal size is an EU 38.
Moon Boots: ICON – Unisex
Unit of measurement
Size

EU Shoe size

35-38

39-41

42-44

45-47

UK Shoe size

2,5-5,0

6,0-7,5

8,0-9,5

10,5-12

US size Men

3,5-6,0

7,0-8,5

9,0-10,5

11,5-13

US size Women

4,5-7,0

8,0-9,5

10,0-11,5

12,5-14

Foot length (cm)

23,0

25,5

27,5

29,5
Moon Boots: ICON LOW – Unisex
Unit of measurement
Size

EU Shoe size

33-35

36-38

39-41

42-44

45-47

UK Shoe size

1,0-2,5

3,5-5,0

6,0-7,5

8,0-9,5

10,5-12,0

US size Men

2-3,5

4,5-6,0

7,0-8,5

9,0-10,5

11,5-13,0

US size Women

3-4,5

5,5-7,0

8,0-9,5

10,0-11,5

12,5-14,0

Foot length (cm)

22,5

23,0

25,5

27,5

29,5
Moon Boots: PROTECHT – Unisex
Unit of measurement
Size

EU Shoe size

35.0

36.0

37.0

38.0

39.0

40.0

41.0

42.0

UK Shoe size

2,5

3,5

4.0

5.0

6.0

6,5

7,5

8.0

US size Men

3,5

4,5

5.0

6.0

7.0

7,5

8,5

9.0

US size Women

4,5

5,5

6.0

7.0

8.0

8,5

9,5

10.0

Foot length (cm)

22,8

23,2

23,8

24,4

25.0

25,7

26,4

27.0
Moon Boots: LAB69 – Unisex
Unit of measurement
Size

EU Shoe size

35-38

39-41

42-44

45-47

UK Shoe size

2,5-5,0

6,0-7,5

8,0-9,5

10,5-12,0

US size Men

3,5-6,0

7,0-8,5

9,0-10,5

11,5-13,0

US size Women

4,5-7,0

8,0-9,5

10,0-11,5

12,5-14,0

Foot length (cm)

23,0

25,5

27,5

29,5
Moon Boots: MTRACK – Unisex
Unit of measurement
Size

EU Shoe size

39.0

40.0

41.0

42.0

43.0

44.0

45.0

46.0

UK Shoe size

6.0

6,5

7,5

8.0

9.0

9,5

10,5

11.0

US size Men

7.0

7,5

8,5

9.0

10.0

10,5

11,5

12.0

US size Women

8.0

8,5

9,5

10.0

–

–

–

–

Foot length (cm)

25.0

25,7

26,4

27.0

27,6

28,3

28,8

29,5
Moon Boots: CRIB – Kids
Unit of measurement
Size

EU Shoe size

17-18

19-20

21-22

UK Shoe size

1,0-2,0

3,0-4,0

4,5-5,5
Moon Boots: ICON KIDS – Kids
Unit of measurement
Size

EU Shoe size

19-22

23-26

27-30

31-34

UK Shoe size

3,0-5,5

6,0-8,5

9,0-11,5

12,5-1,5

Foot length (cm)

13,0

15,5

19,5

22,5
Moon Boots: PROTECHT KIDS – Kids
Unit of measurement
Size

EU Shoe size

25

26

27

28

29

30

31

32

33

34

35

36

37

38

UK Shoe size

7,5C

8,5C

9C

10C

11C

11,5C

12,5C

13C

1

1,5

2,5

3,5

4

5

US Shoe size

8,5C

9,5C

10C

11C

12C

12,5C

13,5C

1

2

2,5

3,5

4,5

5

6

Foot length (cm)

15,9

16,5

17,1

17,7

18,3

18,8

19,4

20

20,6

21,2

22,8

23,2

23,8

24,4
Is The Moon Boot Trend Making A Comeback?
Though you might think that the Apollo 11 moon landing resulted from man's ambition to land on the moon, its real meaning lies in fashionable shoes, which it inspired: Moon Boot.
In 1969, we focused on Neil Armstrong's historic first steps on the moon. Then the brand founder Giancarlo Zanatta focused on anti-gravity space shoes.
Right after the important landing. Zanatta has brought a space-age aesthetic to everything from architecture and interior design to fashion. Zanatta designed the Moon Boot, an innovative shoe for dredging in winter snow.
Although the Zanatta enjoyed some immediate success in the 1970s, it took decades for the oversized shoe to take off. By the 1980s, Moon Boots had become a must-have in a ski wardrobe. Ideal for the discerning skier.
Sportswear brand Tecnica Group started producing shoes in 1978 and by 1986. They had sold over a million pairs. Fifty years later, the iconic boot is as popular as ever. The shoes were so influential that the Louvre named the original Moon Boot one of the 100 "most important designs" of the 20th century.
In the early 2000s, Moon Boots emerged as a retrofuturistic item worn by influential Y2K style figures, and the shoe's bulky construction didn't deter the It-Girls of the era like Paris. Hilton, slip on a pair of Moon Boots with nothing but a t-shirt or light jacket.
Model Hailey Bieber sported flats for Victoria's Secret campaign. At the same time, the Physical Dua Lipa singer wore cold-weather shoes outside in a bikini to celebrate the holiday, making it clear that the retro boots are worthy of getting all the attention. In Asia, we see Lisa (BlackPink) wearing Moon Boots in the Money MV.
Love them or hate them, Moon Boots are winter 2022's hottest accessory. A pair retails for $165 at the Moon Boots website. Many brands have collaborated with the company and created their versions of snowshoes. If desired, you can get a deluxe version of the Fendi monogram or a pair fully coated with Swarovski crystals.
Find more china shoe size chart in this post
Benefits Of Moon Boots
Although some people might believe that moon boots are primarily for relaxing at home, they can be very useful in the snow. Moon boots are perfect footwear for walking through the snow because they are waterproof and feature treads on the sole. Your feet will stay warm even if the temperature decreases since they are also very warm.
Warmth
The performance of this footwear during our final warming comparisons completely caught us off guard. This boot's substantial polyester insulation kept our toes warm even when standing with our feet deep in the snow. The boot's shaft is 14 inches tall, which adds warmth to the calves, and has a top lacing that traps heat. However, it's crucial to remember that they are not intended to be breathable.
Coziness and comfort
This boot is plush and comfy when it is brand new. The padding in the footbed conforms to your feet after a few uses, even though they don't come with a specific left or right foot. We believe the cushioning will gradually deteriorate, even though they first feel comfortable. Finding a means to mark your boots is also useful to distinguish between your left and right feet without putting your foot into the molded footbed.
Weather Protection
During the waterproof test, the Moon Boot Classic Nylon remained dry for a long time, even in two to three inches of water. Water slowly began to seep in through the polyester insulation as they raised the water depth and the amount of time underwater, and they learned that this boot takes a while to dry out if it becomes wet inside. However, the Moon Boot is one of the tallest products we examined, so it will shield you from heavy snow drifts reasonably.
Traction
The rubber sole of the Moon Boot has only moderately deep tread, making it unsuitable for navigating slick terrain. In fact, of all the products we evaluated, this model had some of the worst traction. The Ahnu Northridge is a tall boot that has great traction.
Easy to Put On and Remove
One of the simplest items to put on and take off because of its structural sides, especially if the laces don't need to be tightened. The thin laces are challenging to pull taught across the back of the calf when you wish to walk farther in these boots or if you have a smaller foot. Tightening the laces isn't the easiest process. No need to re-tie the laces if you're just running out to the car or taking out the trash.
Price
These boots were among the least priced in our review at just $100. The Moon Boots are a decent value if you're searching for safety & comfortable footwear to wear about town or at the base of your preferred ski resort. Although they have some significant drawbacks and are not durable, the Moon Boots won't break the bank if you aren't worried about long-term performance or great performance in wet weather.
Read more Aldo shoe size chart in here
How to Choose Snow Boots?
If you're planning to travel abroad to an area with snow and ice, in addition to preparing life jackets, thermal jackets, gloves, wool hats, scarves, etc., snow boots are also one of the items. This is important in keeping feet warm, waterproof, and anti-slip in this cold weather.
The climate is cold and snowy, so choosing thick, furry boots that keep the ankles warm is highly appreciated by many girls. These shoes are made with insulation, and water repellency, keeping you warmer, especially if there is a blizzard in the cold winter. If your trip to an area with harsh winters, prepare yourself a pair of good quality shoes, ensuring the following criteria:
Notice the height of the boot
Snow boots are divided into many types of different heights. Please choose the appropriate height ratio of the shoe, do not let the boot part clash with the pants; the skirt on the shin becomes itchy and uncomfortable if you are easily allergic to the material of the shoe. It is recommended to choose boots that are at or above the ankle.
Pay attention to the boot material
The first factor to consider is the material used when choosing a pair of boots that keep your feet dry and comfortable regardless of the weather outside. The material of snow boots determines the comfort and warmth inside. Usually, women's boots are made of very durable, waterproof leather.
The traction of the boot ensures balance when moving
In addition to considering the material of the shoe, you also have to consider traction carefully because snow boots are used in cold and slippery weather. When hiking with snow under your feet, a pair of boots that provide balance while moving is very important.
You should consider the material used on the sole and the other protective features of winter boots. A thick rubber sole is a criterion to ensure durability and the traction it brings. Shoes with multi-directional soles provide more traction, more stability when moving in the snow.
Insulation keeps feet warm
Since it's a snow boot, insulation is also a factor you have to pay attention to in extreme weather conditions. Not only keeping the body warm in winter from colds, but boots help you have a smooth journey of discovery. Regular snowshoes have fur inside, which traps heat and keeps your feet warm regardless of cold and wet weather.
Snow boots ensure comfort
Winters are long, especially in snowy areas, so snow boots need to make sure they're comfortable. The 'key' to comfort is the construction and materials of your shoes. Snowshoes with padded soles keep your feet comfortable for long distances without fear of foot pain or cyanosis.
Shoes with hard soles lack elasticity making your feet walk in a time that can be numb and sensitive, affecting the journey to discover the land's beauty with white snow in winter. Encourage you to use boots with thick soles, do not choose high heels to walk more comfortably. Always be yourself, walk comfortably, confidently walk in moderation.
FAQs
Are moon boots water-resistant?
The outside is completely waterproof, while the interior is made of a foam composition. I remained extremely comfortable and dry despite my area's two feet of snow and harsh cold. These clothes are so adorable; I can picture myself as a tiny astronaut.
How durable are the moon boots?
It is crucial to realize that using the moon boot is a quick process (often lasting up to six weeks) that needs to be done correctly to repair the knee. Your podiatrist can provide shoe recommendations and wedges to make wearing the boot easier.
Can moon boots get wet?
Moon boots can get wet. Moon boots are built of water-resistant materials that won't break down if they get wet. A moon boot is designed to reduce the discomfort caused by a muscle tear, a fractured bone, or any other form of injury. Warmth-retaining suede is a great material for your legs and feet. 
Moon Boots: Are they winter boots?
Moon boots are not normally intended for cold weather, even though they are occasionally referred to be winter boots. In warmer climates or indoors, moon boots are more frequently worn. In terms of footwear, the Moon Boot has a long history. Although it has recently reappeared in the United States, it is popular in Europe and Asia.