Sheri Poe established Ryka in 1987 with the intention of creating an athletic shoe for women that was more comfortable to wear. Additionally, the company manufactures athletic gear for female athletes. Since that time, the one-of-a-kind athletic company has developed a wide variety of shoes, including running and walking trainers, as well as training shoes, to accommodate the needs of every woman.
In 1997, Ryka became a part of Global Sports through a merger. In 1999, American Sporting Goods Corporation purchased the branded segment that had been owned by Global Sports. Brown Shoe, which just acquired American Sporting Goods by means of a merger, is the current owner of the business.
Ryka has a range of styles to pick from if you want a shoe that will provide both comfort and stability. This brand is committed to making footwear that is not only stylish but also healthy for your feet. While some shoes can cause pain and discomfort, Ryka shoes offer stability and arch support, as well as cushioning for all-day wear. 
You can buy some shoe box for Ryka women shoes
Ryka Women Shoe Size Chart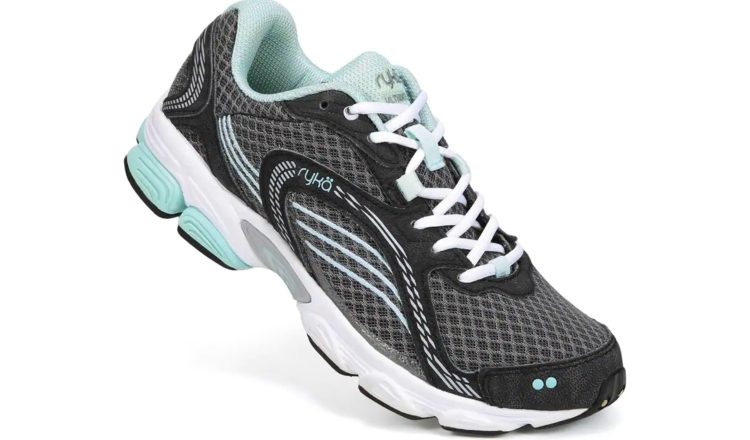 The goal of Ryka is to make a quality product that fits a woman's needs. As such, their shoes are designed to be both comfortable and functional. The company wants women to feel confident and look good while they travel, run errands, or even at the office. Ryka has created a line of athletic shoes that provide protection whilst keeping you comfortable all day long. The shoes come in a wide selection of styles and sizes, making them perfect for everyone, from the young athlete to the seasoned veteran.
| | | | |
| --- | --- | --- | --- |
| US SIZE | UK | EUROPE | JAPAN/CHINA |
| 5.0 | 3.0 | 35.0 | 22.0 |
| 5.5 | – | 35.5 | 22.5 |
| 6.0 | 3.5 | 36.0 | 23.0 |
| 6.5 | 4.0 | 36.5 | 23.3 |
| 7.0 | 4.5 | 37.0 | 23.5 |
| 7.5 | 5.0 | 38.0 | 24.0 |
| 8.0 | 5.5 | 38.5 | 24.5 |
| 8.5 | 6.0 | 39.0 | 25.0 |
| 9.0 | 6.5 | 40.0 | 25.5 |
| 9.5 | 7.0 | 40.5 | 25.8 |
| 10.0 | 8.0 | 41.0 | 26.0 |
| 10.5 | 8.5 | 41.5 | 26.5 |
| 11.0 | 9.0 | 42.0 | 27.0 |
| 12.0 | 10.0 | 43.0 | 28.0 |
Ryka Shoe Width and Calf
When it comes to finding the ideal Ryka shoe, the second thing to consider is your foot width and calf circumference. Consequently, you must ensure that your stride matches the shoe you select. Since Ryka shoes are designed for comfortable wear—not only at the office but also during exercise—they provide support when you need it most. To ascertain your width, measure the section of your foot that is the widest, and then consult the table that is located above it to determine your size.
WIDTH
CALF
Narrow
Medium
Wide
Narrow
Medium
Wide

7.60 cm

8.10 cm

8.60 cm

28.00 cm

33.00 cm

38.00 cm

7.80 cm

8.30 cm

8.70 cm

28.50 cm

33.50 cm

38.50 cm

8.00 cm

8.40 cm

8.90 cm

29.00 cm

34.00 cm

39.00 cm

8.10 cm

8.60 cm

9.10 cm

29.50 cm

34.50 cm

39.50 cm

8.20 cm

8.70 cm

9.20 cm

30.00 cm

35.00 cm

40.00 cm

8.40 cm

8.90 cm

9.40 cm

30.50 cm

35.50 cm

40.50 cm

8.50 cm

9.00 cm

9.50 cm

31.00 cm

36.00 cm

41.00 cm

8.70 cm

9.20 cm

9.70 cm

31.50 cm

36.50 cm

41.50 cm

8.90 cm

9.30 cm

9.80 cm

32.00 cm

37.00 cm

42.00 cm

9.00 cm

9.50 cm

10.00 cm

32.50 cm

37.50 cm

42.50 cm

9.10 cm

9.60 cm

10.10 cm

33.00 cm

38.00 cm

43.00 cm

9.30 cm

9.80 cm

10.30 cm

33.50 cm

38.50 cm

43.50 cm

9.40 cm

9.90 cm

10.40 cm

34.00 cm

39.00 cm

44.00 cm

9.70 cm

10.20 cm

10.70 cm

35.00 cm

40.00 cm

45.00 cm
Are Ryka Walking Shoes Comfortable?
As mentioned above, Ryka shoes are designed to be both stylish and comfortable. These athletic shoes come in a variety of styles and for all different types of runners. While Ryka walking shoes provide the support that you need, they also allow you to take part in your favorite activities without experiencing pain or pressure. The shoes come with wide widths so that you can find one that fits your feet perfectly, as well as standard lengths so that you can make sure your stride measures correctly.
A decent pair of walking shoes will have some features in common, such as the ability to strike with the heel, roll through to the ball of the foot, and push off with the toes. The following are some of the features included in Ryka walking shoes:
Uppers that allow air to circulate so your feet stay cool and dry at the conclusion of your walk or hike.

Soles are constructed to flex in the appropriate places and to provide staying strength with rubber that is long-lasting.

Toe rocker to assist in simulating a more natural walking technique and to help propel you forward.

A cushioned and engineered footbed that absorbs shock and provides support where it's needed.

To minimize the effects of tiredness, lightweight.

Shoe technology that supports your natural gait by incorporating improved foams, fabrics, and materials in the sole of the shoe.

Rubber outsoles that are long-lasting and have traction, recommendations, and/or more rubber in high-impact regions.
There is nothing missing from these high-quality walking shoes, not to mention the fact that they are quite reasonably priced and tailored to the shape of a woman's foot.
Types Of Ryka Shoes
The male and female foot might look comparable, but there are more distinctions between the two than you might at first realize. To begin, a woman's foot typically has a quadricep angle that is five to seven degrees bigger than that of a man's foot.
According to Ryka's website, this results in "instability at foot strike," which puts us at a greater risk of suffering an injury because the increased weight that we are carrying is shifted to the outside edges of our feet more frequently.
The sports company claims that in order to create a shoe that "fits the contour of a woman's foot exactly," they designed their footwear with a roomier forefoot, a stable footbed, a smaller heel, and greater instep volume. These design elements were used in their footwear.
Training Shoes
There are now 54 various styles of training shoes available for women to select from at Ryka, and the prices range anywhere from $39.99 to $84.99.
The 'award-winning' Devotion XT Training Shoe is completely outfitted with a RE-ZORB LITE midsole and a Pivot Point for optimal performance. According to the website, these qualities will give the female foot "responsive cushioning and stress absorption," as well as "traction and enhanced control."
A Pivot Point with an Anatomical Precise-Return footbed and a 'breathable' KPU midfoot structure are also included in the shoe. The manufacturer of the shoe claims that these features provide additional support for ladies.
Running Shoes
The Ultimate is now Ryka's one and only offering in the category of running shoes, as stated in the March issue of Women's Health magazine.
This design exemplifies Rykas' commitment to meeting their customer's demands for a 'women-specific' fit. You have the choice between two distinct widths, which are referred to as "medium" and "wide," so that the product can better conform to your individual needs.
The trainer will provide flexibility thanks to its EVA midsole, and the cushioned insole will ensure the comfort of the female foot. In addition, the shoe contains a dual density heel crash pad, a Precise-Return footbed, and a TPU midfoot shank. Rubber is used for the construction of the shoe's outsole.
Walking shoes
Ryka's newest walking shoe, the Catalyst III features an upper made of suede and mesh and can be purchased for the price of $59.99. Control is also provided for ladies via the outsole's rubber material.
The Sky Walk sports a rubber outsole for grip and a memory foam footbed that is supposed to mold to the contour of the foot. The shoe has received a rating of 4.6 out of a possible 5 stars on the website. Ryka advertises that it "provides a comfort like no other" and lists its price as $49.99.
You can find Skechers shoe size chart in this post
FAQS
Does Ryka offer a wide range of walking shoes?
Yes, they do. If you are a fan of the company, you might be familiar with their Sky Walk line, which is comprised of footwear that is designed specifically for walking. For those who are not aware, the Sky Walk series was created with women in mind and came in various widths to meet your unique needs.
What type of support are Ryka shoes known for?
Ryka offers both quality and comfort with each pair of their unique designs. The company has become a leading name in women's fitness footwear because they deliver high-quality products while also meeting specific customer needs. 
How excellent are Ryka's women's shoes?
They are soft, breathable, and a wonderful choice for everyone, including you, who is looking for a well-cushioned shoe that was designed just for you. The current comfortable experience will be elevated to a whole new level once cushioning is added to the tongue and collar of the shoe. You could walk around in these shoes all day without having the slightest sensation that the laces are cutting into your foot in any way.
Are Ryka shoes suitable for those with flat feet?
There is a reason why the Ryka Devotion Plus 2 is considered to be one of the best walking shoes for ladies with flat feet and overpronation. It is a high-end designer shoe, and the arch support is somewhere from moderate to high, so it would be an excellent choice for anyone who requires additional support.