The Maxi Dress is typically floor length and straight cut, but it can also be flared. It is usually made from soft, flowing fabrics such as silk or cotton. These dresses offer coverage of the torso while freeing your legs to move around.  There are different kinds of Maxi Dresses, and each one is available in a wide range of colors, designs, and price points.  This article would give people information about the different shoe outfits that could go well with a Maxi dress. 
Let's take a look at 25 Different shoes mixed with a Maxi Dress:
Stilettos
Stilettos are the best shoes to wear with maxi dresses since they show off your foot's arch and the ankle, making you look skinnier than usual. Although these shoes are usually red or black, these outfits look perfect when you wear them on a nightly occasion.
Pumps
While you wear different shoes with different types of the maxi dress, there's one kind that will always look best pumps! With their elegant heel and a beautiful shoe leather design, pumps are the perfect way to elevate your maxi dress. Remember to choose matching colors when matching pumps and dresses to enhance the overall look of any outfit. Pumps are not very common to wear during the summer months, but they can work if you like to wear them. Stick with a neutral color to not clash with your maxi dress. Make sure to try out different heel heights before buying them so that you find one that feels comfortable walking in all day long while still looking chic and elegant.
Mary-Janes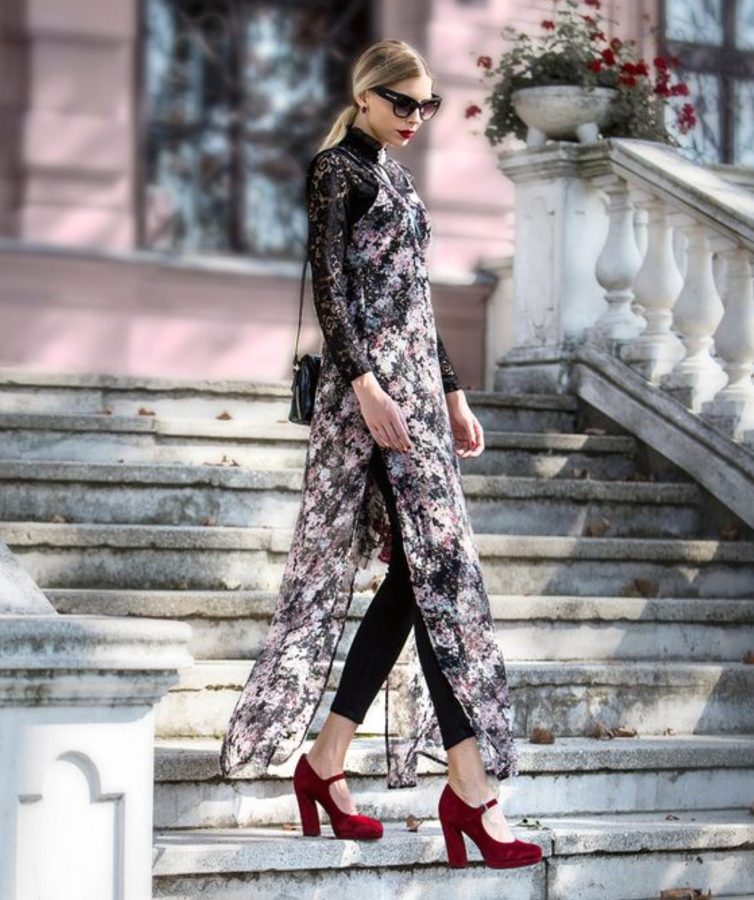 The most popular shoes with a maxi dress are closed-toe, closed-heel, and round-toe Mary Janes. These shoes can be worn without socks and will not irritate the feet like a closed derby shoe. 
Peep-toe Shoes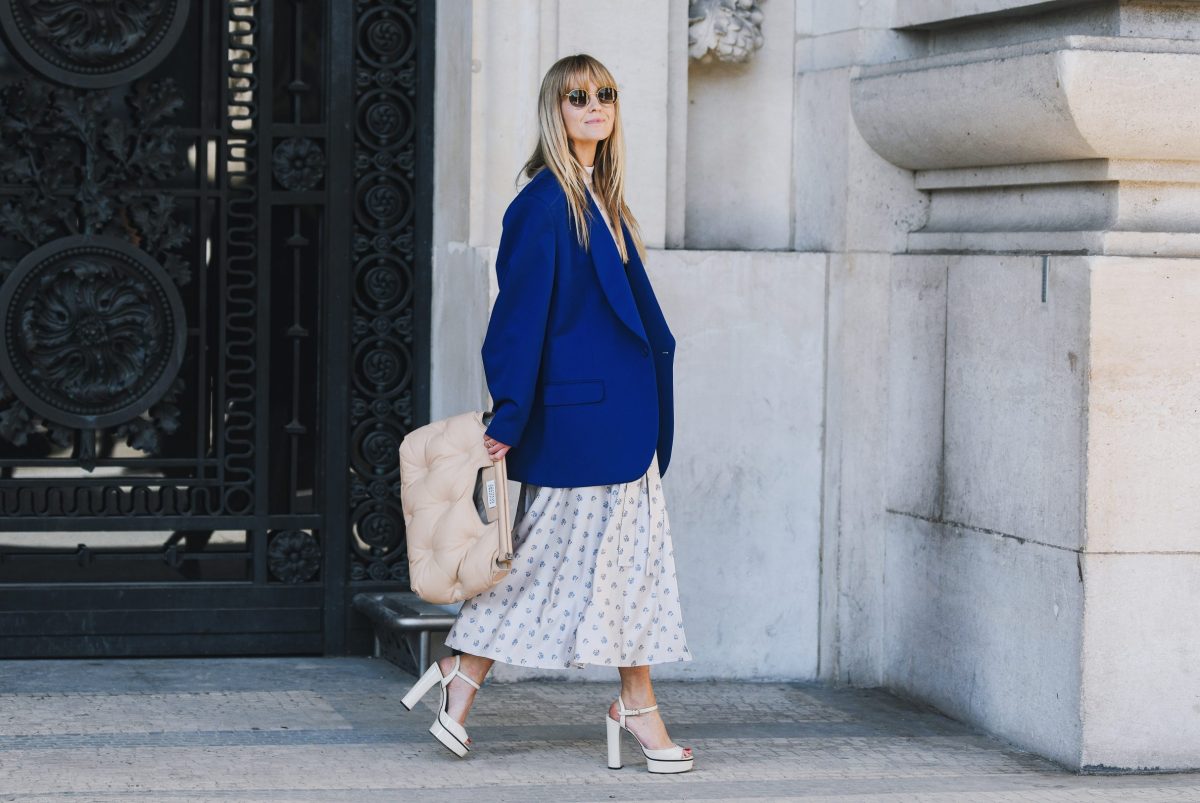 Peep-toe shoes work well with a maxi dress. They add a bit of height and can make your legs look longer. Keep in mind that the shoe you choose should match the color of your dress. Avoid flashy colors or patterns to keep with the natural aesthetic of the maxi dress trend.
Platform 
Platform shoes are everyday shoes worn by women in clubs or during nighttime events. They are also delicious to wear with the maxi dress, and they make you look chic and fashionable. They can be worn to different events, including casual, professional, or social events. The shape of the platform shoes makes it easy to make a style statement, so if you want to look more stylish, then choose this kind of shoe.
Kitten-heels 
Kitten heels are a perfect height for matching with a maxi dress. It gives you enough height to look elegant, but it still feels comfortable while walking. The heel length can be adjusted to different heights depending on your preference. You can also go for a platform or stiletto heel if you are looking for more height, but be aware that they may not be as comfortable as kitten heels.
Ankle Strap 
Ankle straps are perfect for showing off your ankles and legs. You can go for a simple design, or you can also go for flashy designs. If you choose the latter, be aware that they may clash with your maxi dress. On the other hand, they are a great way to get the most out of your maxi dress because the straps can be wrapped around your foot, giving some variety to your look. 
Chunky Heels 
One of the easiest ways to dress up a maxi dress is to pair it with chunky heels. You can keep the rest of your look simple by wearing minimal makeup and wearing your hair up in a loose bun or ponytail. 
Cone Heels 
Cone heel sandals are the perfect height to wear with a maxi dress. They have an exciting and unique design that pairs well with the natural aesthetic of a maxi dress. Just be aware that cone heel sandals may be more brutal to walk in, especially if it is hot outside. So if you plan on walking around through areas with uneven ground, consider choosing flats instead.
Wedges 
Wedges are great to wear with maxi dresses. The best is when they have an open toe and a heel at least four inches high. If you're not the most coordinated person in the world, these shoes will help you walk and balance on the uneven ground better than any other shoe ever could.
Mules 
Mules have a more formal look and are an excellent option for going out. They can dress up any outfit and go with any color, so they work well with maxi dresses. Mules also have a grip sole, so you don't have to worry about sliding on the floor or putting on other shoes that do not go as well as mules. The best mules going well with maxi dresses are black and white because they are neutral colors and will look good with any maxi dress. Mules – mule shoes look great with any skirt or dress, but they go exceptionally well with a summery maxi dress. The heel height is perfect for walking in the sand or sun all day long.
Statement Shoes
These shoes are ultra-high heels that can be paired with any maxi dress to add instant glam to the ensemble. Choose bright jewel tones or bold patterns for maximum effect, or go for sensible heels in fun colors or patterns when you need something day into evening appropriate that will keep your feet happy all day long! Try pairing your statement shoes with a slashed hems maxi dress and ankle strap heels for an edgier look.
Open-Toe Sandal
Sandals are usually easy to walk in and will help your feet breathe for the heat if you're in an area that's warm during the summer months. They work well with Maxi Dresses because they leave room for some airflow around your ankles that might get hot from tighter clothes on hotter days. Open-toed sandals go great with maxi dresses because it gives off a sexy vibe and makes your legs look longer than they are. They can be worn to different events, including casual, professional, or social events.
Trainers 
Trainers are classic shoes that pair well with maxi dresses because they provide a classic, sporty vibe which will not overlook the dress. Trainers also provide good support for the ankles and feet.
Sneakers 
People tend to choose sneakers because they are easy to slip on and off and because of the comfort they add. It's essential that when wearing sneakers, you should wear socks that color coordinate. Sneakers worn with maxi dresses are a very casual look suitable for everyday wear.
Moccasins
Moccasins shoes are great for those who don't want to break the bank when buying a pair of shoes. They are comfortable, durable, and made with the perfect amount of material so that your feet feel fresh.
If you love Moccasins shoes, consider buying two pairs. One pair to wear throughout the day and a pair that you can wear at night if you plan to go out after work.
Moccasins shoes have a classic design making them easy to match with any outfit. They look good with shorts, maxis, and skirts. They also come in various colors, so there is no limit on what you can wear these with.
Slip-on shoes
Slip-on shoes are great for wearing a maxi dress because of their simple design. They have an easy slip-on construction that looks good with any maxi dress and any outfit in general. They are also pretty comfortable and versatile. You can wear them to the grocery store, or you can also wear them to work. Just make sure not to choose a pair that has a bright color because although it may look good on, your managers might be annoyed by the lo
Ballet Flats
Flats are an excellent idea for a casual maxi dress look. They make for the most comfortable shoes to wear with this dress style. If you feel fancy, flats can also be dressed up with some jeans or pants underneath. Ballet flats are an excellent option to make your outfit more classy and elegant. They should be worn like a maxi dress, long enough to cover your feet thoroughly.
Ankle Boots 
Ankle boots are an excellent middle ground between sneakers and heels and give you a little height boost. Ankle boots provide a relaxed and stylish look and are usually easy to walk in. Like sandals, ankle boots leave room for airflow around your ankles, which is essential information to keep in mind if you're walking around on warm days. In addition, they work exceptionally well with an A-line Maxi Dress, so the dress's shape doesn't create bulk at the bottom.
Dress Boots 
Dress Boots are a good choice if you want more height and comfort than heels can give you. For example, a mid-length boot with a low heel will look great with the flowy Maxi Dress, but make sure that you have a wide calf so your legs can look longer and your heels are not too tall!
Combat Boots 
Combat Boots go great with a Maxi Dress, and they work well in the winter and the spring. They give off an edgy vibe and should be worn during nighttime events. Combat boots are suitable for casual, professional, or social events.
Cowboy Boots 
Cowboy boots are the most appropriate wear with a maxi dress. These outfits look perfect when you wear cowboy boots with maxi dresses. And also, you can apply this outfit in all seasons. Remember, when wearing cowboy boots with the maxi dress, you should wear boots in a nude color to make a neat appearance. The height of cowboy boots is about 5 inches which is just suitable for a maxi dress.
Espadrilles
The espadrille is a classic summer shoe that can be used with maxis or dresses all year round. These shoes are especially great for traveling since they pack up into a small bag and provide some support. They also look great with trousers and shorts in the wintertime!
Brogues & Oxfords 
Brogues & Oxfords are also going well with a maxi dress, and more emphasize your style. While brogues are mostly worn with formal dress, the oxford can be paired with a dress or casual clothes. Oxford shoes: Are you looking for a casual yet chic shoe? These may be the perfect ones for you. The oxford shoe can go with any outfit and give you a versatile look. This is because they come in so many colors and styles. In addition, the contemporary look of these shoes can lend a hand in taking your maxi dress to the next level.
Flip Flops
Flip Flops are the most common shoes worn to beach parties or for people who live near the beach. Since flip flops are famous in summer, they go well with maxi dresses. Unfortunately, some women think that flip-flops will not go well with their maxi dresses. But don't be fooled by this belief because they can still look stylish, elegant, and put together with this type of shoe.
In Conclusion
In conclusion, as you can see, there are so many shoes to style your maxi dress during summer, winter, or all the months in between with a fashionable or classic pair of heels, sandals, boots, or even sneakers. The choice on how to style your maxi dress with shoes depends on the type of maxi dress being worn, where you're going, and the seasonal weather. As long as you feel great and confident, that's all that matters!
Few Tips For Choosing Shoes With Maxi Dresses
Consider first about the materials of the shoes
The first thing to remember when selecting footwear with maxi dresses is to consider the materials of the shoes. Please stay away from thin soles like leather or suede, which will make it difficult for you to walk long distances without injuring your feet; instead, choose shoes with thicker soles like rubber or wood.
Consider the colors of the shoes
When choosing shoes with a maxi dress, also consider the color. With most maxi dresses having a solid color, it's essential to choose your footwear accordingly. For instance, stay away from black shoes and wear a blue maxi dress.
Consider the height of the shoes
You can also consider flats or wedges, as they will provide you with comfortable cushioning and keep you away from back pain or sore legs.
Consider suitable occasions
When choosing shoes with a maxi dress, also consider the type of occasion you'll be wearing the dress for. For example, if your dress is for a wedding, evening party, or significant event, then it would be appropriate to wear high heels; however, if your maxi dress is for work or school, then it would be more suitable to wear flats so that you won't look too formal and professional.
FAQs
Can I wear Sneakers with a maxi dress? 
Of course, no one can tell you how to dress up your shoe combo. There are a lot of different styles and tastes in fashion. For example, you may wear high heels with a maxi dress or casual shoes like sneakers or trail runners. It would be best if you made every effort to find a good match between your outfit and your shoe style. It will help you be more confident in what you're wearing and have an eye-catching style that reflects who you are as a person. 
What other factors should people consider when choosing appropriate shoes with maxi dresses?
When it comes to deciding what shoes to wear with a maxi dress, you should think of: the length of the dress, your height, and the occasion. Opt for flat shoes like sandals or ankle boots for a casual look during the day, or pair them with heels or wedges to achieve a dressier look at night. If you're slightly shorter in height and you want to avoid tripping on a longer maxi dress, stacked wedges can help your dress sit at a better length.
Wearing Boots: Things people should remember. 
Boots are another pair of shoes worn with a maxi dress. Most types of shoes can be worn with a maxi dress. For wearing boots, you should have leather boots in brown color. While wearing this outfit, you should ensure the proper fitting of your boots because the wide fitting of your boots may not give the best look on you. 
Wearing Heels: Things people should remember.
Heels shoes are a bit more feminine to any outfit, and they would be perfect with maxi dresses if their heel height is not higher than 4 inches. In addition, a pair of heels give off an elegant, sophisticated vibe that is great for formal occasions such as weddings or work events, birthday parties, and barbecues. 
Heels are a great way to add a little more height and make your legs look longer. If you're not used to wearing heels, we recommend getting simple, clear ones for the Maxi Dress and gradually increasing your heel height as you get more comfortable with wearing them. 
It is also essential to select a pair of dress shoes with a leather sole, so they do not create scuffs on your maxi skirt.