What is your idea about white shoes? They are always good, and we love them. However, when it comes to a chic, professional outfit, a white shoe is a must. Of course, you should invest in quality pumps with an elegant look to them for this important occasion, but what about those times when your shoes happen to be white? 
Let's look at what outfits we can wear with white shoes. And we hope you will find something nice and trendy to wear with this great accessory. White shoes go with all clothes and colors, so it's easy for you to combine and create your style.
Since white shoes are so popular right now, we thought it was the perfect time to compile some outfits with white shoes. These outfits make for great Spring and Summer looks featuring some of your favorite trends like off-the-shoulder tops, floral prints, and suede skirts. 
The term "white shoes" has been on the fashion scene since the mid-1900s. When people hear that phrase, they usually think of sneakers, but in reality, many different outfits can be paired with white shoes, and most of them aren't sneakers. This article will introduce you to a few outfits and explain why they go well with white shoes.
20 Outfits to Wear With White Shoes For Men
1. T-shirt and Jeans
T-shirts and jeans are the fashion industry's most enduring combination. White shoes and jeans have been associated with fashion since before the term "fashion" was coined. Combine it with a jacket of your choosing, and you'll have the ultimate urban look on your hands. To round off the look, you may wear whatever T-shirt you choose.
Since it is easy to get dressed in this outfit and it works, it should not be overlooked. In addition, this design is ideal for those who like a good adventure. You may create an impact on the other person with only a pair of white shoes, some tattered jeans, and a plain T-shirt. An appealing and manly style may be achieved by adding extra accessories and clothing.
2. Polo shirt and khaki pants
When it comes to a casual look, white shoes and khaki pants are a great combination. On the other hand, the Polo shirt is constantly hot because of its simplicity and ease of selection. You wonder how to wear a polo shirt with style. This mixing with white shoes for men always matches every color on the polo shirt you wear. Mixing this item helps you save a lot of time on the road and still be effective.
For men who work in an office environment, this is one of the classic ways to coordinate with white shoes. A polo shirt and simple khaki pants will help you look casual but elegant. Moreover, this outfit also helps the guys to exercise most comfortably.
3. Sweater and trouser
Fashionistas in Korea, China, and even Vietnam have long coveted and coveted sweaters. There are many different ways to wear sweaters. For men who like the energy and vitality of youth, a white shoe and a sweater look are ideal. With a pair of white shoes, you may wear this ensemble to work, school, and even out with friends.
Combining white shoes and a sweater is one of the most versatile ways to go. This simple outfit goes with almost any color and fabric, so you will never have difficulty getting dressed. Also, you can wear it at any time of the year, so there are no limits to your imagination.
4. Black outfits and leather jacket
When it comes to white shoes and black outfits, we will always find a way to combine them. Therefore, we can wear leather jackets for men and black outfits with white shoes. Leather jackets have been around for a while now.
Since leather jackets are not as popular as they used to be, you may still use these jackets as a way to dress up with white shoes. Combining the two looks will give you an amazing appearance that can create a strong impression on others. This style is sometimes called the "cops" style because of the long association between law enforcement and police officers wearing leather jackets.
If you don't possess a leather jacket, you're losing out on something. For some reason, you seem a lot more macho with this leather jacket, a pair of white shoes, and a few other items.
5. All white outfits
The all-white color scheme has been a favorite of people since the early 1980s. This style is popular with both men and women, but especially with younger people. However, the many variations in white shoes can give you a wide range of options in terms of designs.
All-white outfits are one of the easiest ways to dress up with all-white shoes. There are several ways to do this, including t-shirts made of all white or contrasting colors. This way allows you to make a very simple and versatile outfit for all occasions.
Combining an all-white outfit with white shoes is easy to create a relaxed look without much planning. You can easily go out with your friends or take your pet dog for a walk in this unique look.
6. T-shirt and shorts
Many guys must choose the combination of white shoes with shorts for hot or lazy days. Guys can apply this combination to picnics, walking around chatting with close friends, or simply going to the supermarket but still want to be "cool."
This design is ideal for both men and women because it enhances the body line and makes people look more active. Shorts can be worn in many different ways. In addition, because white shoes are very versatile, they can be used in many different combinations.
White shoes go especially well with a pair of cuffed shorts. It makes it extremely easy to get dressed in a snap, so you'll always have a great way to look good no matter where you're going or what you're doing. This also means that your outfit will match your style, so there's no need to worry about multiple variations of clothing when you're wearing white shoes.
7. Pair with suits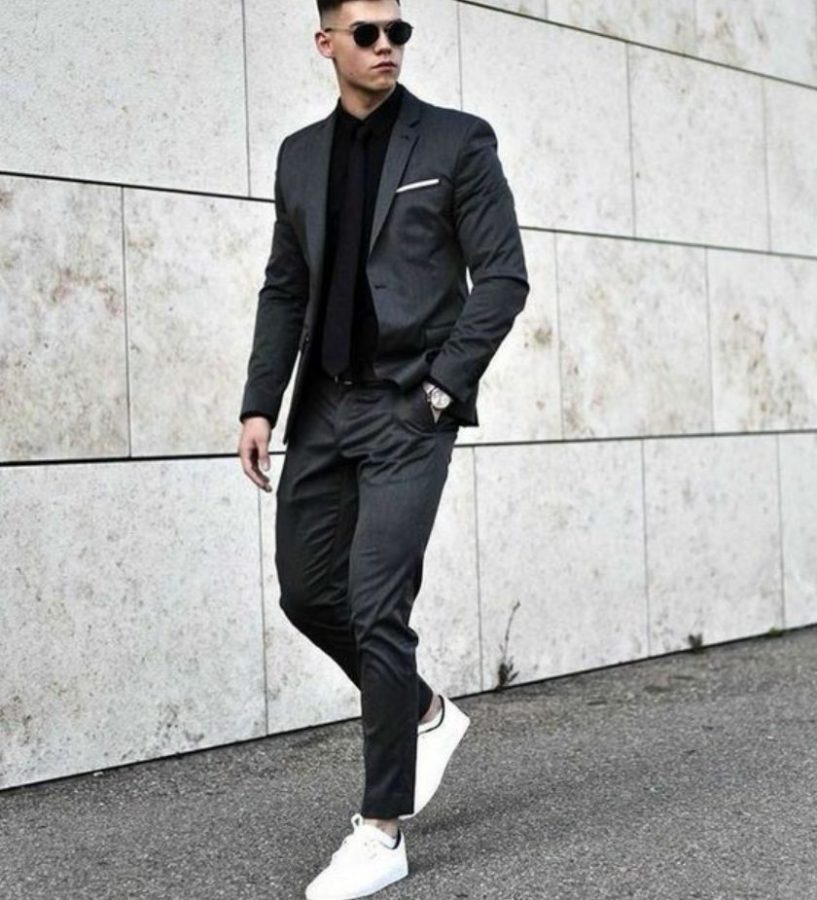 One of the fashion trends that many men love to mention is matching white shoes for men with a vest. This trend has dispelled the traditional principle of coordinating clothes when it is said that suits are only suitable for western shoes. There are many reasons to wear a suit.
Do you want to go to work in a smart, stylish way? White shoes are the answer. If you have a very refined outfit, you can wear white shoes with slacks for men for a professional look. It will make you look very elegant and classy.
Combining these items with white shoes creates an elegant, liberal, slightly "bad boy" look in fashion gout. It is completely not annoying to the viewer, but it also helps create a unique style, attracting many eyes.
A pair of white shoes or shoes with a vest will help the wearer feel comfortable, creating a very personal style in the opposite person's eyes without losing the suit's inherent elegance.
8. Shirt and trouser
Fashion is a trend that appears in a variety of styles, colors, and designs. The combination of white shoes with a shirt and a pair of pants is also very popular among young people. Whether the shirt is long or short sleeve, this is one of the most versatile ways to match white shoes with clothing.
This is an excellent choice for businessmen who want to wear comfortable clothes every day. It's not hard for you to wear a pair of pants matched with a shirt and white shoes every day, even on weekends. This combination will allow you to look stylish without showing too much imagination.
9. All neutral outfits
Several men want to wear white shoes, but they are very afraid to make a bad choice. However, if you look at the basic colors of the world, you will see that many combinations can go well with almost any pair of white shoes.
Definitely, you should have a neutral wardrobe for its benefits. The all-neutrals look is another trend that is growing in popularity. Neutral shades of white shoes are worn with different shades of clothing, but always without any patterns or contrast. 
Even if you're in a bad mood, it's OK not to even look at bright and cheery things. We've all had days like this at some point in our lives. However, this does not necessitate that this should be reflected in your attire. White shoes are so versatile that you may use them with various outfits, and they'll always be there for you.
10. Sport outfits
Guys who love or are passionate about sports also do not hesitate to mix and match with white shoes to show their strong and authentic manly look because white shoes are very easy to get dirty, but they just need to be beautiful, right? 
When you have white shoes with sport clothes, you can show off your sports. You can even enjoy the sweat of motion with this look. Wear sports clothes makes you look more energetic and fun. In the fashion industry, sportswear is making headway.
When your clothes are too casual, you may feel that it's hard to express yourself. However, with the help of white shoes, it will be easier for people to see that I am wearing a pair of shoes out with my sport outfits.
Your outfit will always shine through under these clothing items if they are used correctly. 
11. Pair with a denim jacket
One of the most popular combinations of white shoes is denim jackets. This combination is also one of the most radical. But if you don't want to do anything else, you can still make a great outfit with these items. Marilyn Monroe to Madonna, this is a short history of the Denim Jacket.
Blue denim and white would be a combination damn fine if you didn't notice before. White shoes and denim jackets give your ensemble a hobo vibe. You should acquire a denim jacket since it will never go out of style, and you will reap the benefits for a long time. It's timeless enough to wear year after year. They may also be easily contrasted. Any color beneath the jacket is OK, including white, black, bold, and even nude. The combination of denim and white shoes makes any hue appear great.
12. Simple t-shirt and cargo pants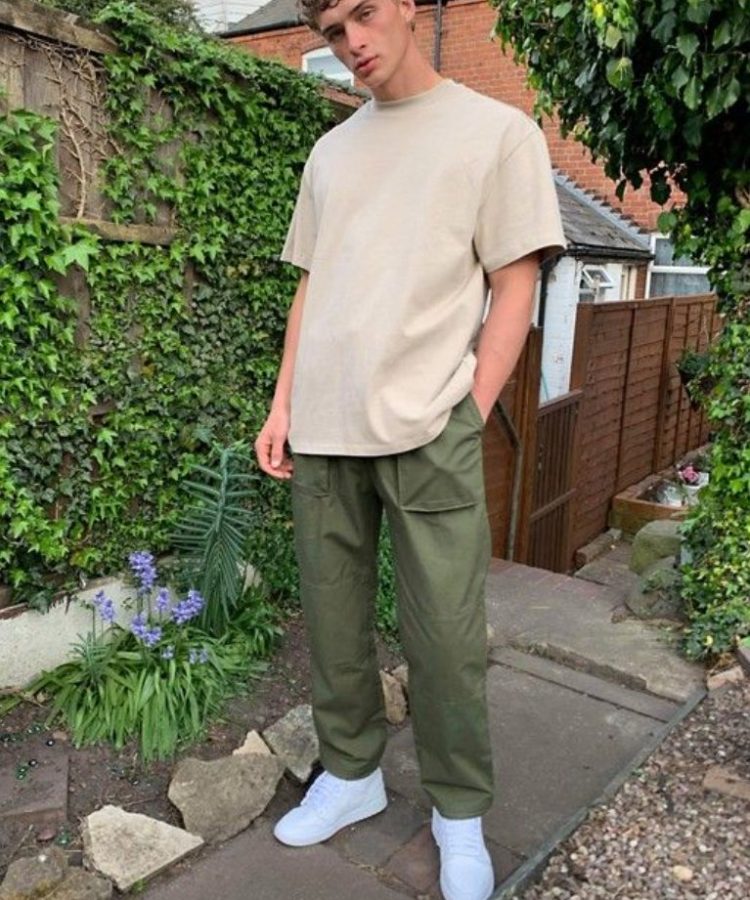 Imagine wearing a pair of white shoes with a simple t-shirt. It's another extremely popular combination. This combination creates a casual but also trendy look. You need to know that you can wear both your pants or jeans with this kind of outfit. In this case, why not combine with cargo pants?
Cargo pants go easy on any body type, so no matter what size or shape it is, they will fit perfectly. You can wear a simple t-shirt or shirt that you like with cargo pants or trousers. The combination will look great, and you'll be able to look your best without much time or effort.
13. Multi-layer outfits
If you want to look your best, you should always let your imagination lead the way. White shoes are so versatile that you can combine them with any item of clothing you want. For example, you can wear a white pair of shoes with any shirt or jacket for men.
With autumn and winter days, the weather is cold, the combination of multi-layer clothes with white shoes is extremely appropriate. When mixing things, you should keep in mind the 3-color rule, limiting the abuse of too many colors or accessories that will lead to an anti-master outfit.
14. Jogger set
It is a good idea to mix and match your white shoes with a set of joggers. You can wear a pair of joggers with a hoodie or basic T-shirt, easily creating a trendy style for the world. There's a real story behind the jogger pants.
When you want to create an outfit characterized by casualness, you can combine it with white shoes. With the pair of white shoes, you will show that you are still young and full of energy. The combination looks pretty good, and it's easy to create without much effort.
Joggers will always fit your body well, and you can wear them at any time of the year because their design never grows old or dull. They're easy to match with many accessories such as hats, scarves, etc., so go ahead and add hot shades to your outfit with jogger sets!
15. Turtleneck sweater and trousers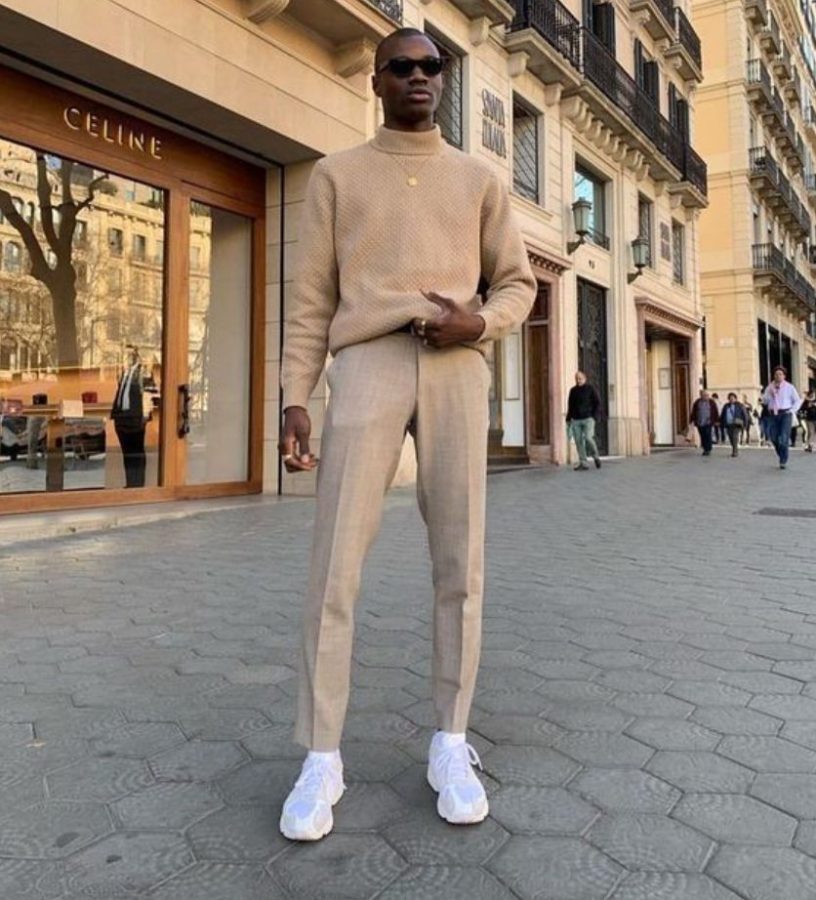 White shoes make any type of apparel look more special, but they can stand out if you wear them with a long-sleeved sweater and trousers. A look at turtlenecks' history and psychology. This combination makes your outfit very comfortable and trendy at the same time. In addition, a pair of white shoes matched with a turtleneck and rousers can be easily mixed with various clothing items for men.
You can wear a pair of shoes with a sweater and jeans and still look good, but it's even better if you're wearing a more stylish coat like this one. Choose this outfit for winter to look stylish and elegant!
16. Bold color outfits
White shoes can be mixed with a bold color, making the combination very beautiful and unique. They also have a very powerful impact. Doing so will make you look fashionable, and you will have a great eye-catching style.
When you wear a basic bright-colored sweater, your white shoes stand out, even more, drawing attention to your feet and your gleaming shoes. Hoodies and t-shirts in bright hues such as red, electric blue, and forest green are more common than other clothing. Stay away from brightly colored pants. Leave that gloomy mood in 2016, where it should be left. Instead, wear denim or any other pants with a bright shirt and white shoes to make a statement. Adding additional accessories, such as a hat or sunglasses, might help you achieve a more fashionable look.
17. Noel outfits
Introducing Neon – the newest color trend in fashion. Choose a graphic neon top or sweater for those days when you're feeling a touch edgy but don't want to go crazy with your outfit. Also, to avoid seeming like a clown, you should wear white shoes with your clothing. It's also important to realize that your fashion-impaired pals may tease you, but they have no idea what they're talking about when it comes to runways and fashion trends. So don't allow your pals, or anybody else for that matter, to get in the way of creating a statement with your clothing.
18. Pair with long trench coats
Trench coats are the perfect combination for those who want to look sexy and stylish. They can be easily paired with white shoes to give you an edgy and stylish look.
If you need to stay warm during this cold season, wear a long trench coat with white shoes. If you wear different types of heavy coats, they will all add a layer of warmth that will also add to the style of your outfit. For instance, if your shoes are in white and your overall outfit has contrasting colors from the trench coat, they'll look more stylish when you wear them together.
19. Long-sleeved shirt and wide-leg pant
Long-sleeved shirts and wide-leg pants can give you a casual and impressive look. Combine them with white shoes, and you will have an outfit that's both comfortable and pretty enough to wear in any situation. For the best results, choose plants that aren't too slim. Instead, opt for wide-leg trousers or jeans that are made of high-quality fabric to help keep you warm during the chilly days that lie ahead for us.
20. Pair with a blazer
You can easily combine your white shoes with a blazer. A blazer may be worn in a variety of ways. You can create a business look with these two items of clothing. Whether you work in the public sector or just someone who likes to dress well, it is important not to look sloppy. You can also create a chic outfit for the office, which will help you gain the admiration of your colleagues.
White shoes are especially good if you're going to meet someone or go for business meetings. Adding a blazer can make you look sharp and professional. If you want to be the best-dressed person in the group, you must have white shoes because they are very trendy and stylish at the same time!
20 Outfits to Wear With White Shoes For Women
1. T-shirt and jeans
A white shoe-and-jean combination is a quick and easy outfit to put together. You may wear this outfit when relaxing at home, meeting up with friends for a cup of coffee, or a short supermarket run. There are several ways for ladies to wear jeans. Style and warmth aren't mutually exclusive when it comes to this versatile piece; you can dress it up or layer it up as needed. So even though it may not be to everyone's taste, we encourage you to give it a go. Plus, you probably already own most of these pieces in your closet.
This is a very familiar formula to create a girl full of personality and style. This, combined with white shoes, gives you a youthful and flattering look. To stand out more when going out, you can choose a plaid t-shirt, or a solid color t-shirt combined with jean shorts and white shoes is also a great idea!
2. Hoodie and ripped jeans
Ripped denim is sweeping the globe. They look great with white shoes or anything else. It's best to keep the appearance simple by pairing a light hoodie with a pair of denim and low-key white shoes.
A hoodie and ripped jeans provide you with a punk look easily. You can wear them to go out for coffee as well as for various activities.
By choosing the appropriate color of pants and tops, you can easily stand out from the crowd! This is also an excellent choice for those who want to create their style. By adding simple elements such as a pair of white shoes, they will bring out the most in your outfits and make you acceptably and stylishly fashionable!
3. All-white outfits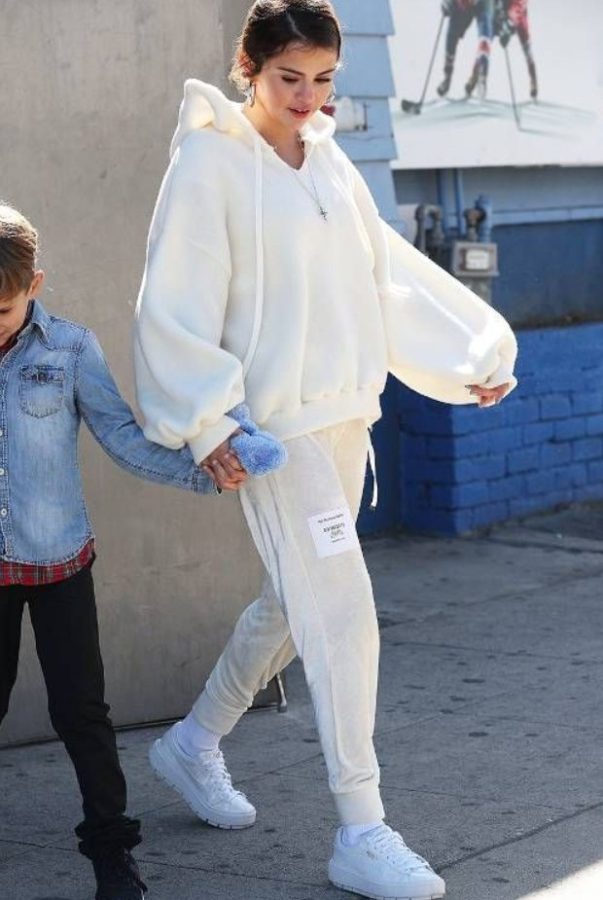 Wearing all-white is always an excellent choice. Let me give you some tips on how to wear everything all white.  An all-white outfit can easily be paired with various shoes. A simple but effective way to wear them is with a pair of white shoes.
Make your whole body white. This all-white attire is ideal for making a strong first impression. White is a clean and innocent color. To make a statement, go for a dark lip color like plum or blood red. Neutrals are acceptable, too. The beauty of wearing all-white is that your makeup options are almost endless.
White shoes are always in style, and they help you look fashionable and interesting. They can be teamed up with nearly any outfit, whether it's smart or casual.
4. All-grey outfits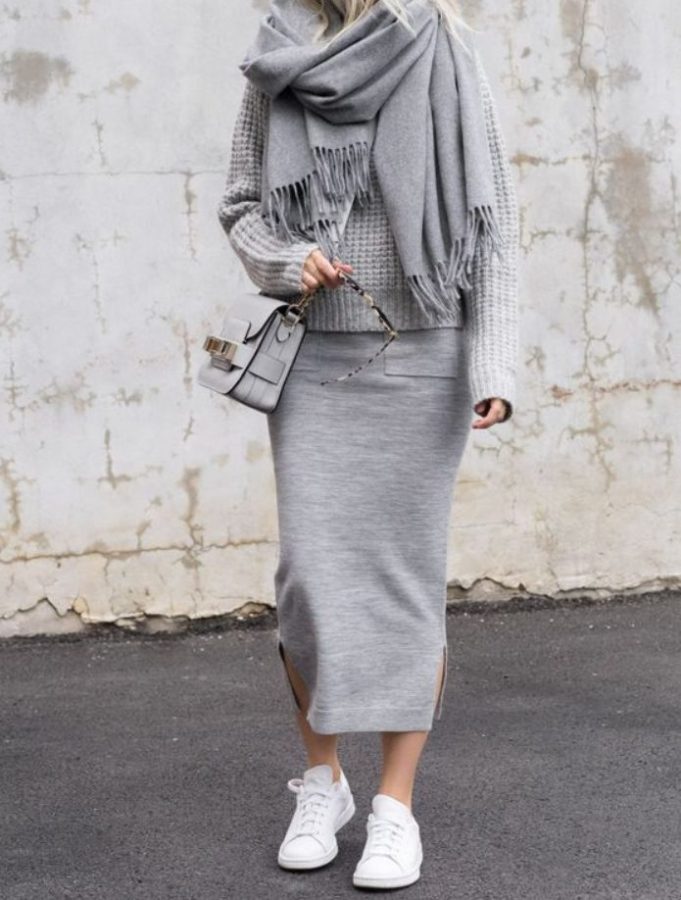 Maintain a balanced contrast between your attire and your shoes while maintaining a well-composed appearance.
If you think that all-grey is just black and white, you are wrong. Instead, grey can be a powerful color if it's paired with the right outfit. For example, pair your grey skirts with a grey top or a grey dress and up with a pair of lighter-colored shoes for a style that is both formal and informal.
Wearing grey is another great option for those who want to create their style statement. You can use it as an alternative to black or navy blue by wearing all-grey or combining it with black, purple, red, etc. To give more impact to your outfit, consider adding some accessories such as a scarf or jewelry.
5. Pair with a jumpsuit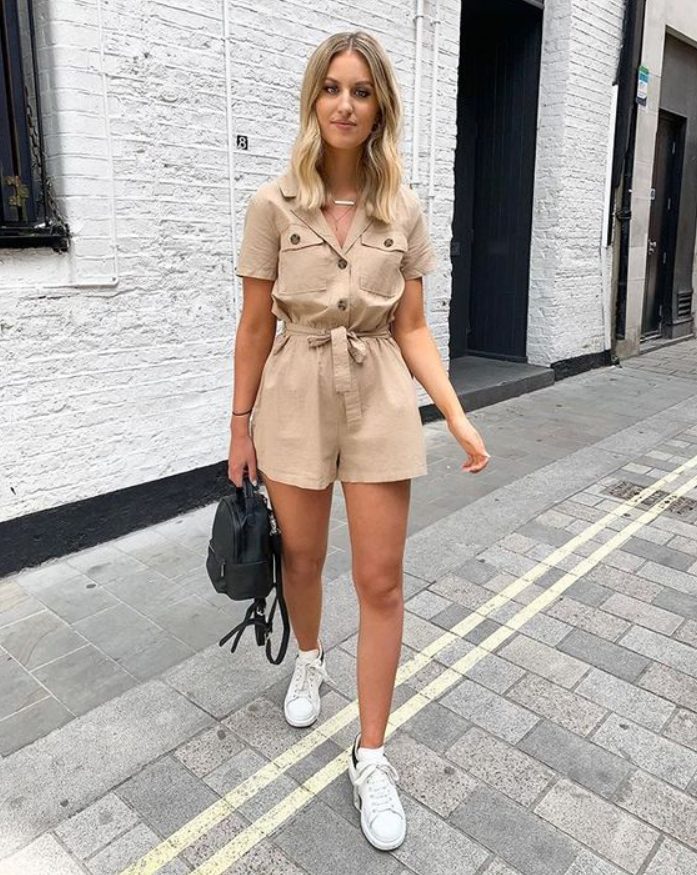 The 1950s-inspired jumpsuit is making a comeback, and there's no better way to make it your own than with a pair of white shoes. Add a pair of sunglasses or a wide-brimmed hat to add some more swagger to this look.
If you are wearing a black jumpsuit, wearing black shoes is perfectly acceptable. However, if your favorite shoes are white, let make your white shoes stand out by pairing them with a one-color jumpsuit, particularly if it's in a neutral tone.
The best thing about jumpsuits is that they're comfortable and flattering for everyone, no matter their body type or shape! If you wear it right, you'll look incredibly trendy while being dressed comfortably at the same time.
6. Workout outfit
Just because you're heading to the gym to work up a sweat doesn't mean you can't look fantastic while doing so. Putting together a workout wardrobe can drive you to go to the gym on a more regular basis. Adidas, Nike, and a slew of other sportswear companies are now producing functional and fashionable outfits. Here's how to wear sportswear while you're not at the gym.
Whether you prefer to get your cardio in or tone up at home, white shoes are a great go-to for any form of exercise. With this outfit, you can get your sweat on and still look fashionable.
If you want to wear a workout outfit but avoid looking like a gym rat, wear it with a pair of white shoes. The clean and simple design of the shoe looks great with athletic attire and fits well into most other kinds of outfits. 
7. Pair with a faux fur coat
Pairing a white shoe-and-jean combination with a faux-fur coat is a no-brainer. Even though it may not be practical for winter, wearing a fur coat in the fall or winter is not unheard of.
If you want to be the center of attention, try pairing your white shoes with a large, oversized faux fur coat. This look is eye-catching and works best if you have light-colored hair and dark-colored eyes because that will help set off your gorgeous coat!
You'll seem cool and collected in this stylish ensemble! Wearing a light-colored fake fur coat is the finest way to remain warm, and your shoes are the best way to stay on your feet no matter how cold it gets outside!
8. Crop top and skirt
Try pairing your white shoes with a crop-top and skirt combo. It's easy, comfortable, and stylish. For this look, you can pair a plain black crop top with a neutral skirt for an effortless look that is both casual and chic. Pairing your shoes with this outfit will instantly up the cool factor by about 3,000%!
Pairing white shoes with a crop top is another great idea for creating their style statement! You can wear them with various outfits to take your style from simple to stylish quickly. Or you can also choose a denim skirt that is polite but still full of charm and personality in the case of work clothes.
9. Sweater and floral skirt
Yes, I love sweaters for many reasons. Our goal is to help you include a little bit of yourself and what you want to wear into your everyday outfit. First, put on a brown sweater and white shoes to complete the look. Then, with a striking floral design, your skirt will be the star of the show. Finally, make a sloppy bun out of your hair to keep things basic and stylish.
Is there anything more enticing than rich hues? There is no need to be afraid of them! Be creative in finding methods to combine your preferences into current trends. For example, a flowery skirt and white shoes would look great with this sweater. Influencers on Instagram will like your strong and bold style, and you may even receive praises for it.
10. Beach, please!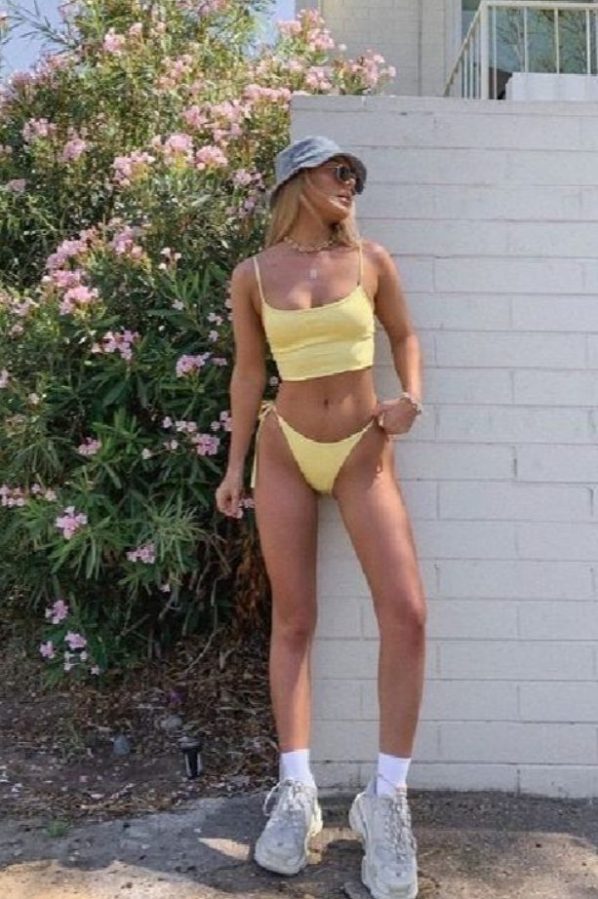 If you are someone who loves play, sunshine, and water, you are sure to look great with this outfit. The perfect beach or pool party ensemble includes a matching crop top and shorts combo, which looks amazing when paired with white shoes and coordinating sunglasses.
Is there anything better than lounging on the beach? Shaking your hair, so it doesn't dry up in the sun and having fun with friends. Looks like you've already got everything covered here!
11. Bodycon dress with a leather jacket
Try a bodycon dress in black with a leather jacket for your next lunch or supper outing. Then, change your heels for a pair of clunky shoes to finish off your look a little more casual. Last but not least, style your hair in curly hair and accessorize with your favorite handbag and a pair of round sunglasses to complete the outfit.
This look is so easy and so chic, we can't even stand it! Wear a black dress with a leather jacket and some white shoes as your accessories. 
A bodycon dress is great if you want something low-key yet still sexy and fashionable. But if you're worried about your belly pooch, here's how to style a bodycon dress. The simplicity of this outfit makes it perfect for those who want to stay on the clean side but don't want to do away with fashion altogether!
12. Pair with a floral dress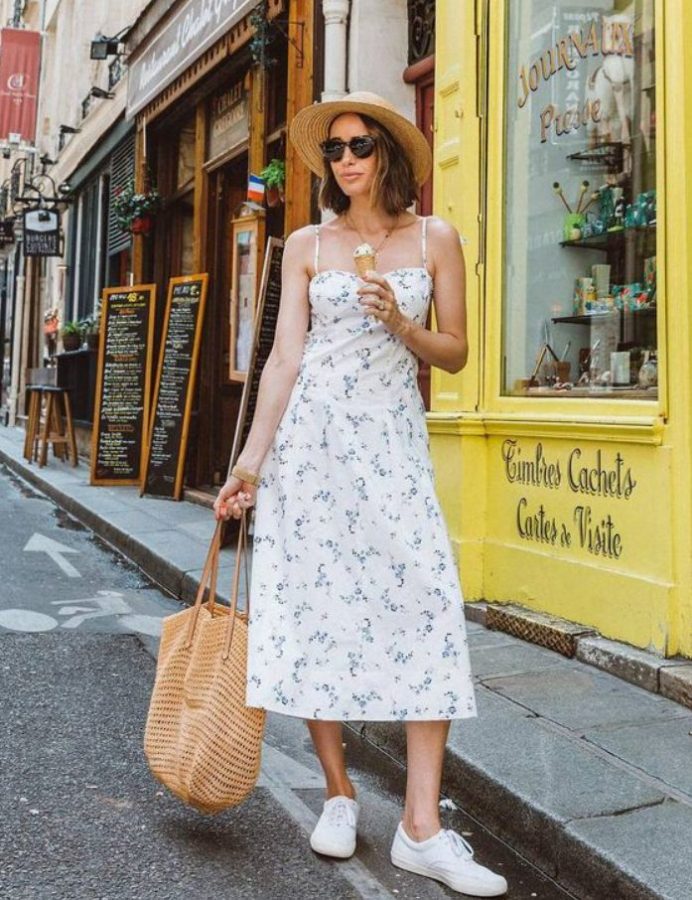 To brighten up your looks and brighten up your day, try wearing a floral dress with a pair of white shoes. Then, as you step out wearing this charming look, you can take in the beauty of spring and feel the warm sunshine all over again.
White shoes are an accessory for any outfit. And since clothes that use flowers as their main motif are on trend this year, you'll look pretty stylish if you wear some with your floral dress! Adding accessories such as a neutral-colored pocketbook and sunglasses will complete the look. And there you have it! You've made it in the corporate world.
13. Pair with Cheongsam
What could be more classic or traditional than an elegant cheongsam? If you wear a cheongsam, you are bringing out the traditional Asian culture into the world. Also, wearing a cheongsam with white shoes is ideal for showing that you are ready for anything. As they say, "A little bit of China never hurt anyone."
Just like everyone else at work, you can also wear white shoes if you wear a cheongsam. This outfit is high-end elegant and can impress others or express your taste in fashion. So if you want to dress up but don't want to look too formal, wearing a cheongsam with white shoes is for you!
14. Pair with a silk dress
When you wear a summer dress in a classic style, you will instantly feel refreshed and happy. You will look elegant and cool, but you won't feel too stiff or formal even if the weather is not very warm. The dress with silk fabric is great for any kind of situation because you can show your body. The light color of the dress is right for these hot and sunny summer days. The white shoes will add some colors to the outfit and make it more elegant and stylish!
It is possible to pair white shoes with a lovely silk dress that falls to your knees. In this manner, you will be able to party all night without having to worry about developing blisters.
15. Turtleneck sweater and wide-leg pant
Turtlenecks will help you stay comfortable as the temperatures start to fall. One of the most important things to remember when wearing a turtleneck sweater is to make sure it isn't too tight, as this will make you want to take it off immediately. Also, make sure your turtleneck sweater is comfortable and has a body-flattering fit. This look is perfect for those who want to look chic and fresh but don't want to wear makeup. Some women dislike wearing foundation or mascara, so you can wear this style with minimal effort.
You can mix and match the white shoes with several different outfits, ranging from casual casuals to luxurious formal ones.
16. Pair with a wool dress
The wool dress is a fine example of a look that just doesn't go out of style. You can wear it to work or go out on the weekend. Wear a white sweater over a wool dress, and you'll look chic and pulled together. This outfit is perfect for any woman who wants to have a more feminine look.
It is possible to wear these white shoes with dresses or skirts of different colors, so you'll have no trouble matching them with your ensemble as long as you consider the colors that match best with your overall outfit.
17. Pair with polka dot dress
The polka dot dress is more than just a dress; it's an inspiration. It takes you back to the '60s and 70s where this outfit was so common. That's why we think you'll look amazing in this outfit and wear it on a hot summer day.
The white shoes can be worn with any kind of outfit and can be combined with any color!
18. Pair with a pencil skirt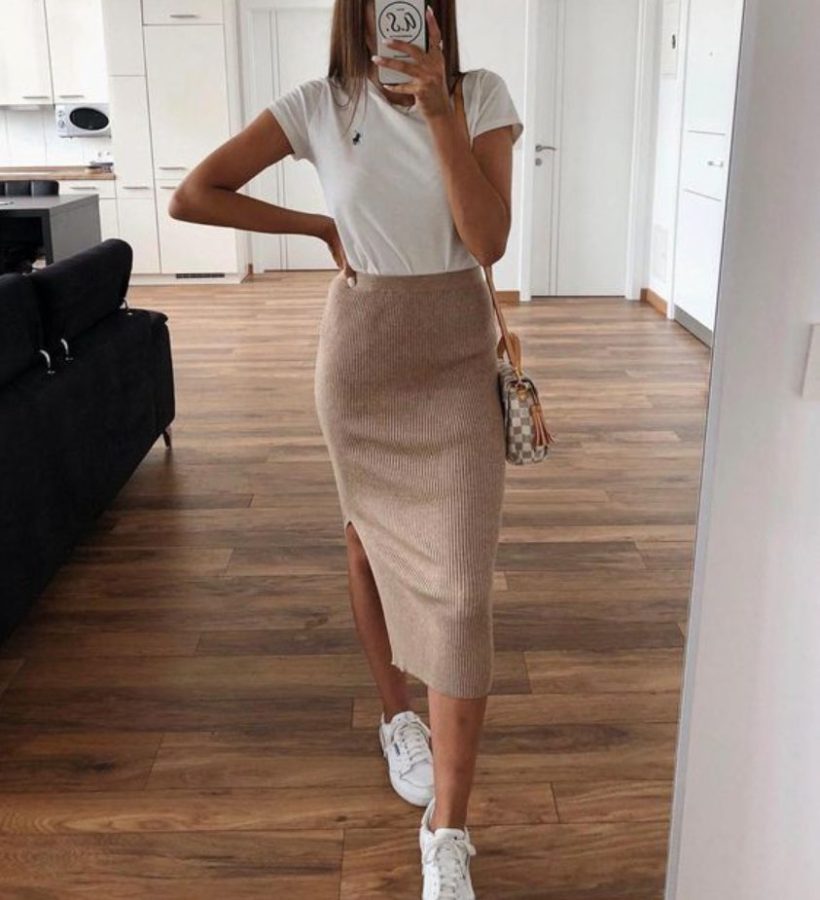 To have a nice, trendy look, you should try wearing a pencil skirt with white shoes. This look is ideal for any woman who wants to be in shape and very stylish. In addition, the white shoes will give you a more youthful and athletic appearance.
This classic look will help you have a laid-back but very elegant style. The pencil skirt is perfect for women who don't want to wear tight clothes because it's much more comfortable than a skin-tight dress or pants. As for the white shoes, they are perfect to use on any type of occasion!
19. Pair with a leather dress
Leather is an adult style. It's a way of combining elegance with class and sophistication. If you want to look like a fashionista, you can pair your leather dress with white shoes as an accessory. In what ways may a leather garment be worn in the cold months?
This stylish look will help you to become more fashionable and elegant. The leather dress is also very easy to use as it allows you to move freely and is comfortable at any time!
20. Pair with a trench coat
The trench coat is one of the best trends for this fall season. If you wear it, you will look so chic and modern. You can wear this trench coat with jeans or with a pair of white shoes! Another great thing about this outfit is that it can be worn on any occasion, especially if you're going out.
This outfit is perfect for women who want to create an elegant yet casual look, especially if they are fed up with the high-end glamour that well-off people normally use.