So you have taken some time to figure out your body shape, and you have found that you have the extremely coveted hourglass body shape. So, what should you do now?
Understanding your body shape is an essential stage in the development of your style. It can advise you on what styles to wear, what designs to avert or tweak, as well as how to build a wardrobe filled with items you love and wear frequently.
This would be your helpful guide to dress up your hourglass body shape and highlight those lovely curves.
So, What is Exactly an Hourglass Body Shape?
Generally speaking, the hourglass body shape is distinguished by a roughly similar bust and hip measurement, as well as a slimmer waistline, with the narrowest part of your body at the normal waistline. These readings can work against or for you, so let's just talk about how to build your ideal wardrobe, what styles are most attractive, and style tips to enable you to feel more confident in your shape.
Basic Characteristics of a Standard Hourglass Body Shape
The hourglass body shape is lovely and curvaceous, with some distinguishing features. You might just have curvier thighs and a much more rounded filled-frame than any other body shape.
For the most appealing and matched outfits, your garments should be fitted through the bust, waist, and hips. You might also need to wear stretchy clothing for added comfort and figure meaning.
Your thin waist is one of the most noticeable features of the hourglass female shape. Dress up items that draw attention to your slender waistline and have concepts from bust to waist as well as from waist to hips.
Here is the summary of an hourglass body shape's features:
Shoulders that are slightly rounded

The width of the hips and chest is the same.

The waist is narrow and defined.

The hips and bottom have a rounded shape.

Thighs that are larger

Weight gain is usually distributed uniformly all across the body.
Several Other Common Body Shape Tendencies
It is hard to characterize your body into a single basic body shape. Keep an eye out for a supplementary body shape:

If you do have a little bit bulbous upper arms that make your shoulder line look broader, you are more likely to have an inverted triangle shape.

If you do have a little broader bottom or added weight all over your hips, you are more likely to be a pear shape.

If you carry excess weight all over your waist, you have an apple shape.

If your waist isn't characterized, you are most likely to have a rectangle shape.
Hourglass Body Shape: What Should You Wear? What should you avoid wearing?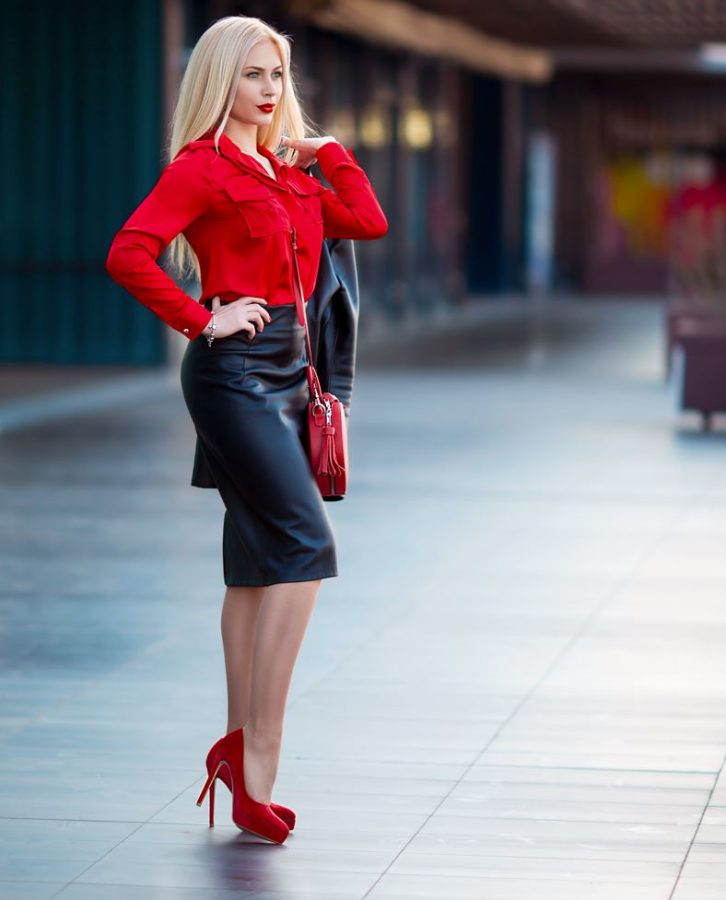 Wear things with sleek lines and/or a clearly delineated silhouette to help smooth your shape. For example:

Wear a pencil skirt with a jacket or blazer that is just beautifully fitted enough in your hips and bust as well, or wear it open for more waist distinction.

Dresses that are perfectly fitted at the midsection but flow softly out across the bust and hip area will give you a reasonable and fair look. On the other hand, dresses that are fitted or mildly tapered are ideal for easy games.

Wear a pencil skirt with a well-fitted tunic, top, or blouse tucked in.

A well-fitted or pulled tight wrap dress is always stunning on this body type.
Avoid wearing:
Boxy crop tops as they might make you look wider.

Layers and gatherings draw attention to your hips and generate a bottom-heavy appearance.

Garments with no form: Tent dresses, boxy dresses, and skirts, or anything with no shape will conceal your curves and deliver a broad shouldered appearance.
Accepting Your Natural Body Shape
The shape of your pure silhouette determines the most appealing garments for this body type.
And we want to concentrate on, not against, your hourglass figure. This means that when we dress up, we start a game to our body's strong points and take into account our body's ratios.
The toughest task I see hourglass shapes face is not trying to embrace their contours. They conceal them with layers, untucked shirts, and boxy shapes. This will make you look broader and, as a result, less confident in your dress sense.
"Rules" for Hourglass Body Shape Outfit
Invest in quality shapewear, corsets, and overall outfit assistance. With a comprehensive bust and wide hips, it's critical to have assistance and feel at ease in your clothing. If you don't wear a proper bra, your pure waist can be less outlined, adding width to your general appearance.

Prevent boxy garments with a lack of a smaller waist. If you don't draw attention to your waist, your hips and bust will be the only prominent highlights, making you seem so far broader than you really are.

Accept your flaws. Embracing your body shape is an important part of dressing for your better self. Look to fashion icons with similar body shapes for distinctive styling and clothes inspiration.

Identify your waist. The slim waistline is one of the most awesome features of the hourglass body shape. This should be emphasized and identified in all of your ensembles. Attract attention to this with belts or well-fitted clothes, or emphasize it with darker color shades across your waist.

For an elongating effect, utilize strategic lines. The hourglass body shape seems to have all the fantastic curves, but due to the width in your shoulders and hips, you might just want to prolong your torso with strategic visual sleek lines.

If you are going to wear anything with vertical stripes, ensure the stripes aren't too bold or broad. For an hourglass body shape, these stripes must be narrow and thin.
How to Build a Wardrobe for The Hourglass Body Shape?
In this part, we'' go through the tips to style for an hourglass body shape from tops to bottoms.
Tops for Hourglass Body Shape
Types of Necklines
Here's an overview of collars that flatter the hourglass figure. When working with a bigger bust and a slimmer waist, we must take into account ratios, emphasis, and outerwear objectives. Do you want to appear curvaceous and flirtatious, or should you go for a much more business casual outfit? Your lifestyle and outerwear expectations are critical considerations that should not be neglected.
It is also essential not to interrupt your natural shape by wearing necklines that make you appear wider. V-necks are an excellent choice because they make a visual lateral pointer. Whenever anyone examines your clothing, they look from top to bottom, and the V-neck absolutely draws their attention vertically instead of horizontally.
Low necklines are typically stunning if they don't reveal far too much separation and can be balanced with high-waisted bottoms or tucked in a top for further coverage. It all comes down to balance.
The boat neck style might also be endearing on this hourglass body shape if you really need more coverage and want to hide your bust. However, this works much better if the fabric is stretchable and can cuddle your waist and bust. Or else, it can make your shoulders look too wide. Keep in mind it is all about proportion; a completely covered bust still requires definition, and this is where cloth selection comes into effect.
A high neck or turtleneck silhouette is yet another alternative for great coverage. Just ensure it is well-fitting (stretchy fabric is the best). If the top is sleeveless, ensure the armholes don't shovel towards the middle of your body, as this can accidentally widen them.
Here are Some of The Best Types of Necklines for the Hourglass Body Shape
High neck or turtleneck

Scoop

Square

Sweetheart 

V-neck
Pay close attention to the fabric and your individual ratios when choosing these types of necklines to ensure they meet your style aspirations.
Boatneck

Crewneck

Halter Strap

Off-the-shoulder 

Queen Anne
Types of Sleeves 
One of our objectives when discussing the hourglass body shape is to stabilize the aesthetic visual lines and lengthen the body. There are many contours and horizontal lines, and sleeves can actually help add a lateral aspect to your outfit. Well-fitted sleeves, usually in a 3/4 length or full sleeve length, are the simplest way to pull this off.
Shortened sleeves or sleeveless options are also acceptable, but we want something that would be close to the body but does not emphasize the thickness of your shoulders.
Here Are Some of The Best Types of Sleeves for the Hourglass Body Shape 
3/4 and full-length sleeves are both attractive, but they should be well-fitted in most cases.

Cap sleeves are really visually appealing, particularly if the hem armhole is round.

Sleeveless tops are flattering, provided that the armholes do not scoop in too far towards the middle of your body.

Well-fitted sleeves are exactly attractive.

Bishop sleeves flatter the hourglass figure thanks to the well-fitted cuffs that give the sleeve an aesthetic closing point.
Wide sleeves, such as flutter sleeves, bell sleeves, flutter sleeves, or anything with a great deal of spiraling volume, should be avoided. This gives the hourglass shape a top-thick appearance.
Furthermore, dolman sleeves should be avoided because they can add too much volume close to the bust line. What's more, their pliable lines could really make you look unshapely.
When it comes to styling for an hourglass shape (or any type of body shape), there really is no kind of "one size fits all." So, take into account your figure's strengths and limitations and simply work with what you have got.
Type of Shirt and Tops 
Fitted shirts will be your go-to style since the hourglass body type typically has a visual thickness in the hip and bust area.
Bigger touches must be avoided, such as ruffles, shoulder epaulets, or any thick and heavy structural details that draw attention to your shoulders, bust, and hips. You should also avoid strong vertical lines or patterns that conceal or divert attention from your waist.
Peplum shirts tops with belts, and wrap tops, are all excellent choices. If you choose a peplum, ensure that the peplum flare touches your natural waist rather than below or above it.
Well-fitted button-down shirts also look great for this type of hourglass body shape since they usually add structure to an otherwise gentle, contoured style. They're also great if you really need a normal business casual alternative.
Cropped or boxy t-shirts (in overall) should be avoided because they usually leave your midsection undefined.
The following are the simplest shirt styles for the hourglass body shape:
Belted tops

Knit sweaters: Ignore clumpy knits and any knitwear that does not peck in at the waist

Peplum shirt

V-neck sweaters (closely-fitted)

Well-fitted blouse

Well-fitted keyhole blouse

Well-fitted (stretchable) t-shirt or loosely-fitted tee

Wrap tops (ignore any bulky top)
Types of Jackets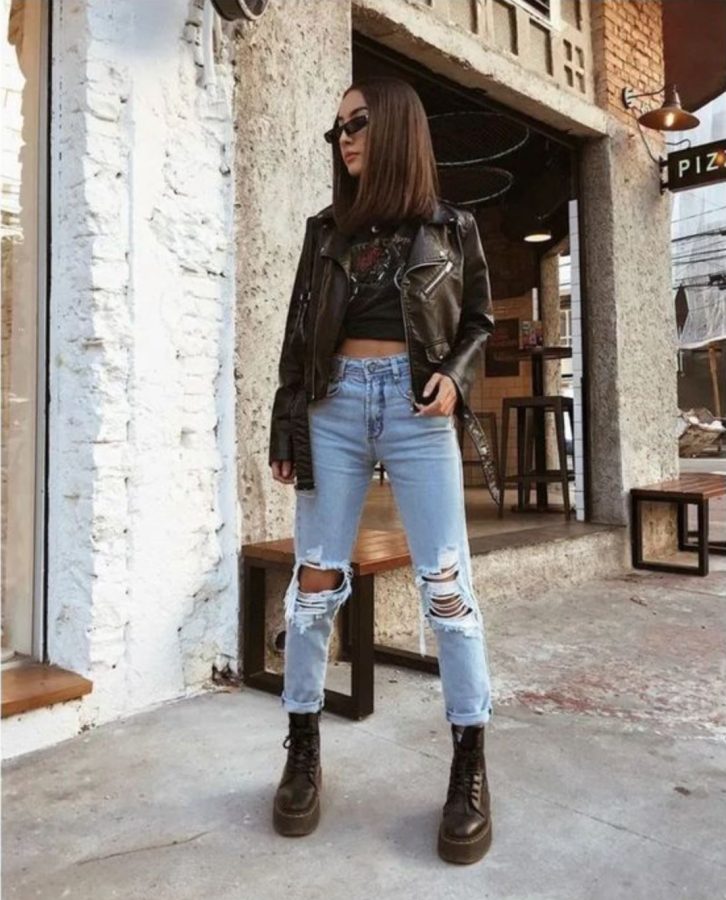 As you might know, an hourglass body shape requires a defined bustline and waistline, so try to keep your jackets well-fitted in these zones, as you would with any other silhouette. You should also look for types of jackets that have a rounded appearance. You will want a soft or rounded shoulder line and a gentle silhouette instead of boxy lines or sharp shoulders.
Ignore any overly boxy or cropped styles, as they will draw attention to your waistline and make you appear broader. You should also avoid bulky jackets that add too much major portion to your outfit.
A fitted blazer or suit jacket that is perfectly fitted at the hips and bust will be exactly what you need. However, make sure it doesn't have any shoulder pads since they can be too much for this type of body shape.
Wrap jackets and belted jackets are great, too as they add coverage while still following your body's normal shape.
If you don't like these types of jackets, an A-line jacket that nibbles in at the midsection is appealing since it helps build curves without highlighting them.
With far too much volume, peplum jackets can exaggerate your hip area, particularly if made of a thicker or more structured fabric. If you want to go with this look, I recommend trying these jackets.
Always keep the balance of your outfit in mind. This hourglass body type is best suited to fitted silhouettes. In case you add volume, ensure it doesn't overpower that part of your body shape.
Here Are Some of The Best Types of Jackets for Hourglass Shape:
A-line jackets that hug the hip

Belted blazers

Well-fitted moto-jackets

Tailored blazers or suit jackets (ensure there are no shoulder pads)

Wrap jackets
Types of Coats
If there is one thing you have ever learned about dressing the hourglass body shape, it's just that well-fitted contours and midsection definition are essential. It is not shocking that the same holds true for coat styles.
Ignore any type of cropped or boxy coats, which will mask your waist definition and make you more likely broader.
Coats with a lot of bulk in the front, such as big buttons, dual-breasted cutouts, or toggles, should be avoided. This adds visual clutter to your costume and seems to underscore your waist definition.
Hourglass figures can wear capes or swing coats if they want to exude a more vintage or retro vibe. However, you must be mindful of your golden ratio proportions and ensure that you have sufficient length in your outfit to pull this off.
Drop-waist coats should also be avoided because they totally eradicate your waistline and widen your shape.
Cape coats with a visible understructure could indeed flatter the hourglass figure. A perfectly-cropped cape coat might also work well in this case. However, this is a more difficult coat cutout to pull off, so only choose it if you fully comprehend your body proportions or lean toward a vintage or retro style essence. A capelet coat is another alternative.
Here Are Some of The Best Coat Styles for Hourglass Shape:
A-line coats (with some well-fitting in waist and bust areas)

Belted trench coats

Belted wrap coats

Fit and flare coats or frock coats

Princess-seam coats

Swing coats with well-fitted bodice
Please bear in mind that these are not strict guidelines. Rather than, they are just a few of the simpler silhouettes to pair with for hourglass body shape. Don't give this up if you have an hourglass figure and discover that one style does not fit your body proportions. Learning what actually works for your specific style is essential, and your aesthetic style path will be a long-lasting process of shaping what is best suited for you.
Bottoms for Hourglass Body Shape
Bottoms that make curves and create the impression of a defined waistline are perhaps the most appealing for hourglass body shapes.
Having said that, there is a fine line between showing off your contours and wearing a flattering silhouette. It's all about smartly highlighting the features of your outfit while remaining slim.
Types of Jeans 
Don't be afraid to wear high-waisted jeans or trousers. This rise results in the best-fitting outfits for your hourglass body type.
If you choose a mid-rise, ensure that they are well-fitted through the hip area to avoid a bottom-heavy appearance.
Please remember that if you have large hips, low-rise jeans will draw attention to them and then make them appear broader than they are.
Some of The Best Types of Jean for Hourglass Shape
As a starting point for your wardrobe, I suggest a high-rise for all of these jeans. I also suggest avoiding excessively cropped pants in general because they can truncate your lateral line and make you look stout.
Boot-cut jeans

Flared jeans

Skinny jeans

Slim-fitted, high-rise jeans

Straight-leg jeans (with the hem hitting the ground)

Wide-leg jeans (well-fitted through the hip area)
Types of Trousers 
Pants for the hourglass body shape are generally simple to find since your curves actually help to fill them out.
Once more, mid or high-rise trousers are preferable to low-rise. These types will not only make you look more presentable, but they will also elongate your torso.
If you want to look more smart and professional, I suggest trousers with a straight leg with a hem hitting just right below your ankle bone. This is actually flattering on hourglass body shapes since it lengthens the looks of their legs without highlighting their S-shape bodies. You can also try slim-fit pants, but make sure to style them with a more moderate top.
Ignore any pocket details all over your hips, particularly stitched or horizontal pockets that may flutter when you sit down or move.
Darts and pleats might also add too much volume all over the hips and must be overlooked, particularly if you are new to discovering your hourglass body shape.
It is also best if the pants aren't too baggy or have too much volume. 
Here Are Some of The Best Types of Trousers for Hourglass Shape
Belted waist trousers

Cropped trousers: Choose a more retro silhouette for this look. The hem should be around 3 inches above the ankle, and a mild flare might also help exemplify a retro look.

Soft fabric wide-leg trousers: You will want to ignore pleats and gathering for this cutout, but a fairly wide leg trouser in a wavy fabric might be exceptionally comfy and highlight hips and length. When it comes to this shape, keep prints to a minimum.

Slim trousers

Straight leg trousers

Wide leg trousers 
Paper bag shapes should be avoided (typically) since your waist could get lost in the extra material, and the loose fit all over your hips does not work well. 80's style jeans and mom jeans styles are also affected by this issue.
Keep in mind that all of these fashion tips are basic recommendations and starting points for creating your hourglass outfit. Once you've mastered the fundamentals, you can start to experiment with different types of clothing and how to start games with the strong focus of an outfit. 
Types of Skirts 
Skirts are an excellent way to flaunt your hourglass figure. You might want to do everything you can to lengthen your torso and produce more curves, which is why I suggest skirts that showcase and specify your waistline.
Mini skirts, boxy skirts, or anything too stiff should be avoided. All of these styles will generate a poorly balanced outfit and may obstruct the curved lines of your torso.
Pencil skirts are an iconic skirt style for the hourglass body shape since they emphasize your curves, specify your waistline, and work perfectly with your body's S shape. I would choose a skirt hem that is just above or right at the knee for the most appealing ratios. This will add length to your legs and keep your hips from forming a completely horizontal line.
Yet again, a high-waisted skirt would become the easiest, to begin with.
When you are just starting out, ignore skirts that are too straight and instead choose skirts that follow the normal curves of your shape (such as tapered, pencil, etc.).
While peplum tops flatter the hourglass figure, peplum skirts draw attention to the hips and should be avoided in general. However, if you believe this skirt will suit your individual style, try it on in person.
Here Are Some of The Best Types of Skirt for the Hourglass Body Shape:
Full skirts or circle skirts: By full, I don't imply volume but rather overall shape. In this outfit, ignore gathering and pleating. In your lower portion, you wouldn't like too much visual volume.

Gored skirts: Be mindful of the ratios of this skirt type, and ensure that it elongates your body.

Paneled skirts or a-line skirts

Pencil skirts

Soft fabric skirts: Ignore gathered skirts because they add a lot of volume to the waistline. A soft fabric a-line skirt or slip skirt is an excellent choice.
The tulip skirt is also recommended by some fashion experts. Nevertheless, I have discovered that this only works on a specific style of an hourglass shape (mostly a strong vertical line or extremely tall body type). Due to the extra material, if you are vibrant or have notably curvy legs, I believe the tulip skirt actually makes you look larger and "poofier."
Types of Shorts
Many curvy women despise shorts and can't really find ones that are both comfy and visually appealing.
High-rise shorts that touch all around the mid-thigh are ideal for the hourglass body shape. Any shorts type that is too short tends to cut off your vertical line and underscore your hips too much.
Check that the shorts have a well-fitted waist (both through seams or through the stretch are great). 
Here Are Some of The Best Types of Short for the Hourglass Body Shape:
Flared fabric shorts: Types that don't have pleats. Consider fabric's light swing, such as gentle A-line shorts.

Loose fabric shorts: Types with emphasized waistband

Pedal pushers

Tapered or well-fitted shorts

Well-fitted bermuda length shorts
Types of Dress for the Hourglass Body Shape
Dresses are an incredibly simple style staple to have in your wardrobe and a wonderful way of showing off your hourglass figure. Due to your curves, you must be mindful of your outfit's style objectives. If you enjoy casual styles while wanting to look business-professional, avoid wearing an elastic or excessively fitted dress to the workplace.
Any type of dress that does not specify or emphasize your waist in a certain way must be overlooked because it will make you look wide.
You should also be mindful of where the volume comes from on your torso. Trumpet skirt dresses could really add a lot of volume to your lower part and make you look unequal.
You might want dresses that comfortably fit your bust perfectly while also elongating your waist, emphasizing your curves, and balancing your vertical line.
Here Are Some of The Best Types of Dress for Hourglass Body Shape:
Wrap dresses

Well'-fitted and flared dresses

Well-fitted sheath dresses

Stretchy dresses that make you look sexier.

Retro style dresses (like 50's era dresses) are easier to pull off.

Paneled or corset waist dresses

Bias cut: This is the method by which the textile is cut (usually at a 45 degree angle rather than parallel to the fabric's hem). This results in a textile that hangs beautifully on curves.
Necessary Accessories and Details for Hourglass Body Shapes
Picking the right accessories and details for your costume can break or make your appearance.
Here are some hourglass-appropriate accessories and details:
Ankle strap shoes could be very attractive, but they need to be overlooked if you have short legs.
If you are taller, classic sneakers are ideal for an hourglass figure. But if you have very muscular legs, you might prefer a more open wedge or sandal.
Wedge and heels: Any shoe that lengthens your vertical line will help stabilize out your shapes (particularly when you are wearing any kind of incredibly form-fitting).
Pointed stilettos are an excellent choice for lengthening your vertical line. In addition, nude pumps are particularly elongating.
Statement earrings are ideal for hourglass figures since they draw more attention upward towards your face. This results in a lovely vertical initial point.
Thin to medium-height belts: They are considered to be the best friend for hourglass body shapes. They will help to draw attention to and highlight your slimmer waist.
What To Avoid Wearing If You Have An Hourglass Body Shape?
As previously stated, these are not specific rules and must be interpreted with caution. If you are totally fresh to starting to build a wardrobe for your hourglass body type, you might want to ignore these items for the time being.
Pieces that are overly embellished

or have a lot of cluttered patterns don't normally work with your hourglass body shape. These items, once again, will draw attention away from your curves and truncate your height.

Except for just several trouser styles, whatever

boxy or overly straight

will look kind of weird when styled on your curves.

Baggy styles

: Mastering baggy clothes with an hourglass figure requires a great deal of style and ratio understanding. So, in general, just ignore them.

When you wear a

crossbody bag

across your bust, it creates a disconcerting diagonal line.

Belts that are thick:

Avoid wearing thick belts (everything that is 1.75 inches or higher), as they will make you look cut up and may cause you to lose the contour from your chest to your waist and from your waist to your hip.

Anything with a lot of layers:

Layers usually add bulk and conceal waist essence.