The business world is constantly evolving, and you must keep up with the latest trends to give yourself an edge. When applying for a job, it's always wise to dress professionally and ensure that you're dressed appropriately for the interview.
It's critical to get enough sleep the night before an interview and come early. It's also really beneficial to pick out an appropriate and professional outfit. One of the last things that people typically think about when preparing for an interview is the kind of shoes they should wear.
The right type of shoe can either make or break your outfit and influence how you walk and stand. This article will help you determine what shoes are appropriate for your interview.
1. Oxford Shoe
The best shoes to wear during an interview are oxford shoes. Oxford shoes are regarded as the most formal of the formal shoes and may be worn with suits or dress pants, depending on the occasion.
Oxford shoes are another type of shoe with a long history. Oxford shoes originate from England, known as the birthplace of this type of shoe. With the development of technology and fashion, these types of shoes gradually became more diverse and fashionable. As a result, they can be worn by many people on many occasions, including special events, weddings, parties, or just casual activities.
Oxford shoes are comfortable with various styles and colors to meet the needs and preferences of customers in different situations. These extra features make this shoe ideal for interviews as it will make you appear more confident and professional.
2. Derby Shoe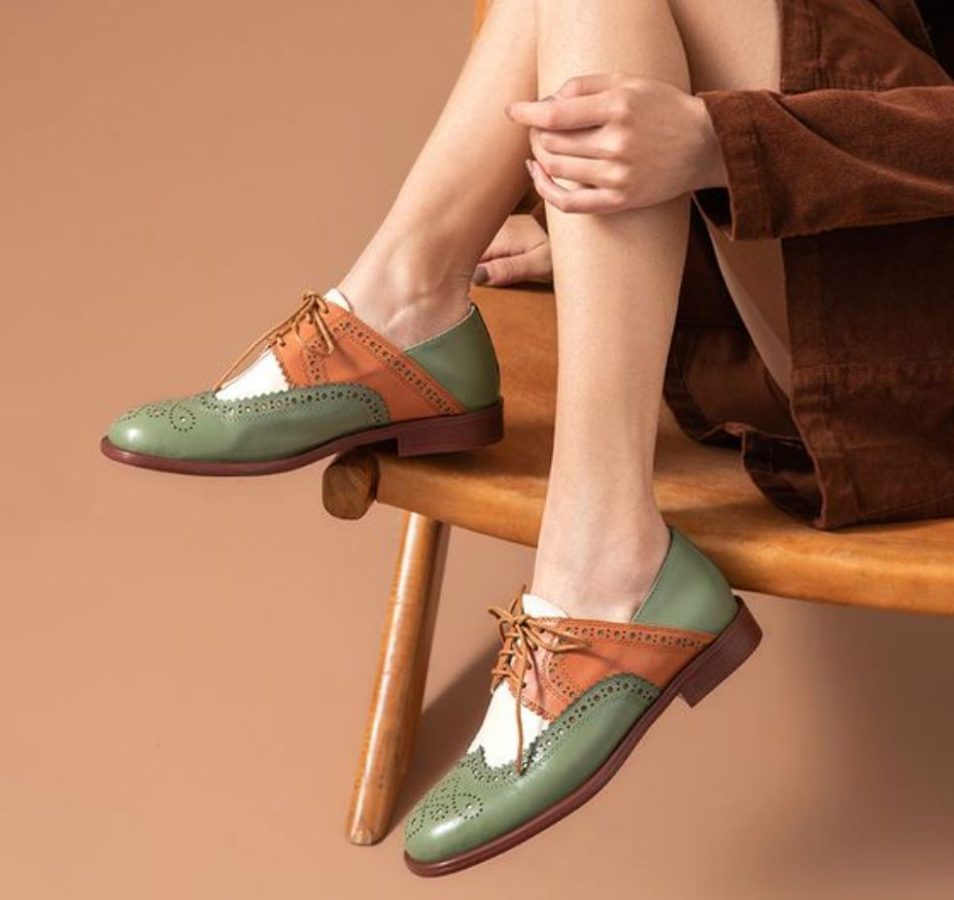 Another type of dress shoe that is appropriate for a job interview is the derby shoe. Derbies feature a rounded toe and are usually made from a single piece of leather or suede.
Derby shoes are also known as Bucks, Gibson, or Open front. This is also a lace-up shoe, the eyelet attached to the upper part of the front body of the shoe. Compared with Oxford shoes, the upper part of the shoe is designed with a wider opening, easy to adjust the width of the shoelace.
Derby shoes are a perfect option for interviews as they are more casual than oxfords and can be worn year-round with different outfits. For the most part, derby shoes have open lacing, whereas oxford shoes have closed lacing, which is the primary distinction. You may not obtain the job if you make a tiny modification in your appearance.
3. Brogue Shoe
Brogue shoes are ideal if you want to seem more professional and enhance the appearance of your shoes.
All shoes decorated with perforated leather holes in the surface are called brogue. This type of shoe originates from Scotland and Ireland; the holes drain water when entering the marshy land. It was exclusively used for outdoor activities in the countryside at the beginning of the 20th century, as a result.
Gradually, brogue appeared more and more in various styles and materials. Not only escaping the countryside, but they have also become a popular shoe style in the office or luxury parties. And, of course, the perforated part only has a decorative function.
Brogues are highly recommended for interviews as they will help make you appear more polished and professional.
4. Blucher Shoe
Blucher is the name of the 18th-century Prussian general Gebhard Leberecht von Blücher. He modified a boot into a shoe that added leather in the front to protect the feet. Later, this type of shoe was used in most military barracks in Europe. At a glance, the Blucher is quite similar to the Derby in the open upper.
In contrast to the Derby, the Blucher's front and rear bodies are made from a single piece of leather, and the roof is grafted on using two tiny pieces of leather sewed on top of the leather on the front body.
They are just as appropriate for a business meeting, social occasion, or work event. You can choose between different styles based on your outfit and your taste.
5. Monk Strap Shoe
The monk strap is also a British shoe with a very old history like a brogue.
In the 16th century, monks were required to wear certain uniform shoes in many European countries. As a result, the shoes were called "Monk's Shoes." 
Monk straps are shoes without laces; instead, this shoe style has a layer of leather across the near toe and has a buckle. Today, Monk-strap is an alternative to lace-up shoes on formal occasions.
Monk strap shoes are suitable for interviews and formal events requiring more sophistication than loafers or casual shoes can deliver. They will help you balance out your outfit and help you look more professional and polished.
6. Loafer
Although loafers are not considered formal shoes, they are appropriate for an interview. They can be worn to any kind of event or occasion. Loafers are characterized by their clean and classic design and sometimes feature a strap or tassel across the top.
Unlike its name, loafers don't offer scruffy or sloppy style, although they offer more comfort than lacing styles. Its origins can be traced back to King George VI, who wanted to create an indoor shoe for his private residence in 1926.
This type of shoe is a traditional style frequently worn with skirts, slacks, and casual pants. In general, this kind of shoe can be seen in men and women. They are perfect for an interview.
7. Chukka Boot
As the name of a type of ankle boots, the body is made of 2 pieces of leather put together and has 2 or 3 eyelets. Chukka shoes are causal shoes traditionally made of goatskin, but a pair of suede or black goatskin chukka is also suitable for formal occasions.
Traditionally, shoe soles are usually made of leather, but today can be made of Crepe soles, rubber soles. Nathan Clark first introduced Crepe soles after he saw soldiers wearing Desert boots on a trip to Burma in 1941. 
Chukka is popular not only for its class and elegance. This shoe model also possesses a youthful and romantic look. This will help you walk more confidently and give you more ease in your stride to make a good impression on your interviewer. 
8. Chelsea Boot
Chelsea boots are short ankle boots that hug the legs. These boots were designed in the Victorian era, originally intended for riding. The distinguishing feature of these boots is the elastic on the sides, running from the ankle down. This elastic part will make it easier for you to put on shoes instead of using a zipper.
Chelsea boots were especially popular in the 60s, as they were the favorite shoe style of the Beatles and The Stones. They are even indispensable accessories for the characters in the Star Wars movie.
Shoes with timeless charm are the mark, especially if you want an irresistible classic. Not only that, you can wear almost any style with Chelsea boot. Wear this shoe and a suit to an interview; it will help you impress the employer.
9. Boat Shoe
Boats are classic and elegant shoes that everyone can wear. Shoes are made of canvas or leather, have 4 or 6 eyelets, plastic or rubber soles, and many friction grooves to prevent slipping when walking on wet floors.
This is a shoe that does not have any socks attached to it. However, many shoe retailers carry these, and they may be seen on the covers of popular fashion publications. In the impending hot weather, guys will be more interested in this shoe since it can be paired with many different clothes, including shirts, t-shirts, short shorts, and jeans. Outfits leave a deep impression on employers. And remember, never combined with any pair of socks.
10. Slip-on
Shoe
Slip-on shoes can provide comfort in the workplace and make you look neat and stylish. The advantage of this style is that it is easy to wear, which is also very suitable for daily office wear. Depending on your personal preference, you can wear a pair of slip-ons with a long skirt or trousers to create a unique look every day. 
In addition, slip-on shoes are more comfortable to walk in than most other styles because they have no laces or buckles that dig into the feet. In addition, this shoe can be worn on any occasion, whether it's for casual use or an interview.
11. Sneaker
Classic casual sneakers have been one of the most popular office shoes since their introduction in the 1980s.
The main feature of sneakers is that they are extremely versatile, which allows you to wear them at an interview and in other formal situations. Sneakers may focus on urban culture, but this type of design can also be worn for a formal occasion.
In addition, the most popular colors of sneakers are black, white, and gray. However, there are sneakers with other colors as well. Therefore, we can choose different colors to match our outfits accordingly. 
Besides being fashionable, sneakers also have a high level of comfort, making them perfect for a long day at work. In addition, the sneaker is suitable for both men and women.
12. Stiletto High Heel
Shoe
One of the most popular models of work shoes from the past few years is the stiletto heel shoes. With a heel height of 5 – 9cm, stiletto heel shoes can completely help an office lady become more confident when interviewing.
Stiletto heels may easily be paired with blouses, jeans, and pencil skirts in neutral hues like white, beige, gray, or black. Pointed heels are classic because of their simple design and help the overall office outfit become elegant and modern.
Even though the stiletto heel of this shoe is higher than the other shoes mentioned, they are still appropriate for an interview. The reason is that stiletto heel shoes are commonly associated with sophistication, elegance, or sensuality, but they can be challenging to walk in. So you must practice wearing them before you go for an interview.
13. Block High Heel
Shoe
Block heel shoes are also very popular for women. This type of heel is made from a solid material, typically plastic or wood, and serves to lift the foot to increase the height.
Block heel shoes are useful in many cases because they make you stand out from the crowd while making you feel more elegant. You can choose different models depending on how high or low your heels are. 
With their unique lines and many shoe styles, block heels are quite suitable for interviews if you want to make an impression. You may choose them based on the kind of event or company style you're looking for. For example, you can go with plain or fancy designs like loafers or brogues as well as lace-up or zip-up styles.
14. Kitten Heel
Kitten heel shoes were once considered a shoe for "lady" because it was mistakenly thought that low heel design could make the wearer look a few years older. However, in the office environment, girls are interested in fashion and the convenience of shoes.
If pointed heels sometimes make your feet sore, low heels will make you more comfortable. In particular, the gentle and elegant beauty that pointed heels bring will be a big plus for office wear.
They can be modern and glamorous with pointed toes or classic and elegant with kitten heels. Since kitten heels are slightly higher than the average shoe, they can help you make an impression at work or in interviews. You might have seen many photos of Hollywood actresses or actresses in a magazine while wearing this type of shoe.
15. Slingback Shoe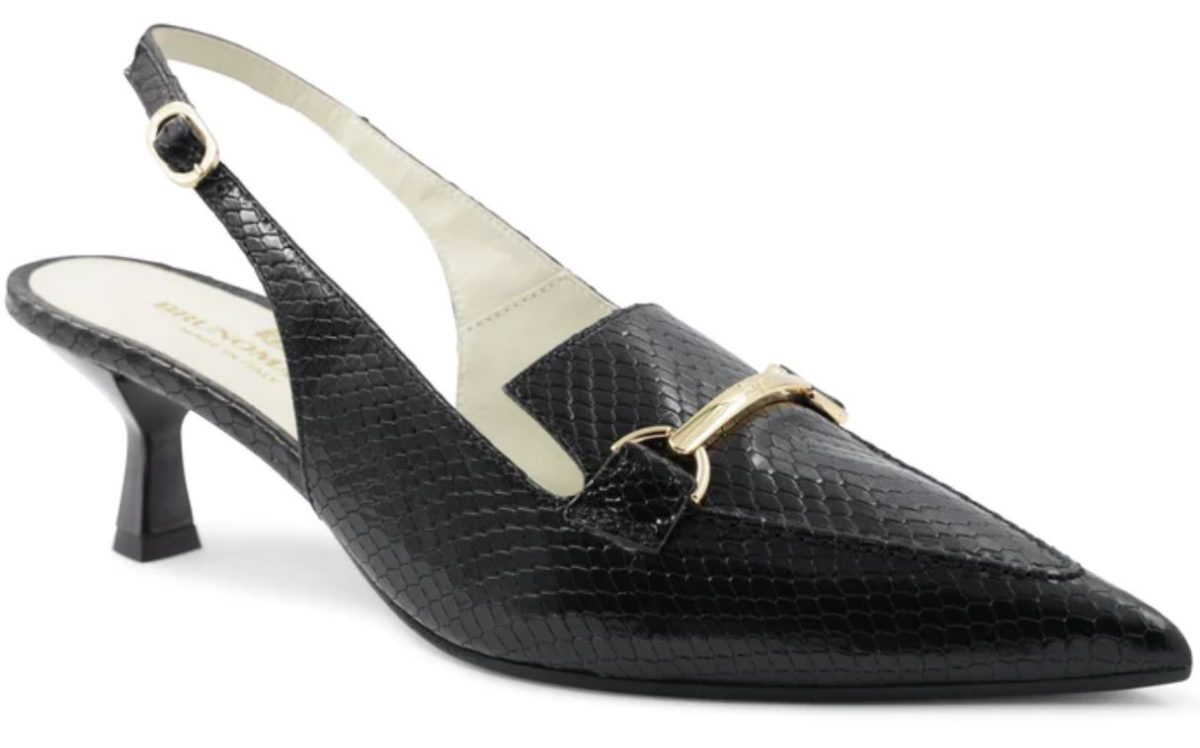 This classic French shoe was originally designed for the professional woman who needed to walk in comfort and elegance.
Slingback or sling-back refers to a type of women's shoe that has a narrow strap that wraps around the back part of the ankle and fastens below the toes with a buckle or elastic.
The most distinguishing feature is that this kind of shoe doesn't have laces or buckles on top, so it will be more convenient for you to put them on and take them off. Slingback shoes were created for comfort, but today can also look stylish and bold at work.
Slingback shoes with dark colors will look elegant and elegant, while whites will make you look more casual. Both can be worn at an interview or in a business dress code. 
16. Mules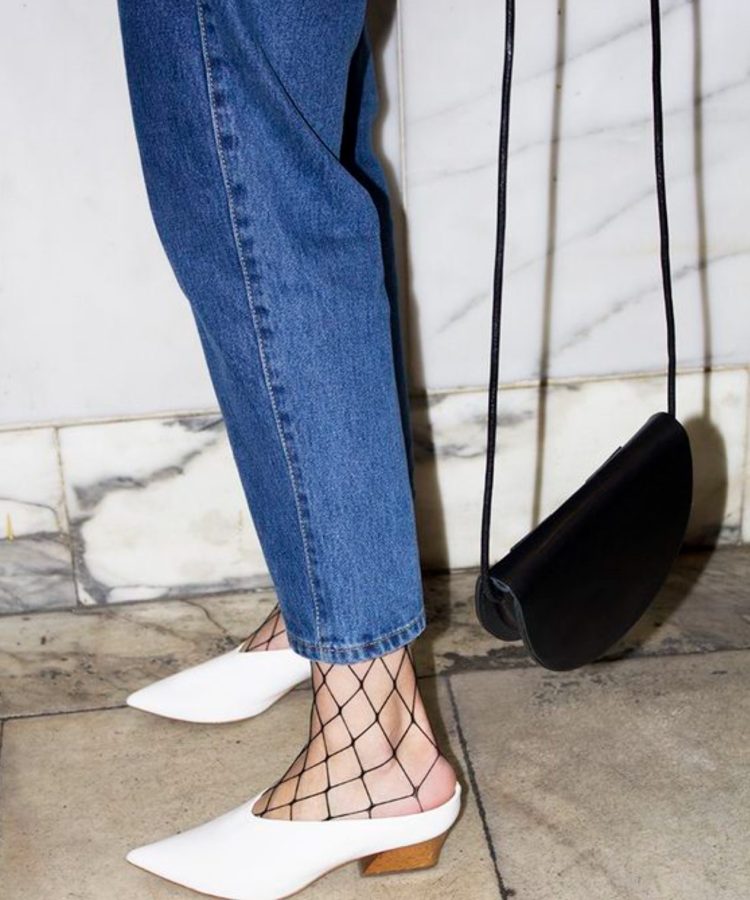 No fixed back straps, no cumbersome design, simplicity is the highlight of mules. In addition, the common pointed toe will help "elongate" the walker's legs. 
Moreover, like comfortable kitten heels, mules certainly bring comfort and convenience to the ladies. One of the important factors that make this shoe style so popular is its compatibility with most office wear such as shirts, vests, casual pants, or pencil skirts.
Mules come in many different types, each with their characteristics, such as buckled, slip-on or lace-up. The most distinguishing feature is that the heel area is facing upward, making it easier to put on and take off shoes. 
Today, women in business situations widely use mules as they can be dressed up easily with a suit. They also look very fashionable but comfortable at the same time.
17. Ankle Strap High Heel Sandal
Ankle strap shoes never seem to go out of fashion. The most distinguishing feature is a thin strap that wraps around the ankle or lower leg.
If flat, low-heeled sandals are usually for days out and walking around, high-heeled sandals are one of the ideal choices for office girls. 
The advantage that everyone can see is that sandals will free your feet from the pain of wearing high heels for a long time. Moreover, the design of the shoe straps allows the wearer to change the size to fit the ankle and foot.
Ankle strap sandals are especially fashionable this season and seem like perfect shoes for an interview: they look stylish and very elegant thanks to their small form factor and a bit of flair that makes you stand out from others.
18. Ballet Flat
Ballet flats deserve to be on the list of office shoes because they can make you look more elegant and comfortable.
Contrasting with stiletto heels are low heeled doll shoes in contrast to the height of the heel and the style that each shoe brings. If high heels bring a sense of fashion and aristocracy to the suit, doll shoes create simple but polite beauty. Popular materials in doll shoe designs are leather or imitation leather.
Ballet flats are suitable for business wear, casual dress, and even eveningwear. They can easily be used in a meeting or at an interview. So if you want to look elegant and fashionable in a business setting, choose ballet flats with appropriate colors. 
19. Square-Toe Shoe
When the square-toe shoe craze that the Bottega Veneta family initiated has not "cooled down," people often encounter those fashionable shoes in the office environment.
What's more ideal than a pair of shoes that bring ventilation to the feet while keeping up with world fashion trends? More importantly, the gentle thin sole and square toe hugging the leg frame can be worn with elegant long skirts or elegant casual pants.
The biggest benefit of this type of shoe is that it can be used for many occasions. Its simple design adds a touch of fashion to an otherwise dull outfit. Square-toe shoes are versatile and fashionable, but they are also extremely comfortable, making them very suitable for daily office wear.
20. Pointed-Toe Shoe
Admittedly, the basic pointed-toe shoes are a fashion classic suitable for all ages. Streamlined design, bold original but still retains the charm, and basic colors will bring elegance and elegance to the office. Besides, the pointed part will create elegance and grace for women.
You may get anything from neutrals like black and white to eye-catching bright hues and animal skin designs that promise to "improve" your fashion style. Pointed-toe shoes may enhance your professional image while also providing you with a feeling of luxury and comfort on your feet. 
Consequently, if you want to seem stylish in an interview while still feeling comfortable, there is no reason why you shouldn't wear pointed-toe shoes throughout the interview.
21. Mary Jane Shoe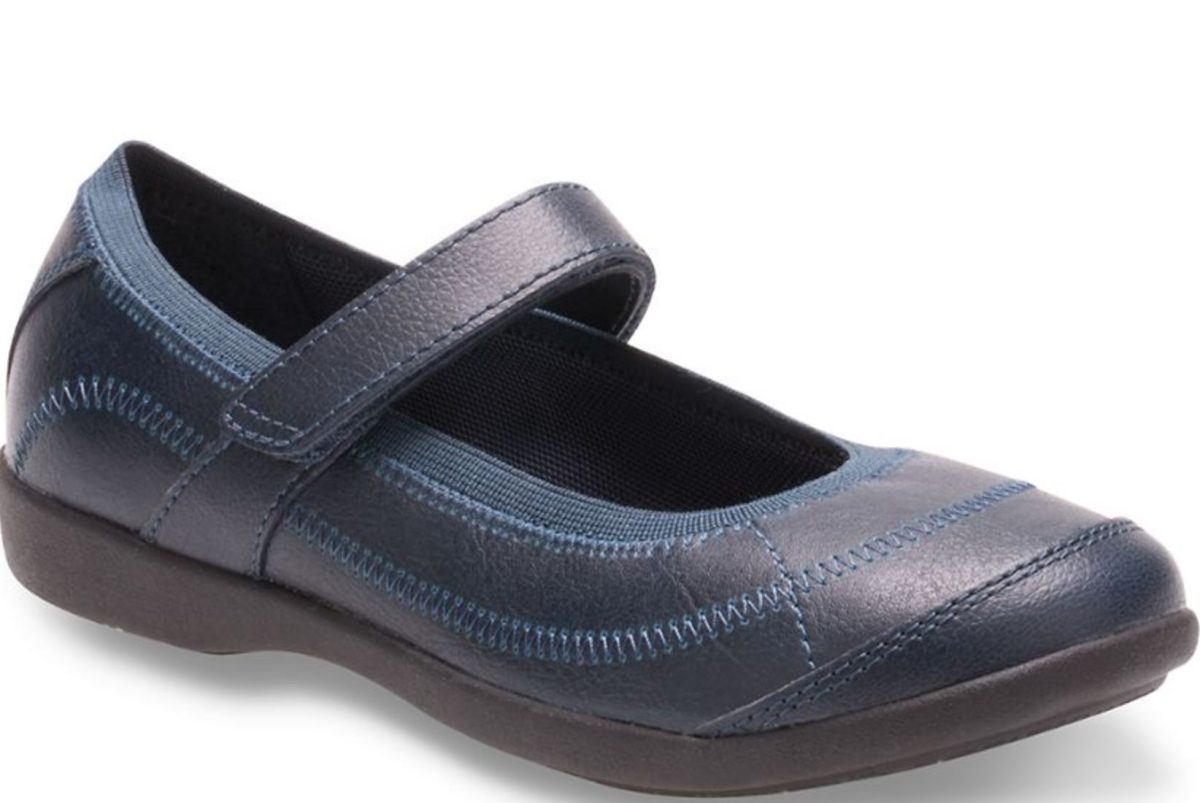 Mary Janes are one of the most popular shoes women wear in an interview. They are a classic and timeless design appropriate for everyday business wear.
If you buy this kind of shoe for yourself, it would be a good idea to purchase two pairs: one pair to wear with pants and another pair to wear with skirts. Mary Janes can be worn by any office lady, from students to seniors.
The main advantage of Mary Jane shoes is comfort, which is especially suitable for young women with high heels that cause pain in the feet. Moreover, Mary Jane also has a strong visual effect than other classic office shoes because of their detail and distinctive style details. These include bows, lace-up straps, or other decorative elements.
22. Ankle Boot
Today's boots have "dominated" many different styles mixes not only because of their trendy design but also because of their high applicability. This is a shoe model for modern and stylish girls, ready to combine it with office attire for a formal interview to create a unique overall.
Unlike most other office shoes, ankle boots have a very strong impact on the office's atmosphere.
Today, businesswomen widely wear ankle boots because they can make them stand out from others at an interview or in any formal situation. Ankle boot style focuses on elegant and feminine looks, making them suitable for both an interview or a meeting with clients.
23. Open-Toed Shoe
Open-toed shoes are one of the popular and most classic styles of businesswomen.
Open-toed shoes have been known since the 17th century. However, it gained new popularity in the 1990s and became one of the most representative styles for businesswomen in 2017. This kind of shoe is more feminine and elegant than other types. 
Therefore, it will look nice on an interview and other formal occasions. Open-toed shoes can emphasize a woman's leg line and make you look more gentle. In addition, peep-toe shoes are also good for weddings because they are also more romantic and appropriate for daily life and office wear.
24. Metallic Shoe
In addition to the classic metallic shoes, 2021 brings more intense colors and decorative elements. Metallic shoes, whose trend is not controlled by fashion, look like other shoes but with vivid color.
Metallic shoes are a good choice for any woman who wants to stand out from others. It is popular among fashionistas and used as a symbol of elegance in various kinds of events, including formal affairs.
This kind of shoe can be worn by women looking fashionable and elegant in an interview or formal business meeting. Besides, this kind of shoe's bright and decorative appearance also gives you a luxurious and refined atmosphere to work in. 
25. Gladiator Heeled Sandal
The sandals are always a must-have for the summer. And because sandals are important for businesswomen, they are also one of the hottest styles in the past decade.
Sandals are always trendy, but they are also very practical for comfort. For example, if you choose gladiator heel sandals for your interview, you do not need to worry that your feet will sweat or feel uncomfortable when wearing them all day. 
Whether you wear it with skirts and dresses or with jeans, these sandals have multiple styles which suit different occasions and different outfits and will only make your outfit look more fashionable and elegant than others.