It is time to say goodbye to the cold and hello to the sun, and with the sun comes that essential item of summer shoes: wedge sandals. This classic footwear mainstay returns every summer without screw-up and for clear reasons. When flats are really not enough, and normal heels are just a little bit too much, wedge sandals tend to come to the aid every time.
So, in this blog post, we will show you how to style your wedge sandals for all events and with all types of outfits, allowing you to create a flawless appearance with confidence this summer.
Why Should You Wear Wedge Sandals?
Before we get into the "how to wear", let's take a moment to consider the "why". Wedge sandals have increased to upper echelon status in the footwear positions for a variety of reasons, the most important of which are comfort and durability. Wedge heels deliver additional support all around the center of the foot, which normal heels do not.
Wedge heels were initially designed as orthopedic support to rectify heel issues. They have a joined sole and heel to support the whole foot while adding the sophistication and height than normal heels offer. For some, the additional support and joined-up heel design provide a good deal of additional stability and a prolonged time of comfort, implying that those who find walking in normal heels will find it a lot easier to walk in wedges.
Not to mention the sheer flexibility of wedge sandals. Generally speaking, the wedge sandal, which is both casual and formal, can dress up or down an attire based on how you pair it. So, let's take a look at the various ways to wear women's wedge shoes and get started on some summer fashion charm.
Pair with Jeans
An iconic pair of skinny denim jeans is one of the simplest and most popular combinations for wedge shoes. Are you dressing up? For a smart-casual summer night, style a pair of high-heeled wedge shoes with a glittery top. Are you dressing down?
For an extremely casual summer appearance, go for a lower wedge of around 3 inches or even lower and style them with a T-shirt and skinny jeans. Neutral-colored wedge shoes, such as golds and browns, look best with jeans, allowing you to glam up the look with brightly colored tops and elegant accessories.
Pair with Shorts
With wedge shoes and shorts combined, summer classics simply meet summer mainstays. Here are our top recommendations for how to wear wedge shoes with shorts. You would like to keep your wedge shoes as laid back as possible when wearing them with shorts.
So, opt for wedges with low to mid-heel heights and minimal embroidery, and pair them with high-waisted chino shorts or iconic blue denim shorts to form the foundation of the outfit. Then add a halter-neck top or a casual T-shirt and a leather belt for the greatest comfortable summer daytime look.
Pair with Skirts or Dresses
A pair of wedge shoes can really be used to dress up or down a dress or skirt ensemble. The more elevated or high the heel is, the more formal your outfit will appear, but the iconic cork or weave components in most wedges will keep the look classy and slightly muted. For dresses (especially maxi dresses), choose higher wedge shoes for a more dressed-up appearance.
Alternatively, if you are wearing a laid-back day skirt or dress, opt for lower heel heights to complement the more casual vibe of the attire.
At the Office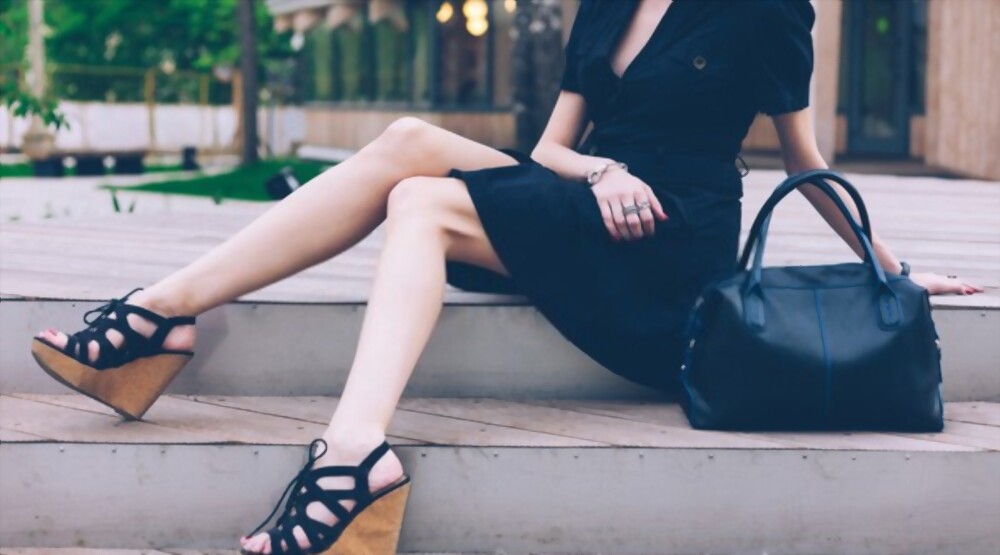 Workplace wedges? It is possible. Of course, it depends on your office's dress code, but for all those who are allowed to dress 'business wear,' a pair of wedge shoes could really be a potentially life saving footwear choice for summertime office wear. It is best to opt for wedge shoes with the height lower around 3 inches or lower wherever possible and choose neutral colors with minimal embroidery to keep things on the smarter side of the smart-casual range.
For an elegant workplace outfit that doesn't break the uniform rules, style your wedge shoes with anything from a knee-length work skirt, wide-leg trousers, or a pair of smart chinos.
How To Choose The Right Wedge Shoes?
If you like heels but prefer something more comfortable and convenient to walk in than high heels, wedge heels are the way to go. Unlike platform shoes, which have the heel at one end of the sandals, wedge shoes typically have an even platform that runs the length of the sandal from rear to front.
As you might know, wedge heels are extremely common because they are both comfortable and fashionable. They, like most other types of footwear, do not go with every outfit. If the wedge shoes are properly selected, anyone can really find a perfect fit. Here are a few critical things to think about when choosing wedges:
Occasion
Generally speaking, wedge shoes are regarded as a type of everyday footwear. They look great with shorts, skirts, jeans, wrap dresses, and even some jumpsuits. However, if the wedge shoes are incredibly gorgeous and have a shiny finish, you can wear them to formal events like weddings.
Height of the Wedges' Heels
As you might know, wedges come in a range of sizes and heights. There is, indeed, one for each and every dress and appearance, from the nearly flat 1 to 2 inches to the super trendy 4 inches and even more. The heel height follows a basic rule as follows: the lower the wedge's heel is, the more laid back it appears, and the higher the wedge's heel is, the fancier it appears.
Low 1-2″ heeled wedge shoes tend to look great with shorts or denim skirts for a relaxed afternoon appearance. You can also go for a little bit higher heels, up to 2 or 3 inches, for a more sophisticated appearance. For a night look, a height of more than 3-4 inches is recommended.
Design of the Wedges' Heels
Selecting the style and design of the wedge shoes is entirely dependent on why you are investing in them. If you really want to wear the shoes with a variety of outfits, choose a simple, basic design in a neutral color. Classic clean and simple wedge shoe styles include leather, Espadrilles, peep toe, and closed pump foot.
Furthermore, if you want to make a fashion statement with your wedge shoes, choose a crafted design and a livelier color to attract attention to the item.
Comfort
Specific heel designs are far more comfortable than others; which one you choose is entirely dependent on your individual preferences. Generally speaking, wedge heels with straps are typically more comfortable than slip-on. Once more, wedge shoes with lengths less than or equal to the ankle would be much easier to walk in than those with lengths greater than the ankle.
The Shape of the Wedges' Heels
Choose heels based on the scale and size of your legs and ankle. Beefy heels typically look a lot better on thick ankles and legs, while skinnier heels look so much better on thin legs and ankles. Wearing clumpy heels will make slimmer ankles appear even slimmer, so avoid them.
Color of the Wedges' Heels
If you plan to wear your wedge shoes with a range of styles and outfits, neutrals are the way to go. Choose a bright color, such as orange, pink, yellow, or red, for special dresses and events. The legs of the wearer are often drawn to by stunning hues.
Aside from special outfits or summer dresses, you can also pair bright-colored wedges shoes with neutral garments. A red pair of heels, for instance, looks great with denim jeans and a basic white tee.
Which Style of Wedge Shoes Should I Choose?
Understanding how to wear wedge shoes is just one thing, but realizing which style is best for you is crucial. As previously stated, wedge shoes usually come in a range of styles, heights, and widths, and each is appropriate for various sets of circumstances.
If you have trouble walking in normal high heels, it is always best to avoid extremely high wedge shoes with thin soles because you might still try to maintain the balance and added support. Having said that, if you have pretty narrow feet, peep toe wedge shoes will be your best bet when it comes to style because these tend to provide a more snug and comfortable fit. In addition, adjustable strap styles are a great option for narrow feet because you can fasten them to keep your feet firmly in position while walking.
Choose a pair of wide-fit wedge shoes if your feet are wide to avoid feeling pinched and squeezed. In case you can't find the broad fit design you desire, try strappy wedge shoes instead of peep toes, which definitely provide your toes with a little more room for maneuver.
How To Walk Comfortably and Confidently In Wedge Shoes?
Wedge heels, as you might know, are a fantastic choice if you are completely new to wearing heels because they are usually far more comfortable than high heels. Convenient wedge shoes for when you are on your feet throughout the day are available, as are sky-high party shoes with a sparkly bottom. Make absolutely sure the wedge shoes you opt for fit snugly and comfortably and provide you with at least some kind of ankle support. 
When walking, concentrate on planting your heel initially, then rolling through to your foot's ball area. Start engaging your core muscles and leg to help manage your balance while the main platform of the wedge shoe is in direct contact with the ground.
Practicing Proper Posture
Stand tall, with your shoulders back and your chin up.
When walking in your heeled wedge shoes, don't lean back. Rather than, keep your chin and head raised. To open up the front part of your breast, you will need to bring your shoulders down first and then pull your shoulder blades toward one another at the rear. Maintain a neutral pelvic angle and avoid leaning forward. 
If you are standing still for an extended period of time, start practicing a few comfy standing leg postures. You may, for example, mildly bend one knee to relieve pressure on that foot while keeping the other leg embedded firmly.
To maintain your balance, contract your leg and abs muscles.
Walking in wedge shoes, particularly higher-heeled wedge shoes, necessitates perfect balance. Stimulate your core muscles anytime you stand or walk in your wedge shoes to keep yourself stable. You will also have to engage your calf and thigh muscles to keep your center of gravity stable.
When you walk or stand in your wedge shoes, think about dragging your thigh muscles toward one another, and then use your calf muscles to help maintain your ankles stable.
To help develop these muscles and enhance your balance, you can try yoga, pilates, or other conditioning classes.
Stand on your foot's ball to enhance your leg muscles.
At the very moment you stand up in your wedge shoes, you will definitely notice a distinct muscle group in your feet and legs begin to engage. Exercising these muscles without shoes is a good idea. Roll up onto your feet's ball area whenever you are standing around in flat shoes or even bare feet. Stay there for around 5 seconds before rolling down to your heels.
Once you have gotten used to it, try walking around on your feet's ball.
This is a simple exercise to try while being prepared in the morning, waiting for a bus, or waiting your turn at the supermarket.
Taking Action
When you start taking every step, depend entirely on your front leg at the knee.
Flex your front knee mildly when you raise your back leg off the floor, then step forward with your rear foot until it becomes directly in front of another. When you do this, always try to keep your feet pointed and think about guiding your step with your foot's ball.
This will absolutely offer you a natural, simple step. Just bear in mind that you will not be putting your foot down on your foot's ball initially. In addition, your front leg must end at around a 30-degree angle to your body.
Firstly, try it on the ball areas of your bare feet before moving on to wedge shoes.
Don't flex your knees and trample even before your leg attains the front. This will not be an elegant or comfortable manner of walking.
Start with your heel and work your way to the ball area of your foot.
When you stretch your front leg and step your foot forward, the heel of your wedge shoe will be the nearest portion of the shoe to the floor.
Keep on going your step by first putting your heel down, then shifting your weight forward and rolling through until the ball area of your foot and the base of the wedge shoes are firmly planted on the ground. Then, to make another stride, bring the rear foot forward.
To start, actually, walk in your wedge shoes at a slow pace. Once you have found your stride, accelerate.
When walking in wedge shoes, each shoe must rock back and forth.
Practice to put one foot in front of another in a single direction.
Consider walking along a straight invisible line to help you keep your balance and add a sassy effect on your hips. When you walk, keep your knees and thighs close together, and your leg muscles must also be engaged. Plant one foot in the front of the other, not splayed out to the side. 
Influence your hips when you walk to avoid putting strain on your knees. Focus on keeping your rear leg's hip lower, and your front leg's hip higher.
When walking down and upstairs, plant your whole foot.
If you walk on your heels down or up the stairs, you may screw up and end up losing your balance. Eliminate this by strongly planting the entire bottom of the wedge shoe on every step. Before making the next move, ensure that your foot is stable. 
Grasp onto the handrail and climb the stairs slowly to prevent losing your balance.
Choosing an Excellent Pair of Wedge Shoes
Pick wedge shoes that are snug enough to fit your feet without squeezing them.
When trying on a new pair of wedge shoes, always ensure that the ball of your foot sits nicely on the shoe's broadest part. For a closed-toe pair of wedge shoes, try to wiggle your toes to ensure the toe box is not squeezing. Alternatively, if you are wearing open-toe wedge shoes, make absolutely sure your toes do not really extend all the way to the sole's edges. Check that they sit nicely on the sole and are not squeezed by the straps. 
Any squeezing or scraping will lead to a blister, so make sure your shoes comfortably fit.
To give your feet and toes more breathing room, try a new pair of open-toe styles.
Check the shoe's platform for stability by tapping on the wedge shoes.
Set both wedge shoes on a level surface if you are thinking about buying a pair of wedge shoes. Then, tap softly on the rear of the shoe near your ankle. If the wedge shoes teeter or overturn, walking in them will be difficult and dangerous. Try to find a pair of wedge shoes that hold their shape when encouraged.
For increased stability, choose a pair of wedge shoes with a broader bottom. If the footprint of the wedge shoe is approximately the size of your foot, it must be fairly secure. However, it will be less stable if the footprint is considerably smaller.
For even more stability, choose wedge shoes with an ankle strap.
As you might know, wedge shoes come in an infinite number of styles, from iconic sling backs and lace-up oxfords to clumpy styles with thicker velcro straps.
Option for wedge shoes with an ankle strap for extra support for the comfiest walking experience. Ensure that the wedge shoe has an adjustable closure, such as a buckle, so that you can have a proper fit.
Put another way, wedge shoes with a back or side zip closure that encase your foot in an "enclosure" of straps are a good option. These can also feel exceptionally secure if they actually fit. 
Prevent wrapping straps or ties way too firmly all over your ankle because they may put tension on your Achilles' tendon.
If you are brand-new to wedge shoes, prevent flip-flops or mules wedge shoes without an ankle strap. They will make it difficult for your toes to hold the shoe. Furthermore, your foot could slip out of the shoe, twisting your ankle.
Intend for the height of the wedge's heel of around 7.6 centimeters or 3 inches or even lower if you intend to do lots of walking.
A pair of good wedge shoes can really be a good daily walking wedge shoe.
Keep the wedge shoes' heel heights under 7.6 centimeters or 3 inches to avoid your foot sitting at a steep angle. Search for wedge shoes with a platform underneath the toe zone if you prefer more high-heeled heeled shoes. Even a small platform might make your foot's curve less compelling.
If you are walking a lot, go for wedge shoes with rubber, non-slip soles.
Consider a pair of wedge shoes with a squishier synthetic, cork, or a raffia base. Tough wood and plastic bottoms will not be as shock-absorbing.
If you plan to walk over long distances in your wedge shoes, search for a wedge shoe with a padded sole, or you can also add an orthotic insole to a current pair.
Walk around in your wedge shoes at home to help break them in.
To make your brand-new pair of wedge shoes far more comfortable, soften them up before wearing them out. As you are at home, simply walk around for several hours in your brand-new wedge shoes. To have more exercise, wear them and go up and down the stairs and on a wide range of soft and hard floor surfaces.
When you are beginning to feel at ease in your new wedge shoes, take them for a rapid 10- to 20-minute stroll to ensure they don't squeeze your feet. If you start noticing any tender spots on your foot, apply an adhesive band-aid to avoid a blister from formulating.
Take into account packing a pair of comfy flats in your bag the very first time you wear your wedge shoes out. By doing this, you can adjust if they become uncomfy.
To summarize, wedge heels are appropriate for a variety of outfits. And, if chosen properly, they will add the necessary glitz and fashion to your gown. So, make an informed decision!