Are you looking for the perfect shoes to wear with your jumpsuit? Well, look no further! There is such a wide range of shoes out there that it's not hard at all! We have curated some of the best shoes that are perfect for any occasion.  Whether you are on the hunt for a pair of high heels or flats, we have compiled 30 different types of shoes that you can wear with any jumpsuit in order to make sure you look your best. From neutrals to prints, there is something for everyone in this list of beautiful shoes. All while finding something stylish and affordable.
Mary-Janes 
One of the best shoes to wear with jumpsuits is the Mary-Jane shoes. The heel will give you height, and it is a neutral shoe that will match any outfit. This shoe is a classic that never goes out of style, and for a reason. High-heeled Mary-Janes are usually paired with jumpers, but because of their versatility they can be worn to dress up any other outfit as well. This pair features an open toe, chunky heel, and buckled strap detail. Buckles come in different lengths to provide you with the best fit possible.Plus, it has tons of style!
Ankle Strap Shoes
These sleek, simple shoes include a strap across the front of the foot. The strap wraps around your ankle and helps keep your feet secure in the shoe. They also have a small heel on them to provide back support. Ankle strap shoes can be seen as one of the most popular jumpsuit shoes.
Kitten-heels 
These heels are great for those who need just a little bit more height in their shoes. Knowing how to wear the kitten-heels correctly will complement the shape of a jumpsuit, while still giving you the height you want to appear taller.  They are great for any type of event and will definitely make you feel like a diva!
Stilettos
These heels are perfect for people who want to dress up their jumpsuit with just a little something extra. Just remember that when wearing these, you will get more height, which means that your jumpsuit may not be as long or as short as it would have otherwise been! Stilettos are also worn for different occasions.
Cutout Wedges
While these shoes may look like a trendy pair of wedges from the 80s, they are actually much more modern than that! These shoes are perfect for those who want to feel like they are walking on air but don't want to wear heels all the time. Knowing how to wear wedges help you not fall down when walking in comparison to high heels. They come in almost every color and have a slight cutout style design that is very trendy right now. You will definitely turn heads in these shoes!
Pumps
If you love the look of pumps but can't handle the pain, then these shoes are definitely for you! They will make you feel like a true diva in no time. They are very versatile and can be worn with just about everything. You can pair them with shorts, dresses, skirts, and leggings. And if you want to amp up the look, even more, add some tights! White color pumps are the most favorite color for ladies since it matches well with any kind of jumpsuit.
Sneakers 
Sneakers are a go-to shoe for many looks, but pairing them with a jumpsuit can make for an interesting combination. Sneakers are a great way to play around with your outfit! You can add them with almost anything, leggings, shorts, dresses. They look like any other shoe, but you will never see them coming when you need to make a quick exit.
Ballet Flats
An awesome option if you are looking for a more casual look. Ballet flats can be paired with anything! The ballet flat is one of the most practical shoes for jumpsuits. Flats offer more support than clogs, but also adds some glamor to the look since it's so sleek and modern. Plus if you ever need to run during your big day, these are the shoes for you!
You can just throw on a nice pair of jeans, a sweater, and voila! You will be out the door in no time. Because they are so easy to put on and take off, it is no wonder they are a popular shoe to wear with jumpsuits and jeans.
Slip-On Flats
These shoes are very similar to ballet flats, except that they don't lace up but instead slip right on your feet. Slip-on flats can go with anything, and since they have such a wide variety of colors, you will definitely find one you love for any outfit.
T-Strap Shoes
T-straps are great for those who want to show off a bit more skin or if you just want the casual look with a little hint of style. The t-strap is great for summer because it's not too hot to walk around in. Or you could even throw on some socks to keep your feet warm during cooler weather.
Pointed Flats
If you are looking for some classier shoes, pointed flats may be just what you need! They have a slightly more professional look, but they take up little room, so they are still a very easy shoe to walk in and wear with anything without having to worry about your feet hurting.
Open Toe Shoes
These open-toe shoes  are the most casual of all the shoes. They are great for just a little bit of style thrown in there with everything else. They come in so many colors and prints you can't go wrong! They can also pair well with jeans as well as jumpsuits.
Wedge Sneakers
The wedge sneaker is another great way to add pizzazz to your look. It will have you walking taller and feeling confident in what you're wearing. You can wear these with just about anything and will be comfortable all day long.
Platform Sneakers
These platform shoes are perfect for any occasion. You can dress them up or dress them down. The platform gives your feet a little height, so you feel even more confident in what you're wearing. You don't have to worry about being uncomfortable anymore! But if you'd rather something a bit more simple, try the basic sneaker or the basic flat.
Low-heels
These low-heel shoes are great for everyday wear. They are very easy to walk in because of their low heel profile. They will give your feet a little rest without making walking uncomfortable at all.
Slide Flats
These shoes are great if you want a casual look without having to worry about your feet getting too hot. You can walk around all day without having to change shoes or worry about getting blisters. If you're looking for something formal, try these slide flats. You can wear them with your favorite jumpsuit and be the perfect combination of stylish and comfortable all at the same time! They come in just about any color you could ever want, so grab your favorite pairs today!
Thigh Highs Sandals
These thigh high sandals are great for any occasion! They look great with any type of outfit and will make your feet feel so much better at the end of the day. You can walk around all day without having to worry about blisters or sore feet.
Gladiator Sandals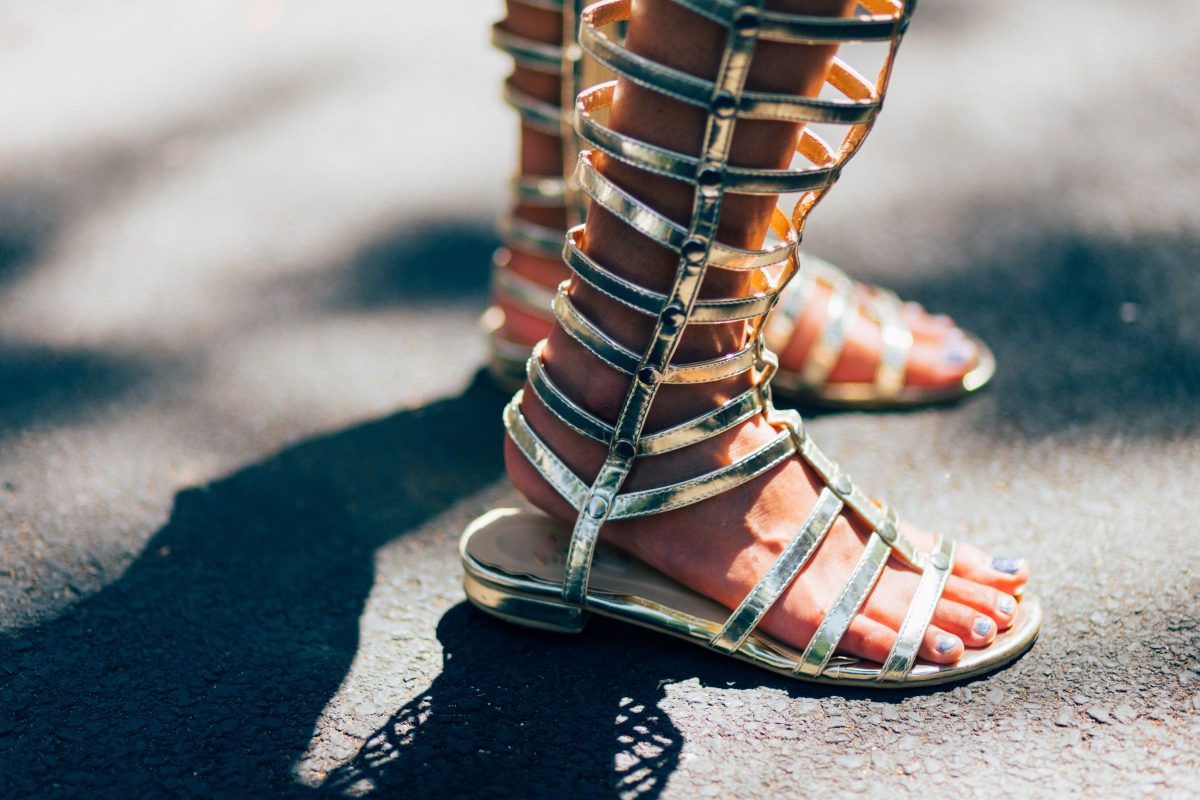 This is a sophisticated style that will give you an outstanding look with your jumpsuit. It's also a quick change shoe because it slips on within minutes without any hassles! It's additionally a lightweight dress shoe but is still really protective because it offers high ankle protection from rocks or other random dangers. For summer, a strappy pair of gladiator sandals are perfect. They are casual, but the high heels will give you height and look cute with the jumpsuit.
Boots
A bootie is similar to a slip-on sneaker but has an ultra-thick sole that keeps your foot tight to the heel of the shoe without being too bulky or clunky. This is a good shoe for boots or any other type of dress with heels or platforms.
Ankle Boots
A perfect shoe to wear with a jumpsuit, these boots have a thin metallic strip and a lower ankle height. They are best paired with midnight blue and black jumpsuits. It's best to have a black ankle boot that is not too wide or too narrow because otherwise it will stretch very quickly. Choose these boots from those made from leather instead of the ones made from rubber to avoid stretching or fraying the edges.
Chic Chelsea Boots 
When wearing a jumpsuit, the outfit should be as simple as possible to avoid any clutter. That means no accessories and minimal makeup as well. A good way to simplify your look is to go for chic Chelsea boots.  If a jumpsuit is big, then Chelsea boots are the answer to make the outfit comfortable. 
Choosing a pair of Chelsea boots makes your outfit much more attractive and stylish. Choose a pair that matches your skin tone and compliment your jumpsuit by being either black or brown. A chic Chelsea boot will make any person look good in an outfit. You can also dress up in these boots by matching them with dresses or skirts, depending on the occasion.
Combat Boots 
Combat boots or military-style boots have been around since World War I, and the name says it all. What makes them so great for jumpsuits? They're durable yet surprisingly comfortable to walk in and come with removable shoemakers that allow them to be broken in exactly how you want.
Cowboy Boots 
Cowboy Boots – What's better than a pair of cowboy boots? A pair of high-heeled cowboy boots. These shoes are incredibly versatile and can be worn with almost anything. Lace-up or zip-up, your choice. Just make sure the color goes well with your jumpsuit. 
Espadrilles 
These espadrille shoes are perfect for wearing jumpsuits. The soles of the shoes usually come in various patterns, but this shoe is mostly white with a little bit of texture. Imagine what your feet would look like if the bottom was entirely covered in flowers and leaves standing out against a white background.
Oxfords 
Oxfords are also great for wearing jumpsuits, but we recommend going for ones that have a modern, squared-off toe. They'll go with anything, and you can dress them up or down.
Plain Flat Shoes 
These shoes are just about perfect for everyday wear. They are very simple and can be worn in a variety of ways. You can pair them with a dress, a skirt or shorts. And if you want to amp up your look, add some tights!
Clogs
Clogs seem like a great choice if you want to wear something that feels like you could just slip out the door in them. They're simple, they go with anything, and they'll hold up for years.
Flip Flops
In most cases, the most appropriate choice for a jumpsuit is flip flops. Flip flops are one of the easiest options to slip on and off, and they offer the best traction for quick movements. They are also very light, so they won't cause you to sweat or feel uncomfortable in your shoes. They're comfortable and easy to slip on and is a good way to show off your love for fun and prints. Choose whatever color scheme you like!
Tips For Choosing Shoes With Jumpsuit 
– Wear a light-colored shoe with a dark or neutral jumpsuit. Don't wear black shoes with a white jumpsuit. 

– If you want to wear brown shoes, the jumpsuit should be in shades of gray, blue, or other dark colors. 

– The combination of black and white is always appropriate and will add sophistication to the outfit. 

– Don't wear sneakers or sandals unless you are going for a sporty look.

– A pair of black leather shoes with a dark jumpsuit is a classic look.

– If you want to be casual, wear any type of shoe, but stick to neutral colors. 

– Don't go for high heels if you have longer legs or are naturally tall; always add height with accessories so that your legs are elongated.

– For extremely classy occasions, it is recommended to go for black formal shoes made of glossy leather; this will underline the elegance of the outfit and make it stylish and sophisticated at the same time.
FAQs
What shoes go well the most with a jumpsuit?
The most suitable shoes for a jumpsuit are heels. Low-heels would work too, but they might make you uncomfortable if you walk long distances. Flat sandals also work well with this outfit.
What is the best color of shoes to wear with a jumpsuit?
There are many colors that go well with jumpsuits, but the most popular are white, black, nude, pastels, and red. For example, with red, you can wear a bright-colored jumpsuit (like a floral pattern) with red shoes to match.
What style of shoes should I wear with a jumpsuit?
You can wear any shoe style that looks good with your outfit. Suppose you want something low-key classic to go along the lines of a dressy white sneaker or minimalistic sandal. If you want to give your outfits more flair, try platforms or heels to any color tone you choose.
What is the best way to suit my shoes with my outfit?
When matching your outfit and shoes, you always want to keep a basic formula in mind: The bigger the outfit, the smaller the shoe. The smaller the outfit, the bigger the shoe. This concept is good when thinking about anything else like belts and purses as well.
Can I wear any type of footwear with a jumpsuit?
Absolutely, you do not have to restrict yourself to heels or dressy sandals. You can wear sneakers with your jumpsuit as well!