Visvim is a Japanese fashion brand known for its high-quality clothing and footwear. Their shoes have gained a dedicated following due to their unique style and exceptional craftsmanship. Visvim shoes are made using traditional Japanese techniques and often feature natural materials such as leather and suede.
One important aspect to consider when purchasing Visvim shoes is their size chart. As with many Japanese brands, their sizing can differ from what you are used to, so it's important to consult their size chart before purchasing. 
Whether you're a long-time fan of Visvim or just discovering the brand, their shoes are an excellent investment for anyone who values quality, style, and durability. With the help of their size chart, you can find the perfect fit and enjoy the comfort and style of Visvim shoes for years to come.
Visvim Shoe Size Guide
Visvim is a renowned Japanese fashion brand that offers a diverse range of premium quality footwear options. Whether you're searching for a stylish pair of sneakers or a sturdy pair of boots, Visvim has got you covered. However, finding the perfect size can be a daunting task. In this article, we'll provide a comprehensive guide to help you find the right fit and size for your next Visvim shoe purchase.
Read more Golden Goose Size Chart in here
Visvim Sandal Size Chart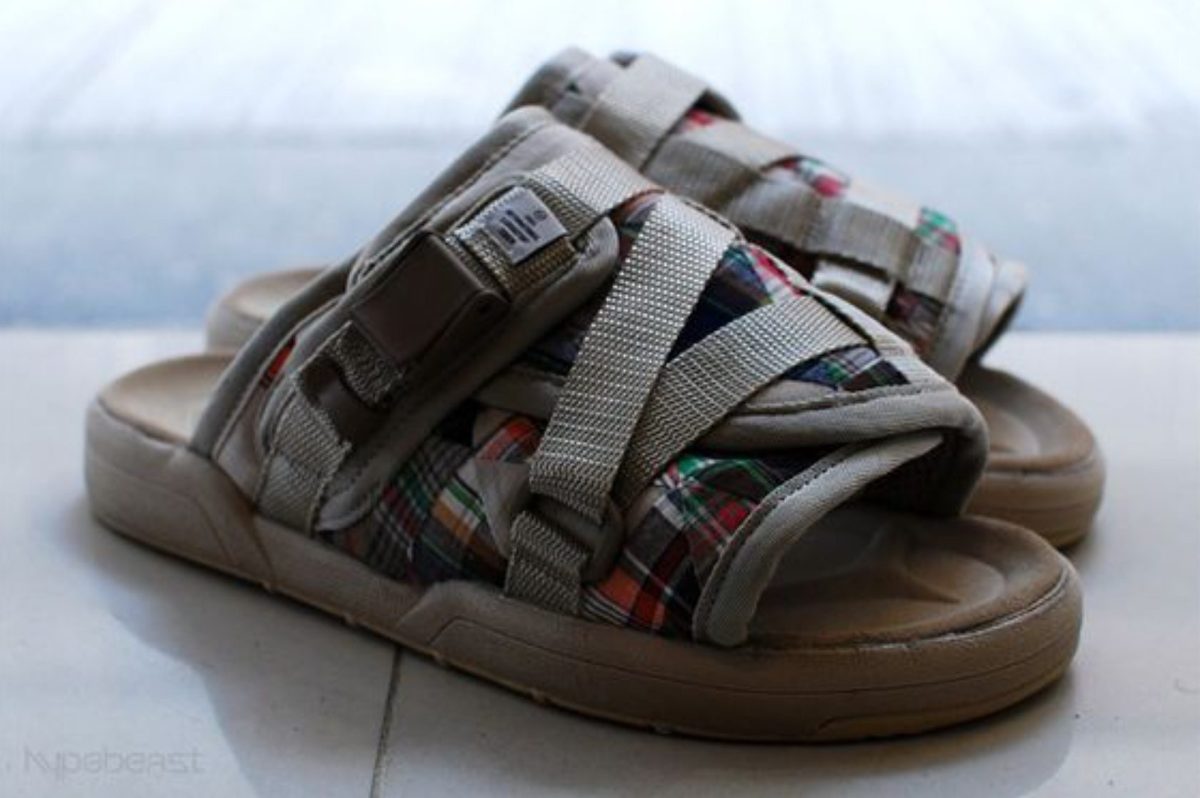 | | | | | |
| --- | --- | --- | --- | --- |
| SIZE | JPN | US | UK | EU |
| XS | W22-W23 | W6-W7 | W3.5-W4.5 | W36-W37 |
| S | W24.0-25.0 | W8.0-7.0 | W5.5-6.0 | W38-40 |
| M | 26.0-27.0 | 8.0-9.0 | 7.0-8.0 | 41-42.5 |
| L | 28.0-29.0 | 10.0-11.0 | 9.0-10.0 | 44-45 |
| XL | 30.0-31.0 | 12.0-13.0 | 11.0-12.0 | 46-47 |
Visvim Shoe Size Chart
| | | | | |
| --- | --- | --- | --- | --- |
| SIZE | JPN | US | UK | EU |
| 8 | 26.0-26.5 | 8.0-8.5 | 7.0-7.5 | 41.0-42.0 |
| 8.5 | 26.5-27.0 | 8.5-9.0 | 7.5-8.0 | 42.0-42.5 |
| 9 | 27.0-27.5 | 9.0-9.5 | 8.0-8.5 | 42.5-43.0 |
| 9.5 | 27.5-28.0 | 9.5-10.0 | 8.5-9.0 | 43.0-44.0 |
| 10 | 28.0-28.5 | 10.0-10.5 | 9.0-9.5 | 44.0-44.5 |
| 10.5 | 28.5-29.0 | 10.5-11.0 | 9.5-10.0 | 44.5-45.0 |
| 11 | 29.0-29.5 | 11.0-11.5 | 10.0-10.5 | 45.0-45.5 |
| 12 | 29.5-30.0 | 11.5-12.0 | 10.5-11.0 | 45.5-46.0 |
Visvim Kid's Shoe Size Chart
| | |
| --- | --- |
| SIZE | CM |
| K4 | 11.0 |
| K6 | 13.0 |
| K8 | 15.0 |
| K10 | 17.0 |
| K12 | 19.0 |
Visvim Brand Philosophy & History
The story of Visvim's founding is centered around the life experiences of Hiroki Nakamura, who started the brand in 2001. Born and raised in Kofu, Japan, Nakamura spent his teenage years in Tokyo during the 80s, where he became fascinated with Americana style, which heavily influenced post-war Japanese fashion. 
Nakamura's parents encouraged him to study in countries where little Japanese was spoken, leading him to travel to Alaska, where he spent much time exploring rural America and snowboarding. He stayed with multiple indigenous groups during his travels to learn about their lifestyles.
Upon returning to Japan, Nakamura landed a design job with the Japanese division of Burton Snowboards, where he obsessed over American clothing and footwear, particularly work boots and moccasins. With a growing collection of vintage clothing and design knowledge, Nakamura decided to create his own label. In 2001, he began producing sneakers and shoes and named his brand Visvim, which he discovered in a Latin dictionary.
One of Visvim's most notable products is the FBT sneaker, which Nakamura designed shortly after founding his brand. Inspired by traditional Native American moccasins, he encountered during his travels in Alaska, the FBT featured a fringed/collared upper and an EVA-phylon midsole. 
The name of the sneaker came from the English new-wave group Fun Boy Three, after Hiroshi Fujiwara, a Japanese streetwear influencer, pointed out Terry Hall's moccasins on the cover of their 1984 'best of' compilation.
The FBT successfully provided Nakamura with a platform to expand his label. He began creating ready-to-wear clothing to complement his footwear-based collections in 2002, and by 2005, Visvim had become a fully-fledged menswear label. The brand's early apparel was heavily influenced by military garb. Nakamura used the technological knowledge from his years at Burton to improve his products with updates such as Gore-Tex.
Visvim's product range has evolved over time to reflect Nakamura's personal style and vision, which he describes as "future vintage." He aims to create timeless clothing that references the past without being a mere reproduction. 
Visvim is known for its high quality and craftsmanship, and Nakamura constantly explores new ways to enhance garments with age-old production techniques and modern technologies. Both sneakerheads and fashion devotees have become devoted fans of the brand.
Find more Old Navy Shoe Size Chart in this post
7 Reasons Why Are Visvim Shoes So Expensive
For those wondering why these shoes come with such a hefty price, there are several reasons to consider. From the use of premium materials to the intricate design process, and from the emphasis on sustainability to the limited edition collections, there are multiple factors that contribute to the cost of Visvim shoes. In this article, we will explore 7 reasons why Visvim shoes are so expensive, providing insight into what sets these shoes apart from others in the market.
High-quality materials: Visvim shoes are manufactured with high-quality materials, including leather, suede, and Gore-Tex, which are more robust and last longer than lesser ones. The use of these materials ensures that the shoes remain comfortable, supportive, and attractive for a longer period of time and also give them a premium look and feel.
Handmade production
Visvim shoes are made by skilled craftsmen, with every detail attended to by hand. This results in a higher level of attention to detail, quality control, and durability, as well as making each pair unique. The production process also takes longer than machine-made shoes, which contributes to the high cost.
Innovative design
Visvim shoes are designed with a unique blend of traditional and modern elements, which makes them stand out from other shoe brands. The company's founder, Hiroki Nakamura, is known for his obsession with detail and his commitment to creating shoes that are both functional and stylish.
Brand reputation
Visvim has built a strong reputation for producing high-quality shoes that are designed to last. Those who are devoted to the brand and are prepared to pay a premium price for the shoes do so because they value the craftsmanship & attention to detail that goes into each pair.
Rare collaborations
Visvim has collaborated with a number of other high-end brands, such as Moncler and Comme des Garçons, to create limited-edition shoes. These collaborations are highly sought-after by collectors and fans of the brand, which drives up the price.
Heritage and culture
Visvim draws inspiration from traditional clothing and footwear from around the world, particularly from Native American, Japanese, and Scandinavian cultures. This creates a unique brand identity that appeals to customers who appreciate heritage and culture and are willing to pay a premium price for shoes that reflect these values.
Resale value
Visvim shoes have a high resale value, which is an indication of their quality and desirability. Collectors and fans of the brand are willing to pay a premium for rare or limited edition shoes, which maintains their value over time. This also means that customers who invest in Visvim shoes can potentially recoup some of their costs if they decide to sell their shoes in the future.
5 Reasons Visvim Shoes Are Worth The Money 
Visvim shoes are known for their high price point, with most pairs costing over $500. However, there are several reasons why they are considered worth the investment. Here are five reasons:
Quality Materials
Visvim shoes are made from premium materials such as leather, suede, and canvas. The brand is known for sourcing materials from all over the world, including Japanese denim, American Horween leather, and British Ventile cotton. The materials used in Visvim shoes are carefully selected for their quality, durability, and aesthetic appeal.
Unique Designs
Visvim shoes are designed with a distinctive aesthetic that blends traditional Japanese craftsmanship with modern streetwear influences. The brand's signature moccasin silhouette, for example, features a hand-sewn construction and a Vibram sole, which gives it both a classic and contemporary look. The unique designs of Visvim shoes are eye-catching and versatile, making them a great addition to any outfit.
Attention to Detail
Visvim shoes are meticulously crafted, with an emphasis on every detail, no matter how small. From the stitching to the laces, each component of the shoe is carefully considered to ensure it meets the brand's high standards. This amount of care guarantees that each pair of Visvim sneakers is of the finest quality.
Comfort
Visvim shoes are designed to be both stylish and comfortable. To guarantee that its shoes are pleasant to wear for lengthy periods of time, the brand employs high-quality materials and production processes. Many of Visvim's shoe models are also equipped with features such as padded insoles, which add to the shoe's comfort level.
Longevity
Visvim shoes are built to last. The brand's focus on quality materials, attention to detail, and construction techniques ensure that its shoes are durable and long-lasting. The brand also offers shoe repair services, which means that customers can get their Visvim shoes repaired rather than replacing them if they become worn or damaged.
In summary, Visvim shoes are worth the investment because they are made from quality materials, feature unique designs, have meticulous attention to detail, are comfortable to wear, and are built to last. These qualities make Visvim shoes a great investment for anyone looking for a stylish, high-quality shoe that will last for years.
FAQs
What is the sizing like for Visvim shoes?
Visvim shoes tend to run slightly large, so it is recommended to size down half a size from your normal size. However, it is always best to check the size chart for each individual model before purchasing.
Do Visvim shoes come in half sizes?
Yes, Visvim shoes are available in half sizes.
How do Visvim shoe sizes compare to other brands?
Visvim shoes tend to run larger than other brands, such as Nike and Converse. It is recommended to check the size chart for each individual model before purchasing.
Do Visvim shoes stretch over time?
Some Visvim shoes, such as those made from leather, may stretch slightly over time with regular wear. It is important to choose a size that fits comfortably from the start.
Can I return or exchange Visvim shoes if they don't fit?
Most retailers that carry Visvim shoes will accept returns or exchanges within a certain timeframe if the shoes do not fit. It is best to check the retailer's return policy before purchasing.
Is it better to try on Visvim shoes in person before purchasing them?
Trying on Visvim shoes in person is recommended to ensure the best fit, as sizing can vary slightly between models. If putting on the shoes in person is not an option, it is best to carefully examine the size chart and buy from a merchant with a fair return policy in case the shoes do not fit.