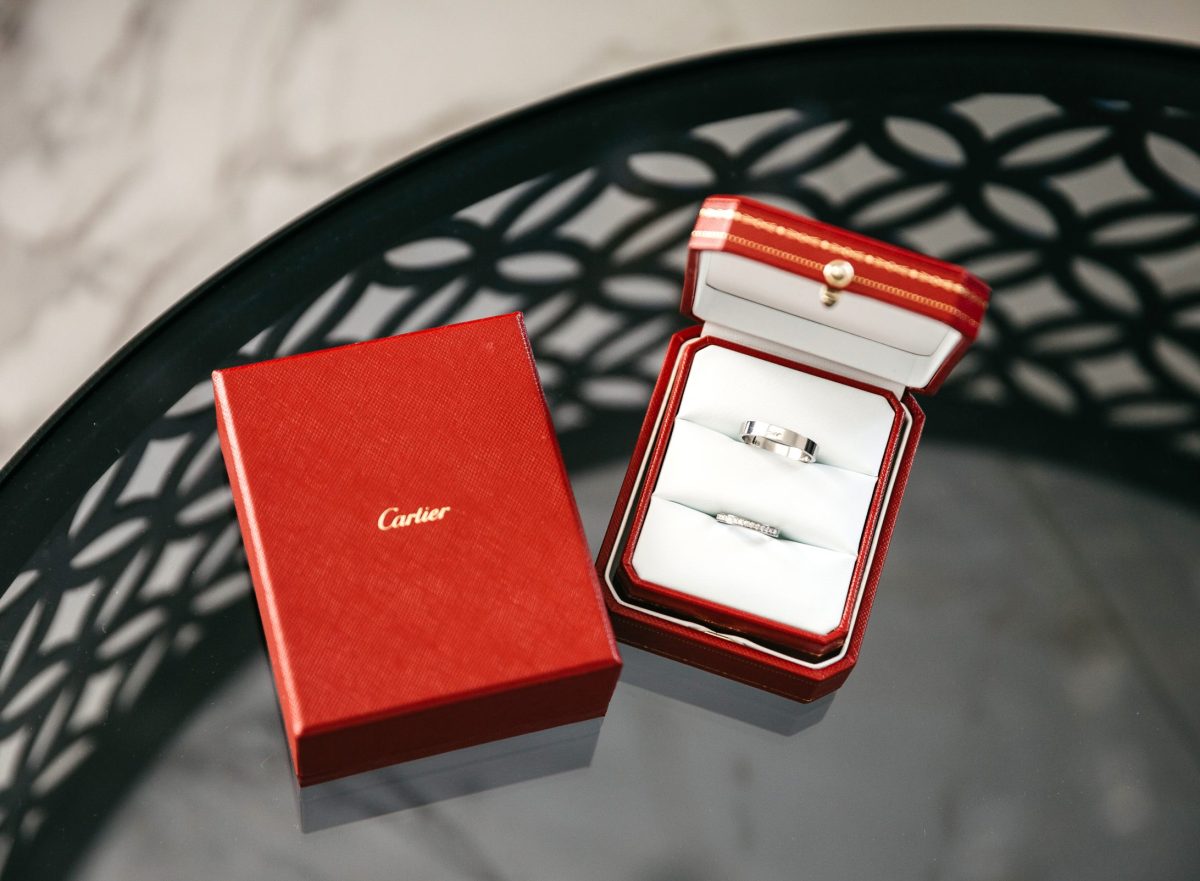 Over 167 years of establishment and development, the Cartier jewelry brand has been marked and considered a legend in the jewelry world with jewelry models for the nobility and the rich. In 1888 this brand launched the watch and jewelry for women, and the jewelry brand Cartier was entrusted with providing jewelry models for aristocratic families.
Louis-François Cartier founded Cartier in 1847. But it was not until 1904 that Cartier created a strong reputation when it launched the Bestiary collection and the "Santos" leather watch model. The brand made many marks in the world fashion industry for years after that. Cartier has become one of the world's most famous luxury watch and jewelry brands.
With a wide range of products, from jewelry and watches to eyeglasses and bags, Cartier constantly invests meticulously in both quality and design, especially rings. If you want a Cartier ring, you must find the perfect size ring before making a purchase. Keep reading for more information about which Cartier ring size chart is correct!
Ring Size Chart
When ordering any jewelry online, it's essential to know the correct ring size – especially if you're purchasing an expensive piece like a Cartier Ring. It's inconvenient and expensive to return an incorrectly sized ring, so take these measurements before ordering one online. Our size guide is the most effective tool for taking your measurements.
Due to the design and massive proportions of the Large Model Trinity ring, the standard ring sizing guidelines do not apply in this instance. Cartier suggests selecting a ring that is two sizes smaller than what is stated on the Cartier Ring Size Chart. If you usually wear a size 50 but want a Large Model Trinity ring, you should wear a size 48.
FINGER

CIRCUMFERENCE IN MM 

RING  SIZE 
EUROPE 
USA 
UK 
JAPAN 

44

44

    3

      F ½       

4

45

45

        3 ¼       

        G         

5

46

46

      3 ¾       

        H         

6

47

47

    4

      H ½       

7

48

48

      4 ½       

        I ½        

8

49

49

      4 ¾       

        J ½        

9

50

50

      5 ¼       

        K         

10

51

51

      5 ¾       

        L         

11

52

52

  6

        L ½       

12

53

53

      6 ¼       

      M ½       

13

54

54

      6 ¾       

      N ½       

14

55

55

        7 ¼        

        O         

15

56

56

        7 ½       

        P         

16

57

57

  8

      P ½       

17

58

58

      8 ¼       

      Q ½       

18

59

59

      8 ¾       

        R         

19

60

60

  9

        S         

20

61

61

      9 ½       

      S ½       

21

62

62

  10

      T ½       

22

63

63

      10 ¼       

      U ½       

23

64

64

      10 ¾       

        V         

24

65

65

  11

        W         

25

66

66

      11 ½       

      W ½       

26

67

67

      11 ¾       

      X ½       

27

68

68

      12 ¼       

        Z         

28

69

69

      12 ½       

      Z ½       

29

70

70

    13

                    

30

71

71

      13 ¼

 

31
Ring Size Measurement Guide
When it comes to jewelry, the ring is the most frequently altered item to accommodate the wearer's particular hand size. When you wear an appropriately sized ring, you should have a sense of self-assurance and assurance in yourself. If you are unable to attend to the jewelry store of your choosing, you are still able to accurately determine your ring size by following the methods outlined below:
Method 1: Measure the diameter of the same ring
If there is another ring to measure, the most accurate way is to use a ring of the same width and style as you intend to purchase and follow these steps:
– You will need a ruler to measure the ring's inner diameter accurately.
– You compare the number of mm of the ruler with the diameter size of the ring size table above
Method 2: Manual measurement
Take a measurement around your finger:
– Step 1: Use a string (or measuring tape/thread/small paper) to wrap around the ring finger, mark the junction
– Step 2: Take another reading on the wire's length after you've done so.
– Step 3: Take that length minus the ring thickness by 2 (depending on the ring model with different thicknesses).
– Step 4: After that, divide that number by 3.14 to get the ring's diameter.
– Step 5: Check that the diameter you just measured corresponds to the ring size chart located above.
Things to pay attention to
After the day, measure the circumference of your finger. When taking measurements, please avoid using your finger when it is hot or cold.

Remember that the

left and right hands are somewhat different sizes

; a ring that fits perfectly when worn on the left hand may not fit perfectly on the same finger when worn on the right hand.

Be sure that the size you choose will still allow the ring to move freely over the whole length of the finger, even after it has been worn for some time.

If you want to know how long your finger is, you can measure it with a tape measure. Measure the rim of your finger in millimeters. The circumference of the ring may be determined from this measurement.

If you are undecided between two sizes, you should choose the larger option. It's important to remember that the ring's style will also influence the choice of size because a massive ring is intended to be worn looser than a smaller one.
The Main Product Lines Of The Cartier Brand
Within the field of handcrafting, particularly when it comes to watches and jewelry, Cartier is universally acknowledged as the "king." On the other hand, this particular brand has introduced additional product models to broaden its customer base and develop further, typically traced to eyeglasses made by Cartier.
Cartier watches
With more than a century of history, Cartier is one of the leading brands exploring the market for women's watches. Along with that, an unusual movement of wearing Art Deco jewelry was also initiated by Cartier. In particular, the image of Cartier watches has always been associated with big stars in the art world or people in the royal family right from the beginning. In the early years of 1856, the cousin of Emperor Napoleon III – Princess Mathilde, was a loyal customer of this brand.
One of the watches that founded the Cartier brand is the legendary Bestiary collection, along with the "Santos" leather watch. In 1904, a confidant of Cartier founder Alberto Santos Dumont suggested the unique needs of those in the aviation industry. Given the specificity of the profession, they need a dedicated watch for the job.
Following that success, Cartier produced a new model in 1917 called the Cartier Tank. Inspired by tanks, this is a unique gift that the brand has dedicated to the Allied tank commanders who defended France. In 1991, the brand established the International Commission on High-end Watches to develop and research watches. Two years later, Cartier invented three working versions of the "Chrono Reflex" movement.
Cartier Jewelry
Jewelry for Cartier is like a pair of wings that bring the brand's name to the world. This brand once received a large jewelry order of up to 27 crowns used in the coronation of King Edward VII – United Kingdom.
Thanks to this event, the reputation of the Cartier brand became more and more widespread. The number of orders increased rapidly, coming from other countries such as Spain, Russia, Serbia, etc. The bridal crown used for the 2011 wedding of Prince William & Kate Middleton was one of the most expensive items ever produced by the company.
Rings and bracelets are the two most famous brands of the famous fashion brand Cartier. For the followers of this famous jewelry company, these two types of jewelry cannot be ignored; the designer creates them. Aldo Cipullo, in 1969, became one of the symbols of ancient beauty with simple but no less luxurious and noble designs.
Cartier Eyewear
As a later product, Cartier brand eyewear inherits traditional values ​​and quintessence from watchmaking and jewelry. From materials to processing, design, and especially the price, Cartier makes fans around the world stand still.
All of the brand's eyewear products are made in a single plant in Joinville-Le-Pont to provide clients with the highest possible product quality. Moreover, the product's materials are costly, such as Titanium, gold, silver, etc., or even more materials rarely brought into eyewear, such as wood, leather, buffalo horn, etc.
Combined with that are the exceptionally finely carved motifs to bring great designs. The product price is also considered quite reasonable compared to other high-end models. Therefore, eyewear products from the Cartier brand are always warmly welcomed by customers.
Why Are Cartier Rings So Expensive?
The cost of a Cartier ring is exceptionally high. Because of how expensive they are, most people can only fantasize about donning or owning one. But even if you have the financial means to acquire these works of art from renowned designers. 
Perhaps you are thinking the same thing the rest of us are thinking. Why are rings by Cartier, as well as the rest of the brand's jewelry, so prohibitively expensive? Is it fair that they come with such a high price tag? The reasons for it are outlined in this article.
Made from high-quality precious metal
The precious metals used in creating Cartier rings are of the highest quality, including platinum and 18k gold. These are precious metals, the value of which tends to rise with time. Because of this, the rings produced by the brand have a higher price. 
Cartier does not make concessions when it comes to the high level of quality and luxury found in its products. Gold, white gold, and rose gold are used to craft the rings. However, they are not solely composed of gold. Other Cartier rings made of platinum are precious and can cost money. In addition to these precious metals. 
In addition, the most dazzling diamonds and other scarce gems, such as sapphires, are used to set Cartier rings. As a consequence of this, branded rings and various other forms of jewelry typically have very high resale values.
High-quality diamond
Cartier's pricey rings are used in exceptional grade diamonds, which explains their high price tags. They have been rated based on the criteria established by the Gemological Institute of America. They employ genuine diamonds of a high grade, which contribute to the rings' overall growth in value.
Modern technology
Businesses must invest significantly in technological innovation to produce excellent rings made of precious materials. Cartier is not an exception; the amount of money spent by Cartier to acquire cutting-edge machinery and contemporary technology is not insignificant. As a result, the technological aspect utilized throughout the manufacturing process is also a part of the answer to the issue of why Cartier rings are so expensive.
Excellent craftsmanship
Craftsmanship of the highest quality must be one of Cartier's defining characteristics for the brand to have achieved its current degree of success. This is true for every piece of jewelry made by Cartier. The exceptional quality of Cartier's wares has helped the company earn its stellar reputation. 
Craftsmanship is integral to the production of high-quality goods in every product. The ring by Cartier is crafted of pure gold and platinum. In addition, diamonds are of the finest possible grade. Every one of Cartier's goods is painstakingly created, and not a single detail is overlooked. Every Cartier piece has its unique quality.
Top fashion brand
A location of the Cartier retail chain Cartier is not just among the most well-known names in the fashion industry. This is another highly prominent brand in the haute couture, and it has been able to keep its status at a very high level since it was first established. 
Is the name of a brand that debuted in the well-known film Ocean's 8? Rihanna, the riches, and the desire for the brand are all featured in this film, highlighting the brand's appeal. The jewelry alternatives available from Cartier are unquestionably expensive. And from a wide range of high-end timepieces, as well as from a sizeable assortment of high-end jewelry.
Luxury, richness, and grandeur come to mind when one mentions Cartier or any of its items, including rings. As a result, the prices of the items are pretty high. In addition, it is essential to emphasize the amount of prestige connected with the brand. Not only did it result in high product prices, but it also caused Cartier's pre-owned items to sell quite a bit. 
Pioneer in the trend
Cartier was one of the first companies in its industry. And as evidence of this, the organization introduces brand-new styles on an annual basis. Because of this, they cannot only remain current with the latest trends but also become leaders in the same industry. And as a direct result of it, their valuations are relatively high. The exquisite craftsmanship that goes into Cartier's creations helps to justify the brand's high prices.
Having great historical weight
Cartier has been called the Jeweler of Kings due to the fact that King Edward the VII of England was the first person and member of royalty to recognize the brand's magnificence. This accomplishment is undoubtedly not something that should be taken lightly.
This took place in the early 1900s, and the acclaim has endured, with Cartier and his legacy continuing to live up to the high standards. From its founding in 1847, Maison has amassed a pretty illustrious history, into which its legacy has been intricately entwined.
Given all of this background information and the fact that Cartier began as a little boutique in Paris before expanding into an established international premium brand that now enjoys one of the most outstanding levels of renown anywhere in the world, the high price tags on Cartier's products seem understandable.
5 Most Outstanding Cartier Ring Lines
The remarkable variety of rings that Cartier has produced over the years is mainly responsible for the company's current level of commercial success. Let's look at some unique rings that helped make this brand the cult classic it is today.
Cartier Love Rings
This particular ring is the Cartier family's most popular one. Since its introduction, the Cartier product line has been met with enthusiastic support from clients, and there are no indications that this enthusiasm is beginning to wane.
The Cartier ring model has a pretty simple but not less elegant design, which is why couples frequently select it. Some items are presented in their most basic form to accommodate the wide range of client preferences, while others have elaborate embellishments like diamonds.
But in general, the design of two sides of a semicircle fused distinguishes the Cartier Love line from other lines of Cartier jewelry. This particular element serves as a metaphor for the union and concord between the two individual souls that comprise the loving pair.
Cactus De Cartier Rings
Since its introduction, the Cactus de Cartier collection has garnered significant attention because of its namesake. The rings that have distinct forms but are nonetheless elegant have garnered a lot of appreciation from buyers very fast.
Not only does the picture of a cactus indicate strength and resiliency, but it also depicts an everlasting love that has no particular form. As a result, this will be an exceptionally well-suited ring model for young women who are not frightened of obstacles or challenges and are looking for a passionate and devoted love partner.
Cartier Trinity Rings
Due to the distinctive appearance of this product, it is also known as the Cartier 3 color ring. These names are also known as the Cartier Trinity ring. The three components of love, loyalty, and friendship are each represented by one of the three segments of the ring, which appear independent but are actually intertwined. Things are necessary if we want our relationship to last long and remain strong.
Even though it is almost a century old, the Cartier Trinity ring is still cherished and desired by many individuals. This is due to the profound significance that is associated with it as well as its one-of-a-kind design.
The Cartier Trinity model, like other rings made by Cartier, comes in various materials and may be purchased in either plain or set with diamonds. Consumers can select the items most suited to their needs by consulting their preferences.
Cartier Panther Ring
If the two models of the Cartier Love ring and the Cartier Trinity ring reflect a couple's love for one another, then the model of the Cartier Panther Ring depicts the power of feminism. The Cartier newspaper ring is a fashionable item favored by many of the most famous female celebrities in the world.
Even though this ring line has a wide range of modifications in terms of the materials used and the stylization of the design, the panther print pattern has always been a distinctive highlight of this particular product. When you mention Cartier, many people will immediately think of this theme. This is because it is considered the Cartier brand's symbol.
Clash De Cartier Rings
The rings in this collection stand out because of unique details like stones, rivets, and square beads. Because of this, the items sold by Clash de Cartier are also referred to as nail Cartier rings. A combination that is impossible to get wrong is created when rigid forms are painstakingly put on top of a ring frame made of pliable material.
In addition to the traditional Cartier rings made of gold, rose gold, or white gold, the Clash de Cartier collection uses a few more innovative materials. It is possible to list Amazonite stones, Tahitian pearls, onyx stones, and other similar examples.
FAQs
How much do rings from Cartier cost?
The price might be as little as $1,500 or as much as $5,000. The diamond collection is one example of a more expensive collection than others in its category. You should spend anything from $2,000 to more than $10,000 for the diamond collection. The Ballerina Solitaire is Cartier's most extravagant diamond engagement ring and also the most costly.
What makes Cartier such a unique and desirable brand?
Cartier is undoubtedly one of the most influential and well-known jewelry companies in the world. In the middle of the nineteenth century, Louis-Francois Cartier founded it in the country of France. Cartier is recognized for manufacturing opulent diamonds of the finest quality and most skilled craftsmanship.
Are Cartier Rings Good?
Because everyone has a different definition of what constitutes quality, the answer to the question of whether a Cartier ring is good is also only meant as a guide. You need your experience with Cartier rings to get the most accurate answer. However, because this is a luxury product with a reasonably high price, you should still consult the feedback from customers who have used Cartier rings. From there, you can consider whether to use the product or not.
Are Cartier rings resold?
With a reasonably high price and a high-end product, many customers need to resell Cartier rings when they no longer want to use them. Answering the question of whether it is possible to sell Cartier rings again, up to now, Cartier has not had the policy to buy back used products. If you need to liquidate Cartier rings, you can find groups, websites, or consignment stores. Here you will be assisted in reselling Cartier rings.