Since its debut on the market in 2017, Squishmallows have been a popular product for the previous two years. In 2017, they were initially released to the public. They began to see a significant increase in popularity in the year 2020. However, there may be a decline in demand for these stuffed animals as the quantity and the amount of space available in people's homes for storage continues to grow.
If you are aware of the market for stuffed animals, you have undoubtedly noticed that there is one brand in particular that people can't stop talking about recently, and that brand is Squishmallows. According to Jonathan Kelly, also the co-president of the Kellytoy company, the rise to fame of Squishmallows began in 2017 when the product was introduced at Walgreens. 
Squishmallows are charming creatures that are soft, cuddly, squishy, and available in a variety of hues and sizes. The Squishmallows website states that they have been around since 2017, but over the past few months, they have attracted a ton of fans; as a result, Squishmallow's Instagram account currently has 663,000 followers.
But with such a wide variety of stuffed animals available in various sizes, which Squishmallows would you choose?
Squishmallow Size Chart
Squishmallows are available in various sizes, ranging from clip-ons of 3.5 inches to a monstrous 24 inches. Because they are constructed out of polyester fibers (and have polyester fibers inside them), they are incredibly fluffy and soft, much like a large marshmallow. Because no hazardous chemicals were employed in the manufacturing process or added to the outer layer or the fibers, cuddling with them is entirely risk-free. They do not include any flame retardants and are compatible with Prop 65.
| | | |
| --- | --- | --- |
| Sizing | Height (inches) | Height (cm) |
| Clip-on Size (Smallest Squishmallow Size) | 3.5-inch size | 8.89 |
| Small | 5-inch size | 12.70 |
| Small | 6-inch size | 15.24 |
| Small | 7-inch size | 17.78 |
| Small | 7.5-inch size | 19.05 |
| Small | 8-inch size | 20.32 |
| Small | 10-inch size | 25.40 |
| Medium | 12-inch size | 30.48 |
| Medium | 13-inch size | 33.02 |
| Large | 14-inch size | 35.56 |
| Large | 16-inch size | 40.64 |
| Large | 20-inch size | 50.80 |
| Extra Large (Biggest Squishmallow Size) | 24-inch size | 60.96 |
How to Take Care of Your Squishmallow?
Squishmallows require attention and care like any other companion you might have at home. However, it would be best if you weren't too concerned because taking care of a Squishmallow is simple. Kellytoy, the company that created the first Squishmallows, provides the following advice on how to care for your Squishmallow properly:
Squishmallows may be washed in a machine, and if there are any minor stains on them, you can remove them with a stain remover pen or a damp wipe.

It would be best if you didn't wash your Squishmallow by itself when doing regular washes. It is recommended that squishmallows be washed with bedding and other similar fabrics to protect them from being damaged by the machine and to

keep their squishy qualities intact

.

Check that the

temperature setting on your washing machine

is set enough. It is recommended that only COLD water be used to wash Squishmallows. After this step, you can place your Squishmallow in the dryer and either air-fluff it or tumble-dry it on a low heat setting. They do not appreciate it when it gets too hot! It is NOT recommended that you dry your Squishmallows using a hairdryer, iron, or any other hand-held instrument that generates heat.

Your Squishmallow may lose its shape after being washed and dried, but all it takes to bring it back into its original form is a little bit of extra squishing, and then it will be all set for more exciting adventures!
Famous Squishmallow Squads
Every one of the plush animals, fruits, and personalities that Squishmallow manufactures has a name and a personality all their own. The love that Generation Z has for these toys worldwide is due to the comfort that stuffed animals provide, which was especially important during the epidemic that occurred in the last year. On the internet app, several videos are uploaded in which Squismallow fans and collectors present the stuffed animals they have on their Instagram profiles. 
Leopard Squad
In addition to being a famous team, the Leopard Squishmallows have also received a high volume of online video coverage. Most have spots with a green, blue, or gray outline, and their inner ears sparkle. Each individual in this group contributes a one-of-a-kind series of tales that readers of all ages, from children to adults, will appreciate. One of them is Liv, who, when she's older, has the ambition of creating rocket ships of her own.
Bird Squad
The bird squad comprises five lovable Squishmallows, each of which has a unique appearance in size, color, and form. Priscilla, a blue peacock, is another member of the Zoo team, and she is one of these zoo animals. She has a passion for being of service to others as well as exploring new experiences with her close pals.
Cow Squad
The Cow Squishmallows Squads are another squishy plush animal manufactured by the Kellytoy Company. This is offered in three hues that go well together, all of which are readily available online.
The fluffy consistency of these Squishmallows makes them an excellent companion for your pillow and a source of comfort. You may add this plush toy, which measures 12 inches, to your collections or present it to some friends, children, or even those still in the heart. Discover which Squishmallow is the most adorable one by reading this article.
Fruit Squad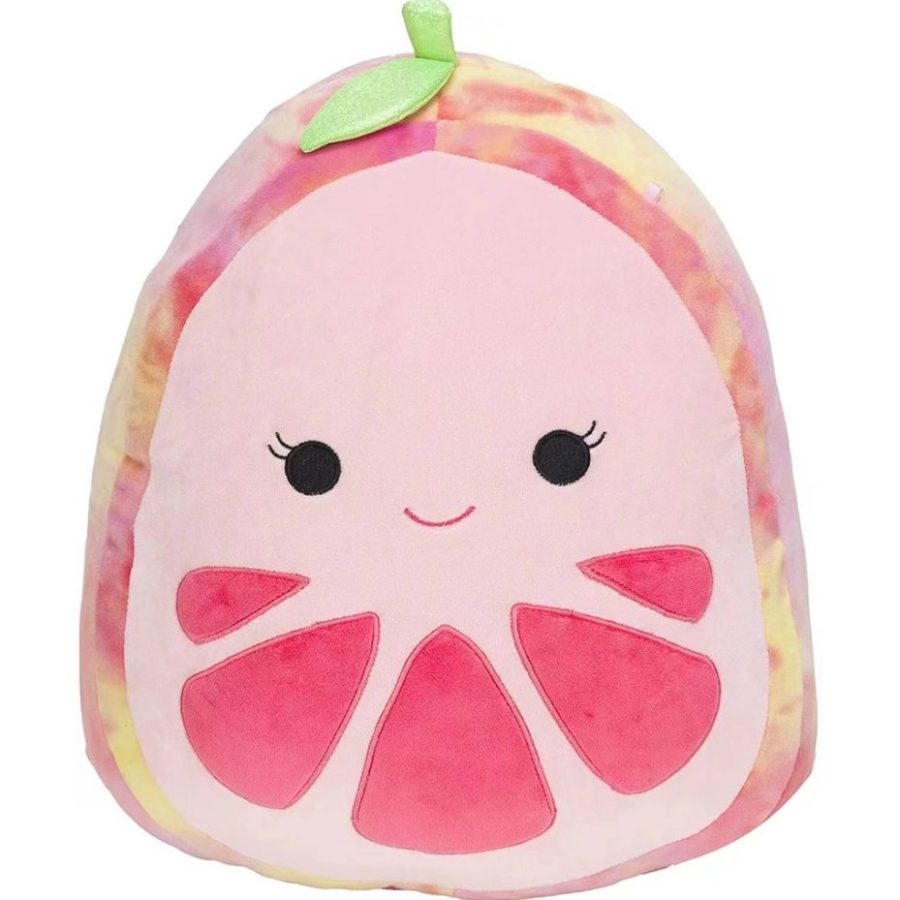 Maui the Pineapple, Phyllis the Peach, and Wanda the Watermelon are all members of the famed fruit squad that Squishmallows has. Each one is perfect for giving to loved ones, traveling partners, or just adding to your existing collection! Each of them is 2 inches in size and is manufactured from high-quality fabrics and stuffing, which makes them cuter and more enjoyable to play with.
Pig Squad
The pig squad, available in various patterns, may also appeal to fans. Some of them have areas of a light purple color, ears that are curled, and eyes that are round and black. Fans of Squishmallow may add these pig-designed, ultra-soft plush toys made with high-quality material to their collections to add to their enjoyment.
Frog Squad
This squishy plush toy is another addition to your already extensive collection! For valid reasons, many admirers have started uploading videos on social media in which they are posing with plush versions of the Frog Squad.
You have various options when deciding which member of the Frog team to play as, including Baratelli, Fanina, Robert, Ludwig, Philippine, Alandy, and Wendy. Every member of the Squishmallows community will like them due to their one-of-a-kind colors, names, looks, and engaging narratives accompanying each of them.
5 Benefits Of Stuffed Animals With Children
Children often like to play with stuffed animals because through it, they can express their feelings that they cannot put into words, and stuffed animals are close friend who always listens and stays with them. Discover the benefits of stuffed animals for babies and learn how to give your baby the best experience while playing with them.
1. Stuffed animals teach children to play by themselves
One of the biggest fears of young children is being separated from their parents. To minimize this fear, encourage your child to play with stuffed animals for at least 10 to 15 minutes several times a day. Playing with stuffed animals helps children increase independence but also helps reduce stress, regulate blood pressure and stimulate the production of Endorphins hormones. This hormone has the effect of bringing a feeling of joy, love of life, confidence, full of vitality, and stimulating creativity.
2. Let your baby learn new skills on his own
Western scientists researched and found that 70% of children who are allowed to play with stuffed animals since childhood in their bedroom have a much better foundation and social knowledge than children who do not play with stuffed animals. For example: By asking your baby to brush their teeth, get dressed, etc., give stuffed animals, and children will absorb and understand skills, actions, and life more easily.
3. Stuffed animals teach children how to express their feelings
2-3-year-olds are often frustrated when adults don't do what they want and end up angry because they still don't understand these negative emotions.
As a parent, help your child control his own emotions. Try to re-enact these moments at home if your baby cries whenever she has to leave you or whenever she goes to kindergarten. Take the teddy bear and pretend to take it to daycare, then ask questions like "Why is the teddy bear crying? What's wrong with the bear?" then encourage your child to answer for the bear, showing her that going to daycare isn't as bad as she thinks it is. Kindergarten has good teachers, many exciting activities, toys, and friends to play with. She will soon be able to go home to tell her mother what she went through at school.
4. Stuffed animals help children gain confidence
Children will have an easier time understanding various circumstances and applying their knowledge to the real world when they can first practice those skills with stuffed animals in a simulated setting. Make your baby believe he has authority over his little environment by putting your stuffed animal to sleep, putting your face against the wall when you do something wrong, etc. This will give your baby more confidence in his conduct and make him feel more comfortable.
5. Stuffed animals help children easily integrate into society
Stuffed animals give your baby a chance to practice social skills. Grab your child's favorite teddy bear and pretend you're at a birthday party to teach essential skills like queuing, sharing, and empathizing with others. Then teach your child: "The cake should be divided, so everyone has a share. Otherwise, the teddy bear will be sad or angry. It wouldn't be fair if only some people had cake and others didn't, wouldn't it?"
How To Choose A Stuffed Animal?
Stuffed animals are toys that many babies love because of their funny and cute designs. But how to choose a stuffed animal for a baby is reasonable to be both suitable, safe for the baby, and cost-effective, not all parents know. But do parents know how to choose the most accurate and quality stuffed animals? If you buy from something other than a familiar or reputable store, you should know the following tips to choose the best-stuffed animal for your child.
Choose the size of the stuffed animal according to your preference
You should know your child's preferences to choose the size of the stuffed animal. Large stuffed animals are used to hug when going to sleep, and small stuffed animals are used to decorate the cabinet or table (depending on the size of the table).
Only buy stuffed animal products that are large enough in case your baby swallows them during play. And also should only buy stuffed animals that are large for the baby's body, so the baby cannot lift the stuffed animal, which is expensive. The size of the stuffed animal is suitable for children from 20 to 80cm, depending on their age.
Selection of fabric material for stuffed animals
Unlike adults, a baby's skin is still very young and prone to allergies or scratches by light bumps. Therefore, choosing soft teddy bears from the shell to the intestines is essential, ensuring absolute safety.
The fabric that covers the stuffed animal is the part that comes in contact with the user the most. Therefore, you should choose a fabric that is soft, smooth, and cool to the touch to feel comfortable when using. In addition, you should find out if your child is allergic to feathers or dust. If yes, you should choose the type with the fur closest, as short as possible, to limit dust on the stuffed animal.
Consider the softness of the stuffed cotton
Currently, there are various well-liked kinds of stuffed cotton made from materials such as plastic, nylon, cotton wool, and so on. Those of industrial origin are often reasonably rigid, but they have a high degree of flexibility and will be less expensive. Your plush animal will become easier to hold but will no longer feel as satisfying. Cotton is a more comfortable material, but it's also heavier and more expensive.
Funny design
These days, there are a lot of incredibly lifelike plush animal models to choose from. When purchasing stuffed animals for their babies, young parents should go for stuffed animals with clever designs depicting animals or cartoon characters with bright colors. This will help to stimulate the baby's eyesight as well as intelligence.
FAQs
What makes Squishmallows stand apart from other types of marshmallows?
The Kellytoy brand designed the charming Squishmallows, and their overflowing personality sets them apart from other plush toys. In addition, these toys can assist people in managing their stress and worry, which is especially important during the epidemic. Find out which of these Squishmallows is the largest in this gallery.
Who manufactures Squishmallows?
Kellytoy is well-known for its top-selling Squishmallows™, Kellybaby™, Pillow Chums™, and KellypetTM lines, as well as its substantial seasonal and year-round plush selection. Kellytoy also produces joint products with popular classic characters like Care Bears, Strawberry Shortcake, and Betty Boop.
How many unique Squishmallows are there to choose from?
There are already one thousand varieties of Squishmallow toys on the market. Because many people are looking for toys they may gather and squeeze, many Squishmallow toys are sold yearly. They adore the fact that it depicts various animals, sports, and feelings to which anybody can relate and bring with them anyplace, including the beach.
What is it that they put into the Squishmallows?
Every Squishmallow is stuffed with polyester fiber, making the toy extraordinarily plush and voluminous. To give the line brand a more "marshmallow-like" filling on the inside, the company's retailers employ ultra-soft Spandex and polyester.