Shein, the trailblazing fast-fashion label, has taken the world by storm, captivating a younger demographic with its edgy and trendy collections. Founded in China in 2008, the company has rapidly expanded, extending its reach to over 200 countries globally and offering an extensive selection of affordable and fashionable clothing, shoes, and accessories to its customers.
One distinctive aspect of Shein's products that sets it apart from its competitors is its meticulous attention to sizing details. Shein provides a thorough size guide that eliminates the guesswork involved in selecting the ideal fit, especially for shoes where sizing may be perplexing for online customers. 
This guide also provides step-by-step instructions on how to measure your foot accurately, ensuring that you receive the ideal size that fits like a glove. This level of detail epitomizes Shein's commitment to ensuring customer satisfaction and reducing the hassle of returns or exchanges due to sizing discrepancies.
See more A Bathing Ape Shoe Size Chart in here
Shein Size Chart For Men's Shoes (inches/cm)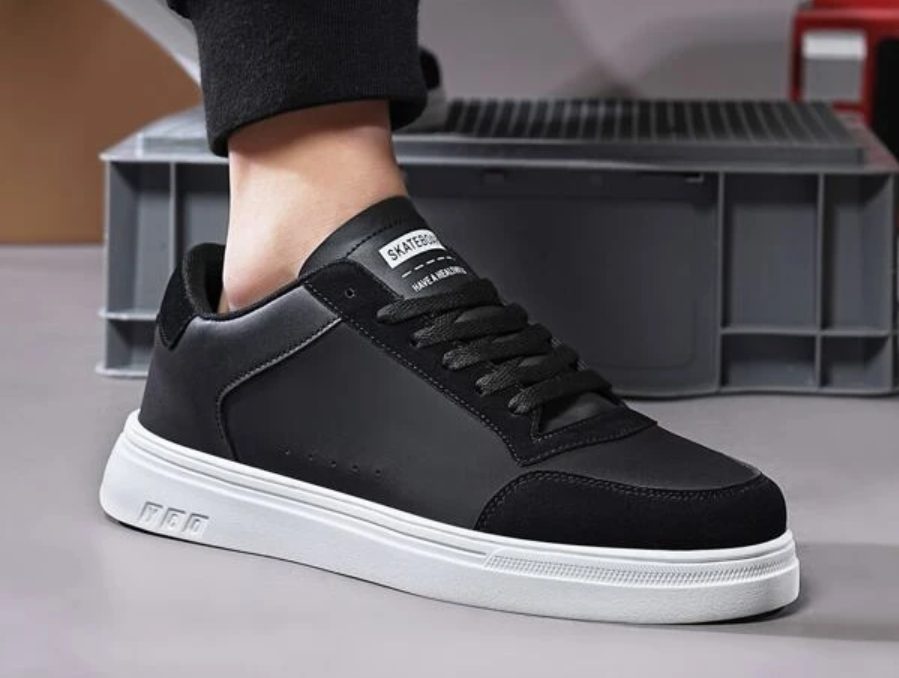 The following charts offer comprehensive insights into the range of sizes available on Shein's online platform. However, to fully benefit from Shein's men's size charts, it is essential to determine your foot measurements accurately. Fear not; we have included a guide below to assist you in obtaining these measurements from the comfort of your home or office.
Shein has revolutionized the shopping experience for customers, particularly for busy men who can now easily purchase weekend shoes without the hassle of visiting physical stores. Apart from convenience, what sets Shein apart is its remarkably affordable prices. The platform also offers the same level of convenience for women's sizes.
| | | |
| --- | --- | --- |
| Shein Shoe Size | Shoe Inner Length | Platform Height |
| 39.0 | 10/ 25.3 | 0.6/ 1.5 |
| 40.0 | 10.2/ 25.97 | 0.6/ 1.5 |
| 41.0 | 10.5/ 26.64 | 0.6/ 1.5 |
| 42.0 | 10.8/ 27.31 | 0.6/ 1.5 |
| 43.0 | 11/ 27.98 | 0.6/ 1.5 |
| 44.0 | 11.3/ 28.65 | 0.6/ 1.5 |
Shein Size Chart For Women's Shoes (inches/cm)
As the Shein e-commerce platform and its fast-fashion model continue to experience rapid growth, it is crucial to develop a strategy to consistently secure your ideal size with each visit to the platform. Thankfully, the Shein size charts for women's shoes provide an excellent solution to this challenge.
Displayed in the table below are a comprehensive collection of Shein size charts for women's shoes, available on the Shein eCommerce platform. In order to help clients make tough buying decisions about their purchases, the chart lists size ranges for the many nations across the world where Shein's services are offered.
| | | | | |
| --- | --- | --- | --- | --- |
| Euro Size | US size | Outsole Height | Ball Girth | Foot length |
| 35.0 | 5.0 | 3.0 | 20.5 | 22.0 |
| 36.0 | 6.0 | 3.0 | 20.8 | 22.5 |
| 37.0 | 6.5 | 3.0 | 21.2 | 23.0 |
| 38.0 | 7.5 | 3.0 | 21.5 | 23.5 |
| 39.0 | 8.0 | 3.0 | 21.9 | 24.0 |
| 40.0 | 9.0 | 3.0 | 22.2 | 24.5 |
| 41.0 | 10.0 | 3.0 | 22.6 | 25.0 |
5 Reasons
Why Shein Shoes of High Quality
For fashion-conscious individuals seeking stylish and affordable footwear, Shein is an ideal option. Offering a vast selection of styles and colors for both women's and men's shoes, Shein has options suitable for any occasion.
In recent years, Shein has gained popularity for its competitive prices, which are often lower than those of other online retailers. This price advantage is due in part to the company's lack of overhead costs associated with physical stores. Given this, one may wonder: are Shein shoes of good quality?
Easy Return Policy
Shein's return policy is designed to make the process as seamless and stress-free as possible for their customers. Within 30 days of receiving your item, you may quickly start a return process if you're not entirely happy with your purchase.
Simply log into your Shein account and visit the "My Orders" tab to begin the return procedure. Click on the order containing the items you want to return and follow the prompts to initiate the return. You will be asked to provide a reason for the return, and once your request is approved, you will receive a return shipping label.
One of the best things about Shein's return policy is that they offer free returns on all eligible items. This means that you won't have to worry about paying for return shipping, which can be a significant cost with some online retailers.
Decent Collection
Shein's shoe collection is a compelling reason to explore its offerings. The brand caters to diverse tastes and preferences by providing a vast array of footwear options that range from cutting-edge to timeless styles. With their extensive selection, you're bound to find a pair of shoes that perfectly suits your aesthetic and budgetary requirements. Whether you're in search of fashionable boots, stylish sandals, or comfortable sneakers, Shein has got you covered.
One of the great things about Shein's shoe collection is that they stay up-to-date with the latest fashion trends. You'll find shoes that are on-trend, such as platform sneakers, chunky heels, and strappy sandals. Plus, Shein offers a wide range of colors and patterns, so you can easily find a pair that complements your personal style.
Shein's footwear collection boasts not only the latest fashion trends but also enduring styles that transcend time. From the perennially chic black pumps to the ever-reliable ankle boots and loafers, the selection presents a variety of classic designs that fit any event. These shoes provide a versatile and pragmatic solution for fashion-conscious individuals who seek to elevate their wardrobe with pieces that effortlessly transition from casual to formal occasions.
Online Shopping Is Available 24/7
Convenience is a key advantage of shopping for Shein shoes through their online platform, which operates round-the-clock. Unlike traditional stores that have restricted hours of operation, Shein's virtual store allows you to browse and purchase shoes from the comfort of your home at your convenience. With 24/7 accessibility, you can shop for Shein shoes whenever it suits you, without being constrained by time zones or store hours.
This means that you can browse through Shein's extensive shoe collection, read reviews, compare prices, and make a purchase at any time that is convenient for you. Whether you're a busy professional, a stay-at-home parent, or a student, you can shop for Shein shoes on your own schedule without having to worry about store hours or rush-hour traffic.
In addition to convenience, shopping for Shein shoes online also offers other benefits. For example, you can easily compare prices and styles, read reviews from other customers, and see photos of the shoes from different angles. Finding the ideal pair of shoes is made simpler, and decision-making is more informed as a result.
Low Cost
Shein's reputation for affordability is one of the most compelling reasons to consider buying their shoes. The brand's cost-effective prices make it possible to purchase stylish and trendy footwear without compromising your budget. Shein's focus on offering great value for money enables you to indulge in your passion for footwear without incurring a significant expense.
Despite their low cost, Shein shoes are still of good quality and durability. They are made with high-quality materials, and the construction is sturdy and reliable. You won't have to worry about the shoes falling apart after a few wears, which can be a concern with some low-priced shoes.
Shein also offers frequent discounts and promotions, which can further reduce the cost of their shoes. For example, you might find seasonal sales, clearance events, or special discounts for new customers. Plus, Shein often offers free shipping on orders over a certain amount, which can save you even more money.
Unique Style
Shein's distinctive fashion helps you to show your personality and stand out from the crowd, which is one of its many wonderful qualities. You can choose shoes that reflect your personality and style rather than just settling for something that is generic or bland.
If you're looking for shoes that are a little different from what you typically find in other stores, Shein is the perfect place to shop. They offer shoes with bold colors, eye-catching prints, and intricate detailing that are sure to turn heads.
For example, you might find shoes with unique cutouts, playful tassels, or oversized bows. Shein also offers shoes with creative embellishments like rhinestones, pearls, or metallic accents, which can add some extra sparkle to your outfit.
Find more Visvim Shoe Size Chart in this article
How Shein Items Are Delivered To Customers?
Shein delivers its items to customers through a variety of shipping methods depending on the destination and the size of the package. Generally, the company uses third-party shipping carriers such as DHL, FedEx, and UPS for international orders.
For domestic orders within the United States, Shein uses a combination of USPS, UPS, and FedEx, depending on the shipping option selected by the customer.
Once an order is placed, Shein processes the order within 1-3 business days before shipping. Shipping times vary depending on the shipping method selected and the destination of the package. In some cases, Shein offers free shipping for orders above a certain amount.
Customers can track their orders through the Shein website or Shein mobile app using the tracking number provided by the shipping carrier. Once the package is delivered, the customer is notified via email or text message.
Step 1: Designing the Product
The team of professional designers meticulously crafts every Shein fashion product. The fashion design concepts are not only innovative but also aligned with current trends, ensuring an unparalleled customer experience.
Step 2: Production Process
Following the design stage, the standard models are manufactured using advanced machinery, which guarantees precise attention to detail and adherence to design standards. This results in products of the highest quality for our users.
Step 3: Quality Assurance
The products undergo rigorous testing at the end of the production process to ensure that they meet our stringent quality standards. The unwavering commitment to quality guarantees that every item we produce is reliable, durable, and built to last.
Step 4: Product Photography
Once the products are tested and ready for the market, they are photographed by their team of professionals alongside models, capturing all the details of the outfit. This allows our users to examine every aspect of the product, making an informed purchase.
Step 5: Shipping and Delivery
The products are carefully packed and shipped via air transport to various countries and continents. The priority is to ensure that their customers receive their orders quickly and seamlessly.
Step 6: Customer Service
If you have any inquiries or reservations regarding your order or the services they provide, the Shein customer support team is always readily available to assist you promptly. Their unwavering dedication to exceptional customer care remains their topmost priority, ensuring absolute contentment with every purchase.
FAQS
How do you know what size to order?
Shein provides a size chart for each item, which you can find on the product page. It's important to measure your foot and compare it to the size chart to ensure you order the correct size.
What is Shein's return policy for shoes?
Shein has a 30-day return policy for most items, including shoes. However, the shoes must be in their original condition with all tags and packaging intact.
How long does it take for Shein's shoes to arrive?
The delivery timeline for Shein shoes may differ depending on your location and preferred shipping mode. Nonetheless, you can be assured that Shein furnishes an estimated delivery period while checking out, keeping you abreast with the latest information.
How much does Shein charge for shipping?
Shein presents free standard shipping for orders surpassing a certain amount, the value of which varies in accordance with your location. Additionally, they provide express shipping for a supplementary fee.
Can I track my Shein shoe order?
Yes, Shein provides a tracking number for all orders, which you can use to track your package's delivery status.
Can I cancel my Shein shoe order?
Yes, you can cancel your Shein shoe order as long as it hasn't shipped yet. You can do this by contacting Shein's customer service.
Does Shein offer any discounts on shoes?
Shein frequently offers discounts and promotions on their website, including discounts on shoes. You can also sign up for their email newsletter to receive exclusive offers and updates on sales.