France is widely recognized for its abundant cultural heritage, stunning landscapes, and delicious cuisine. Its diversity of attractions is so vast that it's impractical to see everything on a single trip. France's attractions range from the magnificent Eiffel Tower and the renowned Louvre Museum to picturesque rural towns.
In addition to its various tourist destinations, France is renowned for its distinctive shoe sizing system. The French shoe size chart also referred to as "pointure," differs from shoe sizing systems utilized in other countries like the United States and the United Kingdom. In France, shoe sizes are determined in centimeters, using foot length as the basis of measurement.
Understanding the French shoe size chart is important for those purchasing shoes in France or from French shoe brands. Whether you're a fashion enthusiast or a traveler planning a trip to France, familiarizing yourself with the French shoe size chart is essential. 
French Shoe Size Chart For Men
The utilization of French shoe sizes for men can be bewildering for several reasons. First, French sizes employ larger numbers, and secondly, they typically do not provide half sizes as in the UK and US standards. In addition, French sizes are not entirely standardized and may differ slightly between manufacturers.
When purchasing shoes in France or from French brands, it's important to consult a size chart to ensure a proper fit. Additionally, trying shoes in-store whenever possible is a good idea to ensure a comfortable shoe fit before purchasing. With the right size and fit, French shoes for men can be stylish and comfortable additions to any wardrobe.
| | | |
| --- | --- | --- |
| French | US | Length (Heel to Toe) |
| 41.0 | 6.0 | 9 ¼"  |
| 42.0 | 7.0 | 9 ⅝"  |
| 43.0 | 8.0 | 9.94" |
| 44.0 | 9.0 | 10 ¼" |
| 45.0 | 10.0 | 10.56"  |
| 46.0 | 11.0 | 10 ¾"  |
| 47.0 | 12.0 | 11 ¼" |
| 48.0 | 13.0 | 11.65″ |
French Shoe Size Chart For Women
Like French shoe sizes for men, French shoe sizes for women are typically measured in centimeters. Let's start with measuring your feet. The Paris point system is employed when using French sizing for women's shoes, and sizes are designated with larger numbers. A quick method for converting from US to French shoe sizes is to add 31 to your current American shoe size.
French women's shoes are known for their style and quality, and the country is home to many renowned fashion brands and designers. From chic flats to elegant heels, French shoe styles for women are diverse and appropriate for various occasions. 
| | | |
| --- | --- | --- |
| French | US | Length (Heel to Toe) |
| 36.0 | 5.0 | 8.56"  |
| 37.0 | 6.0 | 8 ⅞"  |
| 38.0 | 7.0 | 9 ¼" |
| 39.0 | 8.0 | 9 ½"  |
| 40.0 | 9.0 | 9 ⅞"  |
| 41.0 | 10.0 | 10.19"  |
| 42.0 | 11.0 | 10 ½" |
| 43.0 | 12.0 | 10.87″ |
French Shoe Size Chart For Kids
Like adult shoe sizes, French shoe sizes for children are determined by the length of the foot measured in Paris points or centimeters. As illustrated in the table, size 32 shoes in France correspond to size 1 in the US, which pertains to the subsequent age group (usually teenagers and young adults), while the previous sizes are intended for elementary school children.
Given the lack of a discernible pattern, the most secure method for determining your child's shoe size is to measure their foot and compare it to the French shoe size chart for children.
| | | |
| --- | --- | --- |
| French | US | Length (Heel to Toe) |
| 18.0 | 2.5 – 3.0  | 4 – 4 ⅛" |
| 19.0 | 3.5 – 4.0  | 4 ¼" – 4 ½" |
| 20.0 | 4.5 – 5.0 | 4 ⅝" – 4 ¾"  |
| 21.0 | 5.5 | 5"  |
| 22.0 | 6 – 6.5 | 5 ⅛" – 5 ¼" |
| 23.0 | 7 – 7.5 | 5 ½" – 5 ⅝"  |
| 24.0 | 8.0 | 5 ¾"  |
| 25.0 | 8.5 – 9.0 | 6" – 6 ⅛" |
| 26.0 | 9.5 | 6 ¼" |
| 27.0 | 10 – 10.5 | 6 ½" – 6 ⅝" |
| 28.0 | 11.0 | 6 ¾"  |
| 29.0 | 11.5 | 7"  |
| 30.0 | 12.0 – 12.5 | 7 ⅛" – 7 ¼" |
| 31.0 | 13.0 – 13.5 | 7 ½" – 7 ⅝"  |
| 32.0 | 1.0 | 7 ¾"  |
| 33.0 | 1.5 – 2.0 | 8"- 8 ⅛" |
| 34.0 | 2.5 – 3.0 | 8 ¼" – 8 ½" |
How About Half Sizes?
Finding the right shoe size can be challenging, especially if you're dealing with international sizing standards. In the case of French shoes, the absence of half sizes for adults can complicate things even further. 
For example, if you're used to wearing shoes in the US, you'll need to remember that French shoemakers typically don't offer half sizes for adults. This means that if you normally wear a size 9.5 sneaker, you'll need to choose between size 44 and size 45 when shopping for French shoes – a decision that can be daunting for anyone who doesn't want to end up with shoes doesn't fit well.
Luckily, there is a simple solution to this sizing dilemma. By measuring the length of your foot from the heel to the toe, you can get a better idea of what size you need when shopping for shoes. This figure can be very helpful for the seller, who can use it to recommend the right size for you. 
Read more Maison Margiela Shoe Size Chart in here
Why Do US and French Shoe Sizes Vary So Much?
Shoe shopping can be a bit of a nightmare, especially regarding sizing. Even though almost everyone in the world wears shoes, there is no universal sizing system that all shoemakers follow. Even within the same country, two shoe brands may have different sizing standards for the same shoe length. This can make it extremely challenging to find the right size, whether you're shopping in person or online.
The reason for this discrepancy in sizing standards is that shoemakers set their sizing guidelines based on various factors, including the shape and design of the shoe, the materials used, and even the preferences of their target market. This can lead to significant variations in size, even within the same brand.
Find more Hermès Shoe Size Chart in this post
10 Amazing French Style Shoes for Your Wardrobe
If you want to give your clothing a touch of classic elegance, French-style shoes are a need. From classic ballet flats to sophisticated loafers, these shoes are known for their comfort, versatility, and effortless chic. This article will explore the 10 French-style shoes that every fashion-savvy woman should consider adding to her shoe collection.
Ballet Flats
Ballet flats, also known as "ballerinas," are a popular shoe style in Paris. They are flat, slip-on shoes that originated from ballet shoes. They are comfortable, chic, and versatile and come in various colors and materials, such as leather, suede, and canvas. They are perfect for a day of sightseeing or a casual outing.
Ballet flats are a preferred footwear option for the spring season among the French. These timeless classic shoes have become an iconic Parisian style that remains fashionable. They are a wardrobe staple that adds style and comfort to any outfit, making them a perfect choice for a chic look. 
Loafers
Parisians frequently wear loafers, a fashionable and comfortable slip-on shoe style suitable for various occasions. These versatile shoes, available in leather, suede, and velvet, can be dressed up or down and are ideal for both work and leisure activities.
Loafers make a chic and comfortable flat-style footwear choice for the fall and spring while maintaining a feminine and slim-fitting appearance. One of the most appealing aspects of loafers is their timeless quality, which adds a polished vibe to any outfit. Pairing loafers with wide-leg dress pants is a great way to achieve a casual yet sophisticated look.
Ankle Boots
Ankle boots are a staple in every Parisian's wardrobe. They are versatile & can be dressed up or down. They come in various materials, such as leather, suede, and velvet, and they are perfect for fall and winter.
Ankle boots are a staple of the French winter wardrobe, and many styles are available. However, French women tend to favor three specific styles: suede, black leather, and block heels. Suede ankle boots are particularly popular in the fall, while black leather boots are preferred during the rainy days of winter in Paris.
Espadrilles
Espadrilles are a classic summer shoe style originating in France and Spain's Pyrenees region. They are characterized by their jute rope soles, which give them a unique and natural look. The upper part of the espadrille is usually made of canvas or cotton and can be decorated with different patterns and colors.
Espadrilles are very popular in Paris, especially during the summer when the weather is warm and people spend more time outdoors. They are lightweight and breathable, making them ideal for hot weather. They are versatile & can be worn with various outfits, including dresses, skirts, shorts, and jeans.
Classic Sandals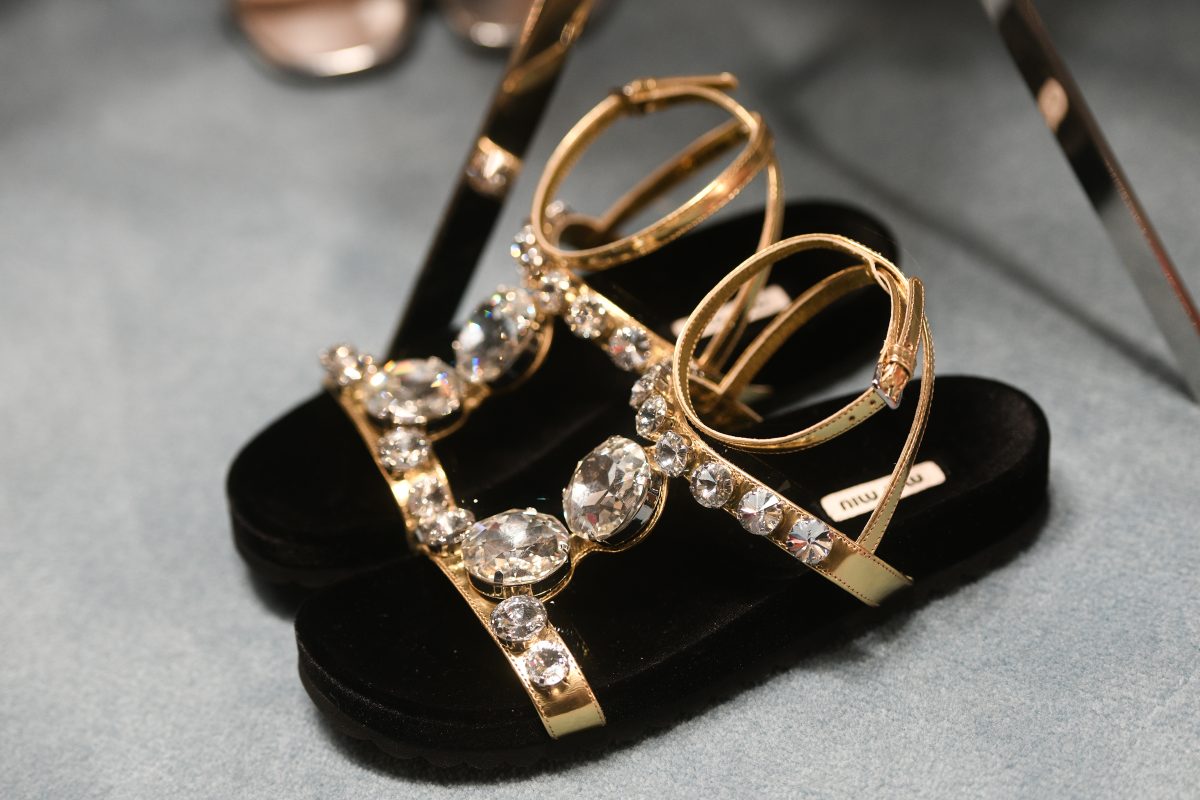 Sandals are undoubtedly the preferred footwear option for summer due to their simplicity, style, comfort, and ease of packing. Moreover, they can be paired with almost any outfit. If you prefer the comfort of flat sandals without sacrificing style, you may want to consider a pair of chunky or sporty sandals or opt for leather sandals. These elegant and comfortable alternatives to rubber flip-flops are perfect for any summer occasion.
Look for sandals that are made from high-quality materials and have comfortable footbeds. You'll want to walk around the city for hours without your feet getting tired or sore. With the right type of sandals, you can enjoy the summer months in Paris in style and comfort.
Slingbacks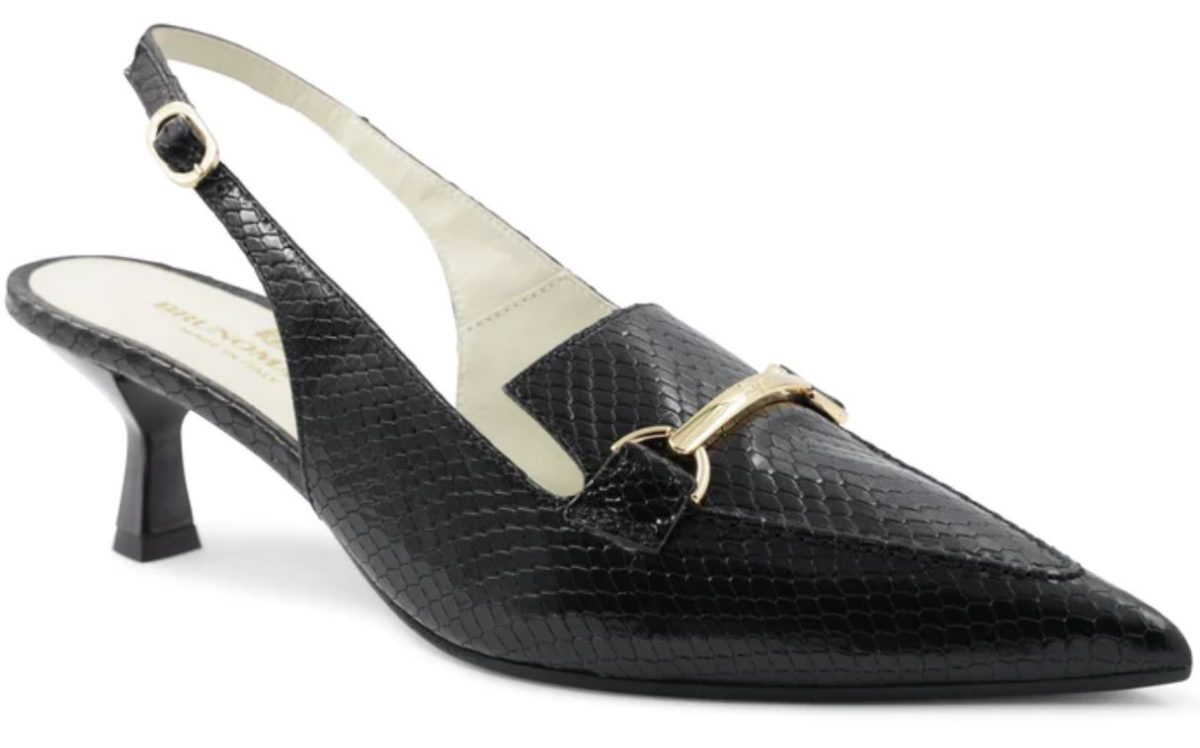 French women often opt for slingback shoes, similar to court shoes, and usually feature kitten heels as an alternative to ballet flats. These pumps are not only stylish but also comfortable, and they pair well with a variety of outfits.
Slingback shoes come with a strap that secures the heel, offering the comfort of sandals without worrying about the shoes slipping off while walking. You can wear slingbacks with jeans as a simple change from sneakers or style them with a pretty summer dress.
Mary Janes
Mary Jane shoes are a popular style in Paris that has existed since the early 20th century. They are low-cut shoes with a strap across the top of the foot and a rounded or square toe. Mary Jane shoes come in many different styles, from classic to trendy. Classic Mary Jane shoes are simple and understated, with a single strap and minimal detailing.
Mary Jane shoes have gained popularity in Paris due to their versatility, as they complement various types of clothing, including skirts, dresses, and pants. These shoes are a great option for many events because they can be dressed up or down depending on the occasion. The shoes are also designed for comfort, with most featuring a low or no heel.
Sneakers
Sneakers have shed their previous association with casual, lazy days and have evolved into a versatile footwear option that can complement any look. For instance, a straightforward pair of white sneakers may give your clothing a fashionable touch. Mixing dressed-up pieces like a suit with casual items such as white sneakers is a great way to achieve a chic-décontracté (smart casual) look, a French style tip worth trying.
If you're uncertain which sneakers to choose, although there are different types of sneakers, consider opting for minimal plain white sneakers. These can create a slender, refined appearance for your feet.
Knee-High Boots
Knee-high boots are an ideal footwear option for those seeking warmth in the colder months without compromising style. These versatile boots pair well with various outfits, such as a long knit dress, a midi-skirt, or straight-leg jeans.
In addition to their style and versatility, knee-high boots are also very practical. They can protect your legs from the cold weather and dry your feet on rainy days. They are also very comfortable to wear, providing good support and cushioning.
Evening Shoes
French women often aim to look more elegant for special occasions or soirées. Although their overall look is usually subtle, they may add nonchalant touches, such as choosing a nice pair of evening shoes.
To create a glamorous ensemble for a soirée, consider opting for classic black pumps that complement a dress, suit, or tailored pants. Pointed-toe pumps are another excellent choice, as they elongate the legs and work well with cropped pants or dresses. Alternatively, small kitten heels are a more practical yet stylish option for a party.
See more Japanese Shoe Size Chart in this article
FAQs
What are some popular shoe brands in France?
Some popular shoe brands in France include Repetto, Jonak, Carel, Robert Clergerie, and André.
What is the traditional French shoe style?
One traditional French shoe style is the ballerina flat, which was popularized by the brand Repetto. Other traditional styles include the espadrille and the wedge sandal.
Where can I find shoe stores in Paris?
There are many shoe stores in Paris, including high-end designer boutiques on Avenue Montaigne, trendy shops in the Marais district, and budget-friendly options in the Les Halles area.
What are some etiquette rules to follow when wearing shoes in France?
Wear socks or bring slippers since entering someone's house in France requires you to take off your shoes. Additionally, it is considered impolite to wear athletic or casual shoes in formal settings, so it's best to opt for dressier footwear.
Are French shoe sizes different for children?
Yes, French shoe sizes for children are different from adult sizes. The numbering system is the same, but the sizes themselves are smaller. For example, a French children's size 25 is roughly equivalent to a US children's size 8.5 – 9.
What should I do if I am between sizes in French shoes?
If you are between sizes in French shoes, it is recommended to go up to the next size. French shoes tend to run narrow, so having a little extra room is better than having your toes squished.
Are French shoe sizes consistent across all brands?
No, French shoe sizes can vary between brands, just as in any other country. Referring to the brand's size chart is important to ensure the best fit.