What should you wear with linen pants? How can you pair them with your favorite shoes to look effortlessly chic? If you're struggling, here is an article introducing what shoes best go well with which outfitted clothing.
Linen pants are a must-have item for both males and females during the summer months, as they offer an overall look that is both snug and fresh, especially when paired with light outfits. 
The only thing that needs to be done is find the fitting jeans and shoe combo. Here is a shortlist of shoes that you can wear with linen pants.
1. Loafers 
Most people wouldn't think of loafers as a sensible shoe for the summer, but they can be with a tiny tweak. You can wear loafers with linen pants, but they should be worn without socks. The combination will give your outfit a much more informal look, which is great for summer since you'll be able to sport clothing that is more casual than what would typically be appropriate. But, again, loafers are still appropriate year-round.
You can wear them with linen pants, but you should also go for a dark brown or black pair to match your other formal shoes. You can also pair these shoes with a short-sleeved polo shirt and khaki shorts for an even more casual look.
2. The Classic Oxford Shoes
The overall look of oxford shoes is quite versatile, as it can go with both formal and casual outfits. Because of this, it makes sense to own a pair or two rather than buy a wide array of shoes. For example, if you're wearing linen pants or shorts, you should be wearing shoes made out of leather. 
3. Brogues
Brogues, in general, are appropriate year-round, as they're relatively conservative business shoes that look great on any outfit you put together. Of course, you can wear them with linen pants, but you should go with a pair that is dark brown or black. 
You can spice your outfit up by adding a vest or overcoat, which adds some extra flair without compromising the entire outfit. There is a little bit of difference between Oxford shoes and Brogues, you're also likely to wear a Brogue in the fall or winter months, so they don't belong in summer, but they manage to work.
4. Chelsea Boots 
Chelsea boots are a great alternative to sneakers and boots when walking around in the heat without being uncomfortable and sweaty. They go great with linen pants and shorts alike, especially if you choose a light-colored pair of tan or white. You can pair the boot with a polo shirt and khakis pants or a button-up shirt and white shorts.
5. Sandals
Sandals are also appropriate for men and women during the summer months, but you must choose wisely when selecting them for an outfit. 
They are great when worn with linen pants and shorts because they're casual and can be worn without socks. You should wear your sandals in the summer with casual outfits like a polo shirt with khaki shorts – you can't go wrong, especially if you get a pair of sandals made out of leather.
Women can wear sandals with linen pants if the pants are simple and straight cut, NOT skinny cut. For men, if you have nice-looking feet, they pair well. If they're not so great, no one will know what your toes look like as long as you keep them covered in socks or hosiery!
6. Pumps
For women, pumps are the most common shoe style to wear with linen pants. Sometimes a slight heel (3/4 inch maximum) will be better than flat. Pumps have a slimline and look streamlined, making them ideal for wearing with your linen pants.
7. Slip-On
For their ease and flexibility, slip ons are the best choice for wearing linen pants. Slip-on shoes can be worn with casual shirts to formal wear and can go perfectly well with linen pants!
8. Kitten Heel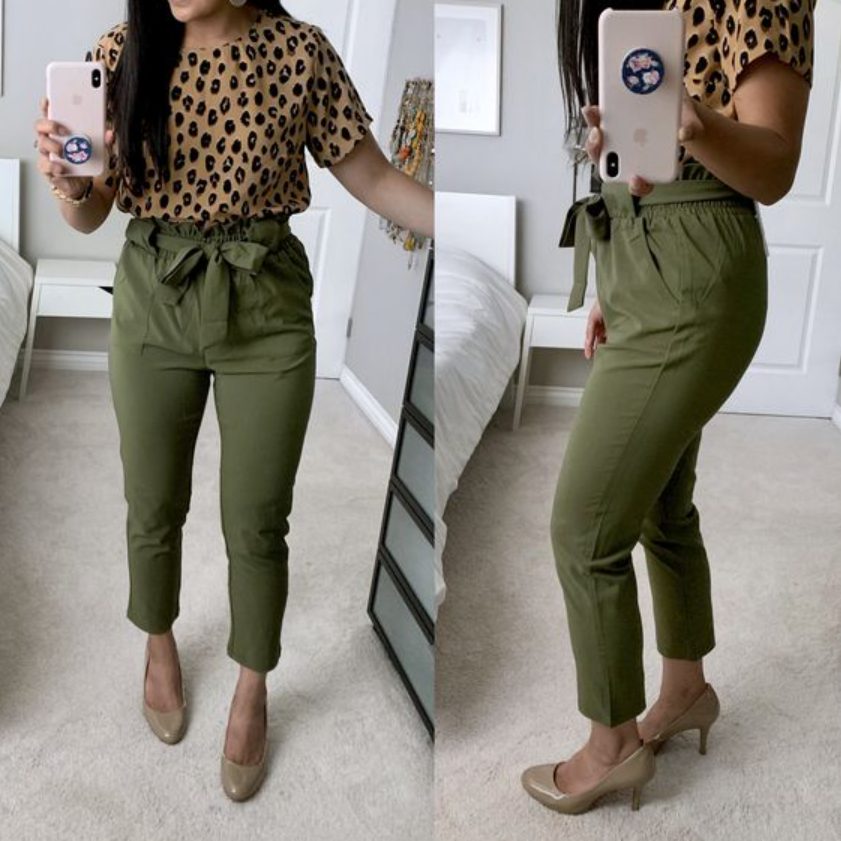 Just slightly higher than flat shoes, kitten heels add a playful touch to your outfit and can be worn in any season. Choose heels that have a simple design so as not to over-power the pattern of your pants.
9. Wedge Heels
These heels add a little height, making them suitable for special occasions. Choose wedges with a simple design and wide vamp so that it coordinates well with the white pattern on your pants. 
10. Platforms
These shoes are classic and perfect to wear with summer dresses. The platform makes them so comfortable, and they look great with linen pants! Of course, just like any other shoe, platforms will look better in some outfits than others. If your pants are wide-legged, you might want to consider narrow shoes.
11. Ankle Boots
Ankle boots are ideal when wearing linen pants in colder weather, even though ankle boots are appropriate year-round. No matter how many straps they have, they will look good when paired with your pants, as long as they coordinate well with the patterns present on them, such as stripes or checks. 
Choose ankle boots that come in neutral colors to match any outfit effortlessly. You can wear these as long as you choose a pair that has a black or brown color. These shoes also look great when paired up with a flannel shirt and shorts, but you don't want to go overboard by pairing specific colors because they won't go well together if you do. 
12. Chukka Boots
You can wear boots year-round, and that there's no reason why you should avoid wearing them in the summer. This type of boots looks great with linen pants, so long as you stick to more casual outfits like a polo shirt and khaki shorts. You should also avoid wearing these shoes with other pieces of clothing like a tie or overcoat because they will look odd when mixed with your other pieces of clothing.
13. Boat Shoes
Most people would say that these shoes are best suited for the spring or summer months, but they can be worn at any time throughout the year. They add some flair to your outfit while keeping things casual and comfortable. This type of shoes looks excellent when worn with linen pants, so you should feel free to wear them with any pair of pants that you want. You have to choose a pair that is an actual white color, though, as they don't look good in a light tan color. 
14. Monk Straps
Usually, monk straps will have a buckle strap across the front of the foot. For men, it makes a great alternative to formal dress shoes. It pairs well with both jeans and linen pants. For women, it's best paired with other types of clothing other than linen pants, as they can take away from a feminine look.
15. Biker Boots
Biker boots can be worn with linen pants, but take care that you don't draw too much attention to them by wearing them with a more formal outfit. It's best to look for details that make you appear fashion-forward and chic.
16. Sneakers
This type of shoe is excellent for the summer months. It's a casual look that you can wear on the weekends or for a quick run to the corner store. You can wear sneakers with linen pants, as long as you go with a clean and simple look like a plain white shirt and khaki shorts. You can also play around with contrasting colors by adding an overshirt or vest. You should make sure that your sneakers are either black or white to match your outfit correctly.
17. Flip-Flops
The best fit for linen pants is to wear them with flip flops. They are comfortable, casual, and perfect for summer! 
18. Mules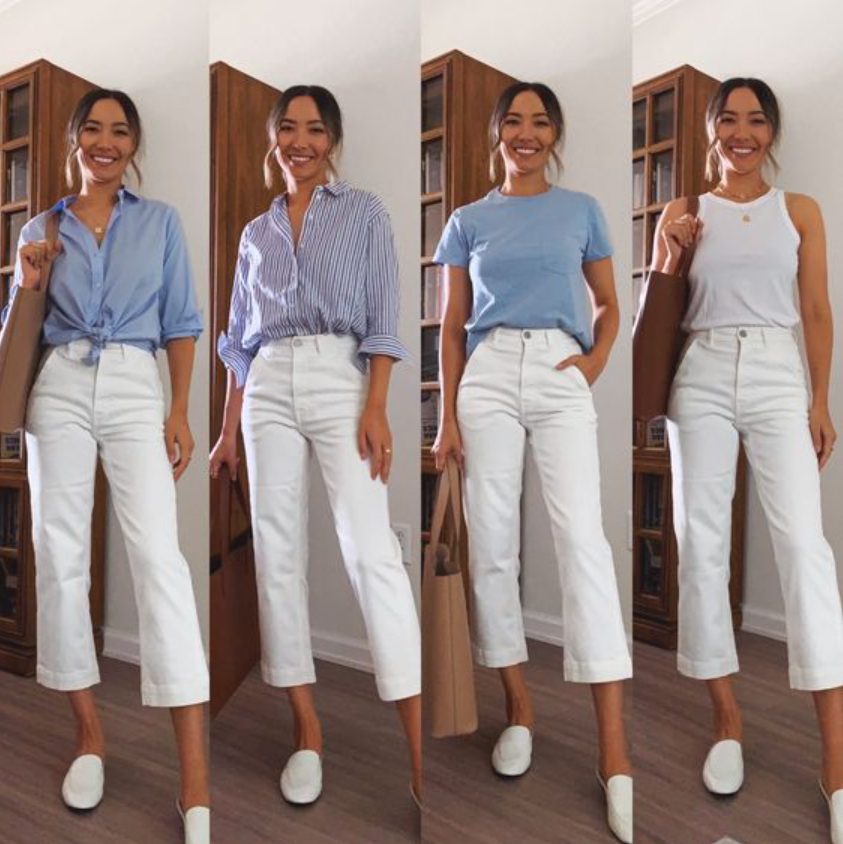 J.Crew Misses' Mules are an excellent choice for any occasion! They come in elegant shades of tan, brown and black; they're made of leather, a material well-suited to the weather in summers and also superbly comfortable as they can be worn all day long. They're perfect for your summer outfits and make a spectacular outfit for wearing linen pants when it is cold outside! 
The ankle cuff brings these shoes together with your outfit, making them look fashionable and, at the same time, classy. In addition, you'll be able to walk in these shoes as they're flat and easy to move around in. 
These white mules are perfect for the summer season, making them a must-have if you live in a hot climate. They pair well with your linen pants and will be sure to make you stand out from the crowd!
19. Clarks Hobo Shoes 
Clarks' Hobo shoes match black, brown, and white pants perfectly. The classic Clarks' Hobo shoes are usually more expensive than the more stylish ones. Therefore, not everyone will have the opportunity to buy them; however, they're perfect for wearing linen pants, making this pair one of the best choices we listed. You can wear them on almost any occasion!
20. Peep Toe Shoes
Peep Toe shoes are another pair of shoes that go well with most types of pants. You can wear them with white, blue and black pants, which is why they go so well together. In addition, the very fact that they're flat shoes makes it easier to walk in them as they are not heavy on your feet; plus, the low heels provide a touch of elegance and make them fashionable. 
Few Simple Tips For Finding The Best Shoes For Your Linen Pants
You can wear your linen pants with almost any type of shoes.
You can easily find a pair of shoes to match your linen pants.
If you're wearing a darker shade of pants, it's best to wear darker-colored shoes such as brown or black that will go well with the rest of the outfit. On the other hand, if you chose a light shade, for example: red or white, then choose either lighter colored shoes or ones that go well with such pants; for example, charcoal grey.
When choosing your shoe, take into consideration the kind of occasion you'll be attending. If it's a formal event, it's best to wear high heels or lace-up shoes. If it's a more casual event, then sandals will be acceptable and perfect for any outfit!
Consider the rest of your outfit when choosing which shoes to wear with your linen pants so that you can get some inspiration from the wide variety of colors available. Every color has a specific shade that works best; for example, pink is best matched with red shoes.
You should also consider the style of shoes you'll be wearing with your linen pants. 
If they're high heels, it's best to avoid black shoes and stick to brown, grey, or white. If you wear flat shoes or slippers, the color is entirely up to you, and you don't need to match them with your linen pants.
Choose straps that go well with your linen pants and shoes. Straps can make the outfit appear more refined, so you should be careful when choosing one of these.
Note that some shoes have an extra layer of protection on them, such as padding inside or around the shoe, which makes it even better for wearing linen pants as it provides maximum protection from the wear and tears on the material. This is best when paired with thicker soles of the shoes to provide better support.
FAQs
What shoes to avoid wearing with linen pants?
High heels can be seen far away, so avoid wearing them with your linen pants. 
Lace-up shoes are not good with linen pants as they will immediately draw attention to the shoe and make it appear out of place. Therefore, lace-up shoes are best for wearing suits and other formal wear.
High-top sneakers are not appropriate for the summer because this style of shoe can be worn in any weather. However, you should avoid wearing these types of shoes with your linen pants, as they look awkward when paired together. You can wear high tops with shorts, so there's no reason why you shouldn't wear them with linen pants. You should avoid wearing high-tops with polo shirts, though, and instead opt for a short-sleeved shirt or no shirt at all.
Which occasion do people need to consider wearing linen pants?
Avoid wearing linen pants if you're heading out to a formal event or even straight away to work on a chilly day. You'll be making quite the fashion faux pas, and we're confident you'll learn your lesson soon enough.
And finally, don't wear linen pants if you have something important to do in the morning, such as an important meeting or a job interview.
What are the best shoes that match well with linen pants?
The best shoes you'll find for this type of look is a pair of classic brogues or loafers, quickly becoming one of the most popular casual shoes in recent years. The casual upper trainer strikes an outstanding balance between athletic comfort and casual polish, so it's perfect for both day-to-day use as well as smart-casual events such as business meetings.
Although it's a heavier and chunkier shoe, the boots will go well with linen pants. Boots are one of the most versatile footwear and go well with pretty much any dress style, casual or formal.
Do two forms of linen pants affect people's choice of wearing shoes?
Linen trousers mostly come in 2 forms: the slimmer, block-width, and the fuller, more loosely fitting style. It can help you decide what shoes to wear with your linen trousers. 
The smoother, slimmer cuff styles will come in contact with your shoes' uppermost area of leather or suede finish for roughly about 75% of the time—while a more comprehensive flatter design will often be seen from only 30% of the time or so. Again, this can help you choose your shoes for the look you want to achieve.
If you'd like a more dressy look, try a pair of Oxfords or loafers. The dressier look is also related to the type of cuffs found on the trousers. A wider cuff will make a more casual suit, whereas a slender one will lend itself better to being paired up with dressier shoes made from smooth leather.
If you're looking for more casual footwear, consider wearing sneakers or boat shoes with your linen pants. On the other hand, if you're adventurous and want to try something more daring, try a pair of brogues or boots. Just make sure that your shoes are made from sturdy material and light—otherwise, you may end up looking more frumpy than fashionable.
Are your ballet flats going well with linen pants? 
No, it is not.
The linen pants are usually dressier than the ballet flats, so you should wear a more upmarket sandal when going out with the pants. Platform shoes will also look nice with the linen outfit, but be careful not to make your feet too uncomfortable!