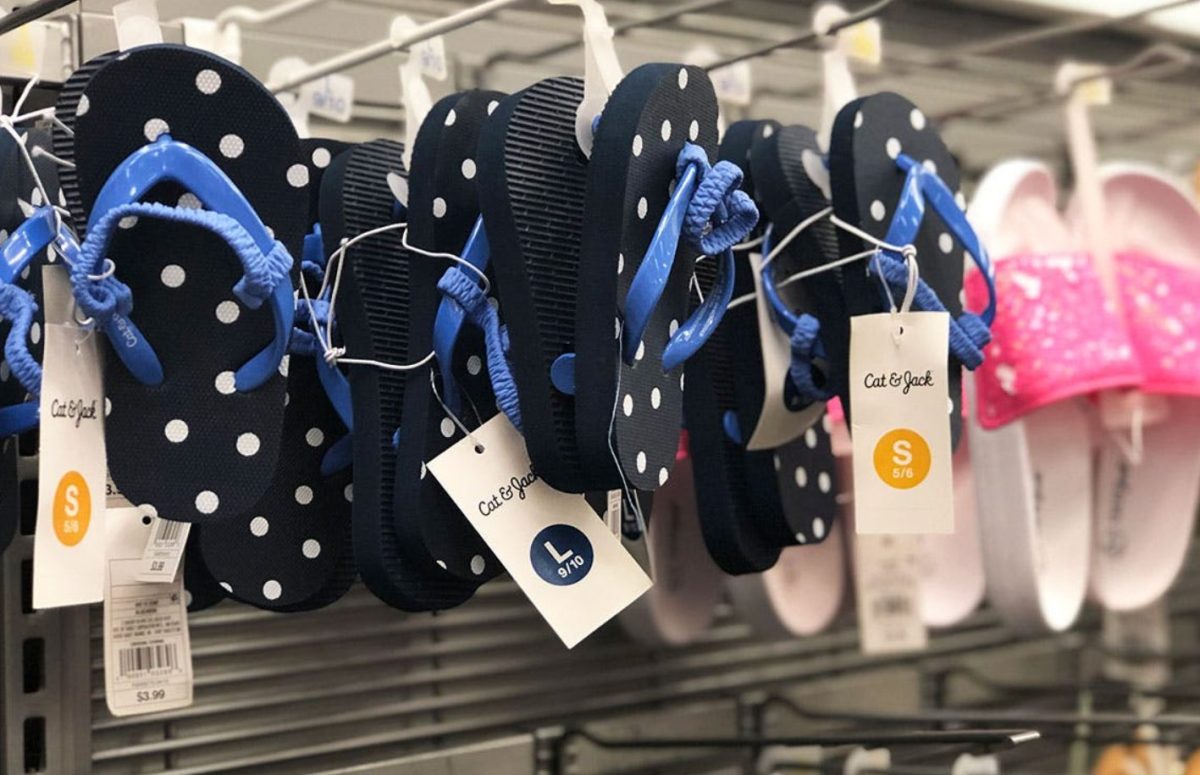 Cat & Jack is a children's clothing brand that is sold exclusively at Target stores in the United States. The brand was launched in 2016 and offers a wide range of clothing, shoes, and accessories for children, including infants, toddlers, and big kids. The brand is known for its affordable prices, stylish designs, and high-quality materials. 
Cat & Jack's clothing is designed to be durable and comfortable for kids to wear while also incorporating fun and playful elements that kids love. The company also emphasizes sustainability, with many of its goods created from environmentally friendly materials and using recycled content.
Cat & Jack shoe size chart is a helpful tool that parents can use to find the right size of shoes for their children. The size chart provides measurements for different age groups and shoe types, which can be used to determine the appropriate size to order or purchase.
Read more Baby Shoe Size Chart in here
Cat & Jack Shoe Size Chart
Cat & Jack shoes typically come in whole and half sizes and widths to ensure a comfortable fit for children with different foot shapes and sizes. Measuring your child's feet before buying shoes is always a good idea, as sizing can vary between brands and styles. Target's website offers a size chart to help you determine the best fit for your child.
| | | | | | |
| --- | --- | --- | --- | --- | --- |
| USA / CN | Letter size | Inches | Cm | Europe | UK |
| 2 | – | 3 15/16 | 10 | 17 | 1.5 |
| 3 | XS | 4 5/16 | 10.9 | 18 | 2.5 |
| 4 | XS | 4 5/8 | 11.7 | 19 | 3.5 |
| 5 | S | 4 15/16 | 12.5 | 20-21 | 4.5 |
| 6 | S | 5 5/16 | 13.4 | 22 | 5.5 |
| 7 | M | 5 5/8 | 14.2 | 23 | 6.5 |
| 8 | M | 5 15/16 | 15 | 24-25 | 7.5 |
| 9 | L | 6 4/16 | 15.9 | 26 | 8.5 |
| 10 | L | 6 9/16 | 16.7 | 27 | 9.5 |
| 11 | XL | 6 15/16 | 17.6 | 28-29 | 10.5 |
| 12 | XL | 7 4/16 | 18.4 | 30 | 11.5 |
| 13 | XL | 7 5/8 | 19.3 | 31 | 12.5 |
| 1 | XL | 7 15/16 | 20.1 | 32 | 13.5 |
When Do Newborns Require Shoes?
Determining when your little one needs their first pair of shoes can be a grey area. While there isn't a specific age that signals the need for footwear, it's generally a good idea to wait until they've become confident walkers and display eagerness to explore their surroundings on foot. 
The average timeline for a baby's walking journey is crawling between 6 to 13 months, pulling themselves up between 9 to 12 months, and taking their first steps between 8 to 18 months. 
However, it's important to note that each baby's developmental journey is unique, and not all will fit into this timeline. Should you have any concerns about your child's progress, don't hesitate to consult with a trusted physician.
Find more Toddler Shoe Size Chart in this post
Should Newborns Learn To Walk While Wearing Shoes?
It's important to ensure that your little one's feet are properly protected as they start to explore the world on their own. While it's essential to have them wear shoes outdoors or on uneven surfaces, it's recommended to let them go barefoot while indoors. This allows their feet to develop naturally, improving muscle strength and promoting balance, posture, and coordination. 
If you find your baby needs extra protection, opt for booties or non-skid socks to prevent slips and falls while they're on the move inside. Remember, the right footwear can make a world of difference in your baby's early development.
What Characteristics Should Parents Seek In Baby Shoes?
As your tiny tot embarks on their maiden voyage of taking those precious first steps, choosing the perfect pair of shoes might appear to be a daunting undertaking. It's natural to be enticed by fashionable and chic footwear, but it's imperative to prioritize utility over aesthetics.
Thankfully, there are a plethora of cute and practical baby shoe options available. However, keep in mind that your baby's feet are still developing, so selecting shoes that provide stability, flexibility, and comfort is critical. By prioritizing these features, you can ensure your baby's first steps are safe and comfortable.
Recognizing Baby Feet 
Infant's feet possess a unique quality of malleability, for their skeletal structure does not solidify until the ripe age of eight. Before reaching nine months, their tiny toes and soles predominantly consist of cartilage, rendering them incredibly pliant. Furthermore, newborns are prone to flat-footedness, as the arches of their feet only emerge during the preschool years.
Unrestricted movement is pivotal to the growth and fortification of those pint-sized peds. Such mobility nurtures the development of bones and muscles, priming them for crawling, bouncing, and, ultimately, toddling. Hence, it is vital to provide ample space for your little one's feet to frolic freely.
Wait Till Your Child Is Old Enough To Walk
While it may seem intuitive to accessorize your little one's ensemble with cute kicks, it is important to note that shoes are not a necessity until they start toddling. Actually, footwear can even be detrimental to their development. Tiny toes without shoes can maneuver more effortlessly and enhance balance acquisition.
Therefore, it is imperative for parents to think twice before rushing to slip on a pair of charming boots before heading out—even if they are the tiniest Ugg boots. Pre-maturely placing shoes on your baby can hinder mobility and delay proper growth, so it is advisable to substitute socks instead. If shoes are indispensable for a pre-walker, opt for supple, fabric footwear.
Once your baby initiates "cruising" and waddling, that's when footwear may be appropriate. Until then, encourage your baby to wander barefoot as much as possible. This allows them to develop both physical strength and coordination while gaining confidence from feeling the earth beneath their feet.
Choosing the Right Sort of Shoes 
If you desire to adorn your little one's tootsies for special occasions or family portraits, it is acceptable to purchase shoes for a non-walking infant. However, bear in mind that once you are at home or in a secure environment, you should remove shoes to allow your baby to cruise and explore unrestrictedly.
Once your child begins toddling, shoe selection is crucial. Consider the following characteristics:
Non-skid soles for optimal grip and slip prevention

Proper fit with snug heels and ample space for toes to wiggle

Soft and comfy materials like supple leather

Shoes with high ankles to deter your little one from pulling them off

Opt for slip-on or Velcro closures for convenience.

As your child grows, purchase lace-up shoes to promote independence in tying and untying their own footwear.
By following these principles, you can guarantee that your little one's footwear selections foster optimal growth and development.
Shoes to Avoid 
While on the hunt for the ideal footwear for your little darling, the multitude of adorable options can be captivating. Nevertheless, it's crucial to stay vigilant of the potential hazards that poorly fitting shoes may pose. As a responsible parent or caregiver, it's wise to steer clear of any footwear that may pose a risk to your child's safety, such as flip-flops or sneakers with worn-out Velcro fastenings. 
Not only can these types of shoes cause your child to trip and fall, but they can also lead to more serious hazards. In fact, loosely-fitting shoes have been known to become ensnared in escalators, which can be a frightening and dangerous experience. Therefore, it's crucial to prioritize safety when selecting shoes for your child and to opt for secure and reliable styles.
When Should You See a Podiatrist? 
Infants take their first steps into the world with a touch of awkwardness. From stumbling and bumbling to toppling over, their first attempts at walking are generally forgivable. In the event that your child is experiencing difficulty keeping up with their companions or displaying an atypical walking pattern, it may be advantageous to seek the guidance of a healthcare expert.
Seeking advice from a skilled podiatrist is imperative if your child is displaying any of the following signs:
Walking with excessively turned-in or turned-out feet

Recurring ingrown toenails

Delayed onset of walking beyond 15 months of age
7 Tips for Purchasing Baby Shoes
As a concerned parent, you want nothing but the best for your child, and selecting shoes that fit perfectly, support their feet, and encourage healthy walking habits is crucial. To ease your worries, we have outlined seven insightful tips that will transform you into a pro-parent, allowing you to select the perfect pair of shoes for your little one.
Firstly, avoid stiff leather shoes that may hinder the development of your child's feet. Instead, opt for shoes made from light and breathable materials like soft leather or cloth.

Secondly, it is essential to purchase shoes that fit your child correctly. Always have your child present when trying on shoes, and make sure they stand up to get the right measurement. There should be ample room for their toes, but avoid buying shoes that are too large, as they may cause your child to trip or fall.

Thirdly,

shopping for new shoes in the afternoon

or later in the day is recommended, as your baby's feet will swell, and this could affect the sizing of the shoes.

Fourthly, use the squeeze test when purchasing soft shoes. If you can't grip the top of the shoe easily, then the shoes may be too tight for your child.

Fifthly, monitor your child's feet for any irritated spots caused by the shoes. Baby shoes should fit perfectly and not require a break-in period.

Sixthly, choose shoes with flexible soles that will grip and provide stability for your new mobile toddler learning to master the art of walking.

Lastly, decide if your child's new shoes should fasten with traditional shoe laces or Velcro. While Velcro is convenient, it could cause problems if your child learns to undo the closures themselves. If you opt for traditional laces, ensure they are long enough to double-knot and secure to your child's foot but not so long that they become a tripping hazard.
FAQS
How do I determine my child's shoe size for Cat and Jack?
To measure your child's foot, have them stand on a piece of paper and trace around their foot with a pencil. Next, determine the length of your child's foot by measuring from the heel to the tip of their longest toe. This measurement can then be referenced against the Cat and Jack shoe size chart to identify the most suitable shoe size for your little one.
What should I do if my child's foot falls between two Cat and Jack shoe sizes?
In cases where your child's foot size falls between two potential Cat and Jack shoe sizes, it is advisable to opt for the larger size. Children's feet have a tendency to grow at a rapid pace, and it is prudent to provide a bit of additional space within the shoe rather than selecting a size that may feel overly restrictive.
Are Cat and Jack shoes true to size?
Cat and Jack shoes are typically true to size. However, it is always best to measure your child's foot and refer to the size chart to ensure a proper fit.
How often should I take my child's foot measurements for Cat and Jack shoe sizes?
It is recommended to measure your child's foot every 3 to 6 months, as children's feet can grow quickly. This will ensure that you are purchasing the appropriate size and that your child's shoes fit comfortably and properly.
Can I order Cat and Jack shoes online without trying them on first?
Yes, you can order Cat and Jack shoes online without trying them on first. Attaining an optimal fit is crucial, and to achieve this, it is imperative to measure your child's foot accurately and cross-reference with the size chart.
What if the Cat and Jack shoes I ordered online don't fit properly?
If the Cat and Jack shoes you ordered online don't fit properly, you can usually return them for a different size or a refund. Check the return policy of the retailer you purchased from to confirm their policy.
How do I know if the Cat and Jack shoes are the right widths for my child's foot?
Cat and Jack shoes are designed to be a standard width. If your child has particularly narrow or wide feet, it may be best to try the shoes on before purchasing to ensure a proper fit.