Shoes, as you might all know, come in a variety of toe styles. As such, you can easily get your favorite shoes in a variety of styles, including round toe, square toe, moc toe, plain toe, steel toe, and cap toe. Remember that the toe style is determined by the design and shape of the toe box. You may prefer one toe style design over another for functional or aesthetic reasons.
The age-old work boot debate is Moc Toe vs. Plain Toe Boots. Is one toe style better than the other, and what are the distinctions between these two styles? With so much division roiling all over the world, it can appear extremely difficult to zero in on the one pair of steel safety toe boots you need.
I'm just kidding, of course. The choice between moc toe and plain toe is not the most difficult on the planet, and the answers are simple.
In this post, I will compare moc toe and plain toe shoe styles.
Moc Toe Boots Vs. Plain Toe Boots
If you have arrived here, you are looking for information on which type of toe box you want to have on your boots or which toe box would best suit your needs.
Actually, safety toe boots, steel toe work boots, and moc toe work boots have been around for decades as workwear, but in recent days they have developed a reputation for being both elegant and functional.
Elegant, plain toe boots go well with relaxed slacks or even dress pants, as long as they are not too bulky or pointy. Even though boots do not perform as well as sneakers or shoes, a pair of classic plain toe boots could really be a fantastic option for your informal or dress shoes while also providing decent water resistance, slip resistance, and protection.
The best approach to wearing them with the right clothes is the cutout: a slimmer kick like the Florsheim Medfield could really be dressed up, whereas a clumpy plain toe boot like the Timberland PRO Boondock is solidly informal, rugged, and sturdy.
Before we compare the two boots and toe box styles (moc toe vs. plain toe), learn about moc toe boots and their lifted seams/stitching on the uppers of the toe box areas. This distinguishes these boots, making them more functional (for reasons I will discuss later), and enhances wider-fitting trousers. One instance is the Georgia Boot Small Batch boots.
Moc Toe Vs. Plain Toe Boots Comparison
Key features
Plain toe boots
Moc toe boots

Material 

Leather, suede, canvas, denier, synthetic fabric, gore-tex, etc.

Leather 

Comfort 

Comfy, heavy, rigid, and occasionally squeaky

Quiet, flexible, light, and comfy

Design 

Minimalist design with no extra embellishments on top

There is only a single panel

Fashionable and sophisticated, it can be worn with a variety of outfits

U-shaped sewing or a lifted stitch on the upper

There are 2 or more panels

Classy and elegant, it can be worn with almost any outfit

Outsole 

Available in both heeled and wedge soles

improved traction and grip on various terrains

Mostly wedged soles

Not really the greatest traction and grip

Dirt and water resistance

Improved dirt and water resistance

Cleaning is simple

Water can get in through the stitching and the upper U-shaped seam

Cleaning is a little bit hard

Safety standards

ASTM international standards are followed

ASTM international standards are met
What Is A Moc Toe Boot?
So, what does moc toe mean? To begin, the moc style boot is an abbreviation for the moccasin. As a result, the moc toe boot is thus inspired by the conventional footwear worn by native First Nations peoples.
These boots were initially made from the buffalo's skin, which once wandered the whole region. Actually, toe cap boots and moccasin shoes are still made of leather nowadays, but not only buffalo skin.
Because of their narrow toe box design, u-shaped sewing, and lifted stitched work, moc toe boots are really easy to identify. Alternatively, some even might have medallion toes or decorative holes.
The uppers of the boots are generally made up of two or more separate panels instead of a single piece of leather, and the soles are usually constructed with a wedge sole. As a consequence, these boots, as well as shoe styles, are well-known for being lightweight, flexible, comfy, and nearly silent while walking. The unique stitching is designed to take responsibility for the adaptability or flexibility.
As a result, a lot of construction workers prefer moc toe boots because the moc toe protects their feet pretty well. Furthermore, the toe box area even provides them with additional toe space. Furthermore, they are remarkably fashionable these days, and the boot styles make them suitable for both casual and workwear.
What Is A Plain Toe Boot?
Plain toe boots, also known as round toe boots, are interchangeable terms in any discussion between moc toe and plain toe boots.
The most noticeable difference between them and moc toes is their absence of adornment: they are plain, just like their name suggests. This can make round toe boots and shoes appear a little boring in comparison. However, this might also indicate that they are far more versatile. In particular, you will find it far more difficult to dress up a moc toe boot than a plain toe boot. They are also easier to clean due to the lack of toe stitching or seams on the uppers.
They are typically made of leather, but several brands also use suede and synthetic fabrics and sometimes canvas.
Plain toe boots are generally the toe style option for those who tend to favor the added toe area provided by round toes because of their minimalist design. Furthermore, because they are less noticeable as work boots and could also be worn as shoes, they are the much more versatile option in the moc toe vs. plain debate.
Any "moc toe versus" debate is about which is superior. Some people prefer plain toe work boots because they can be worn for riding, laid-back wear, and even business casual wear while remaining rough and dependable. The moc toe is useful in lots of different situations, but the plain toe style has a slight advantage due to its high comfort and endurance.
What Are The Similarities and Differences Between Moc Toe vs. Plain Toe?
Let's take a closer look at what distinguishes the plain toe work boot from the moc toe work boot. Is it more than just a toe box?
Material
Generally speaking, leather is the preferred material for toe box work boots such as moc toe work boots, square toe boots, cap toe boots, and shoes. This is due to the fact that leather is both durable and fairly breathable and, yes, it looks awesome.
Plain toe work boots, on the other hand, are more likely to be constructed from a variety of materials, such as Gore Tex, than almost all moc toe work boots. The disadvantage of synthetic material is that it is very seldom as air permeable as suede, and it tends to stain quite easily. To that end, it is simple to check the product description to ensure you are getting high-quality full-grain leather.
Comfort
When we are talking about moc toe and comfort, it is usually on par with plain toe and comfort. Each one has advantages and disadvantages. Both types of shoes can have a padded tongue, laces, orthotic insoles, arch support, and an energy-return or shock absorption system. (This last feature is common in boots with insoles made of materials such as EVA foam.)
When making comparisons between these toe box boot styles, please remember that moc toes are generally more spacious, with high side walls and roomy toe boxes. This is due to the fact that they are more commonly associated with workwear. Moc toes might be preferable if your toes tend to touch against the top side or upper of your boots.
Comfortable and lightweight
Moc toe boots tend to be more comfortable, spacious, and generally (due to the wedge sole) flexible, light, and quiet while walking.
A pair of plain toe boots, on the other hand, is built with other functions in mind, so it is heavier and much more sturdy in comparison. As a consequence, when you walk, they may squeak.
If you have to walk on your feet all day, the moccasin comes out marginally ahead as the best option. The flat sole is also useful for trekking, tackling contours, or climbing stairs, as there is no heel to grab and causing slips and falls.
It is also really important to keep in mind that the moc toe box is wider than plain toe boxes. As a result, moc toes might provide more wearer comfort, but only in a minority of situations.
Design
Generally speaking, both plain toe and moc toe boots are totally different in terms of design. The very first thing you would notice is the U-shaped seam on the toe box area of moc toe work boots. The plain toe box maintains a simple design all around. Plain toes are also more historically related to military service boots, whereas moc toes are more historically related to work boots.
Both could be worn without raising any eyebrows. Having said that, the plain toe work boots seem to have a mild fashion advantage and are more versatile compared to moc toe boots. Again, dressing up a moc toe is difficult.
Resistance to Dirt and Water
The plain toe work boot has better dirt and water resistance thanks to its construction. In particular, there are no stitches or seams running all over the toe box area. As such, water cannot effortlessly leak through, and dirt will not become entangled in the stitching. Because of their functional design, plain toe work boots are also far easier to keep clean.
Having said that, you can always enhance the water resistance of any work boot by coating it with oil and conditioner every few months.
Outsoles
There are many moc toe heels available now, such as Grant Stone's. However, moc toe work boots with wedge outsoles are much more likely to be found than plain toe boots. (Once again, exceptions always exist.)
The main benefits of a wedge outsole are that you are less likely to trip over your heel as you are wearing heeled soles. This is also the reason why wedge soles are more common for work, and they disseminate your mass much more evenly.
Safety Standards
This is completely dependent on the work boot, not on if it has a plain toe or moc toe or not. As previously stated, moc toe work boots are more accountable to be used for work in oil rigs, factories, oil rigs, and such, and as a result, they frequently meet ASTM standards for impact resistance and other elements. However, the manufacturer's conformance with safety standards will be determined: Irish Setter is a well-known brand that offers a wide range of ASTM certified work boots, many of which are plain toed.
If your work's safety standards require steel toes, both plain and moc toes could be suitable for them. In this case, it is better to check the product description rather than the toe.
Moc Toe Vs. Round Toe
So now you already know what a moc toe work boot is, but what about a round toe boot? What exactly is a round toe boot? When looking at the history of boots, you can see that these boots had to have a contoured foot that rounded off at the toe end. Actually, this is a custom that has survived into the twenty-first century, and these boots are still quite popular these days.
Contemporary round toe boots integrate a wide range of capabilities and versatility while maintaining the classic design of boots. This is the type of boot that you could wear to work and walk in comfortably.
This is due to the angled heel, which is an inch higher. The combination of round toes and shorter heels allows you to spend far more time outdoors. The comfort element is also one key feature that differentiates round toe boots from their equivalents. These boots have a lot of room in the front for your toes to spread out as well as wiggle. While it may not seem like much, it really added wiggle space is extremely useful for women and men who spend lots of time outdoors or at the farm.
A single piece of the leather panel covers the round toe work boots. And while the design might appear simple, these boots highlight authentic craftsmanship and transport us back in time with their iconic appearance.
Differences Between Round Toe and Moc Toe
Comfort
Round toe boots are considered among the most comfortable footwear. The existence of toe wiggle space allows you to wear this boot from dawn till dusk without feeling restricted. However, when your feet are wide, a narrow toe design might not be as comfortable.
Aesthetics
When making a purchasing decision, the appearance of a boot is also very important, in addition to its comfort. As a consequence, you should think about the difference in appearance between the round toe and moc toe boots.
In general, moc toe boots look more casual and will go with more outfits. Round toe work boots, on the flip side, have a fashionable and conventional appearance. You simply need to compare the two and determine which one best meets your style needs.
Similarities Between Round Toe and Moc Toe
This part will show you that, aside from toe design and overall boot style, there are not too many differences between the round toe and moc toe boots. And here are some similarities between them:
Durable in the same way
If properly cared for, both moc toe and round toe boots can last a long time. Both of these boots are designed to be durable and last as long as possible.
Excellent for outdoor use
Despite the fact that round toe work boots are more functional (they can be worn for formal or riding wear), both of these boots were designed for outdoor use.
Moc toe boots, on the other hand, are ideal for farm work, and round toe work boots are appropriate for outdoor work.
Simple to clean
Both round toe and moc toe boots are very easy to clean thanks to their overall simple design. So don't be hesitant to take them out in the rain, storms, or even during the snow.
Waterproofing functionalities are the same
You can really enjoy your waterproofing functionality as long as your moc toe or round toe boots are made of leather.
Based on the similarities and differences between the round toe and moc toe boots, it is clear that both of these boots are fashionable, have a functional design, and are intended for outdoor use.
Your ideal option will be determined by your preferences. And if you can't decide between the two, you just could get them both and I'm sure you will see how useful these two pairs are.
So, Which One is Better?
Although moc toe boots vary slightly in appearance from conventional round toe boots, they are relatively similar.
The only thing that makes one better is that it is the type of boot that you could comfortably wear to your workplace while also going shopping or running errands on your ranch.
It is really strong, comfortable, and fashionable.
There are two key aspects where moc toe boots outperform round toe boots. The first is concerning the comfort of round toe boots. I can't just stress enough how crucial it is for your toes to feel free.
Actually, I have worn pointed, rounded, and moc boots and can attest that round toe boots provide plenty of wiggle room at the toe box area. This makes wearing round toe boots enjoyable and comfortable. Second, though not everyone agrees, round toe boots have a classic, iconic, and stylish design.
So, now the final decision is just up to you, your needs and preferences.
Moc Toe Vs. Steel Toe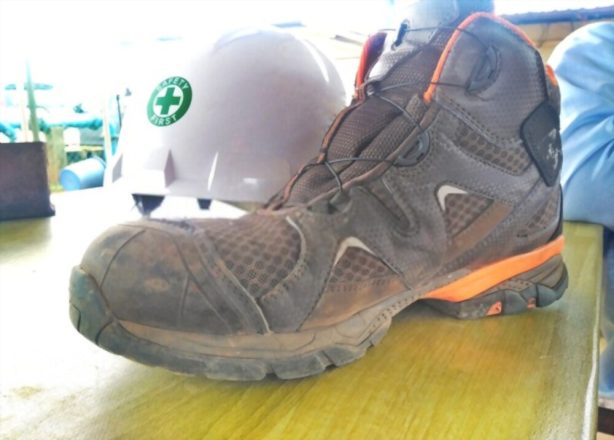 Generally speaking, the moc toe is simply a style of toe similar to wide toe boots, whereas the safety toe is a kind of toe box with Steel Toe Rated ASTM F2413-11 M I/75/C/75. When it comes to safety toe boots, there are not only steel toe boots but also aluminum, titanium, alloy, and composite toe boots.
For people who need a reliable, efficient work boot, moc toe boots provide benefits such as versatility, improved comfort, and extra toe box protection, making them moc toe safety boots. These boots are also relatively flexible due to the stitching. Extending, flexing, crouching, climbing, and walking on your haunches are becoming more comfortable. In addition, you can find lots of lightweight moc toe boots because the toe box area is not equipped with heavy caps like safety toe boots. 
Steel toe work boots help prevent a variety of injuries, not just those caused by falling objects. What's more, they can aid in the prevention of injuries caused by slips and falls, punctures, burns, and lacerations/cuts. A strong safety boot or shoe makes it far more difficult for such injuries to happen.
How To Wear Moc Toe Boots?
There is no better time to wear a wonderful pair of moc toe boots than in the fall. With the weather getting colder by the day, anything except a warm pair of moc toe boots will not keep your toes warm from now on. And, after all, have you ever stepped on a crunchy leaf while wearing your boots? That feeling is literally unbeatable. Your only remaining challenge is determining how to properly wear moc toe boots. And here are 4 suggestions to help you pair your moc toe boots easily while staying fashionable.
With A Suit
If you choose a narrower style, such as Red Wing Iron Ranger chukka or boots, these styles work amazingly well with a suit. Put on a pair of dark brown leather Red Wing Iron Ranger boots with a pale gray suit for year-round outfit choices. If a black suit is the only one you have, simply opt for black Red Wing chukka boots, as any other color will not work.
For your Red Wing Iron Ranger, match it with a pair of skinny blue jeans or customized beige chinos outside of the office. Wear a wool overcoat in the winter and a bomber jacket in the summer to complete the look.
With Shorts
Wearing Red Wing moc toe boots with shorts is a difficult look to achieve, but if done properly, you will definitely look stylish for all the correct reasons. Consider customized chino shorts as a base, then add a touch of pastel elements like a pink tee to add interest without drawing attention away from the main attraction – your heritage moc toe boots.
With Jeans
Because of their work boot style, Red Wing Moc Toe boots do look fantastic with ripped jeans. To highlight the boots, choose a slim-fit cut and then roll up your jeans' hem. When the temperature decreases, finish the appearance with a dark t-shirt and layer with a pea or parka coat.
Skinny-fit jeans look best with Sheldons or Iron Rangers because the boots are a bit narrower than Moc Toe and create a better silhouette.
With Chinos
Fashion icon to follow Follow David Beckham's lead by wearing historic Red Wing boot styles with your leisure time chinos to make your casual outfits look a little bit more combined. With a plain dark t-shirt and minimal accessories, this appearance is all about keeping things simple. To tie the look together, wear a belt that matches perfectly with your boots.
Conclusion 
Now that you know how plain toe and moc toe boots vary, you might notice that they have more in common than you thought. Even though moc toe boots are typically larger and have more functional soles, any shoemaker can create a plain toe boot with a wedge sole as well as ASTM standards. The major distinction between these two types of toe boxes is in their design and style.
While both are fashionable, the plain toe boot could be easily worn with more outfits and is easier to dress up. Even though stylish with slim jeans and an excellent option for casual outfits, moc toe boots cannot be worn with every outfit.
Find more Timberland shoe size chart in this post