HIIT or High-Intensity Interval Training is known as a sort of cardiovascular exercise. It involves short, high-intensity anaerobic training with low-intensity recovery times. During your anaerobic workout (usually lasting 15-45 seconds), you're working at maximum capacity before it'll resume with a short recovery period.
HIIT will help you get the full health benefits with minimal time by taking your cardio workouts to another level and pushing your body to the limits. And because HIIT includes a lot of high-intensity exercises, it requires proper footwear since the feet are the first point of impact when you hit the ground in those high-impact practices.
The best shoes for HIIT women must handle high-impact exercise by providing better support and impact protection to prevent injury and substantial impact on your feet. There are many women's HIIT shoes from the top brands on the market today. They are all made to keep the users comfortable, well-protected, and supported. However, I will only select the ten best shoes for HIIT women that bring the most benefits through the testing processes. Take a look at the top-picked products below.
Find more: How To Pick The Flip Flops for Walking Long Distances? in here
What Are The Best Shoes for HIIT Women?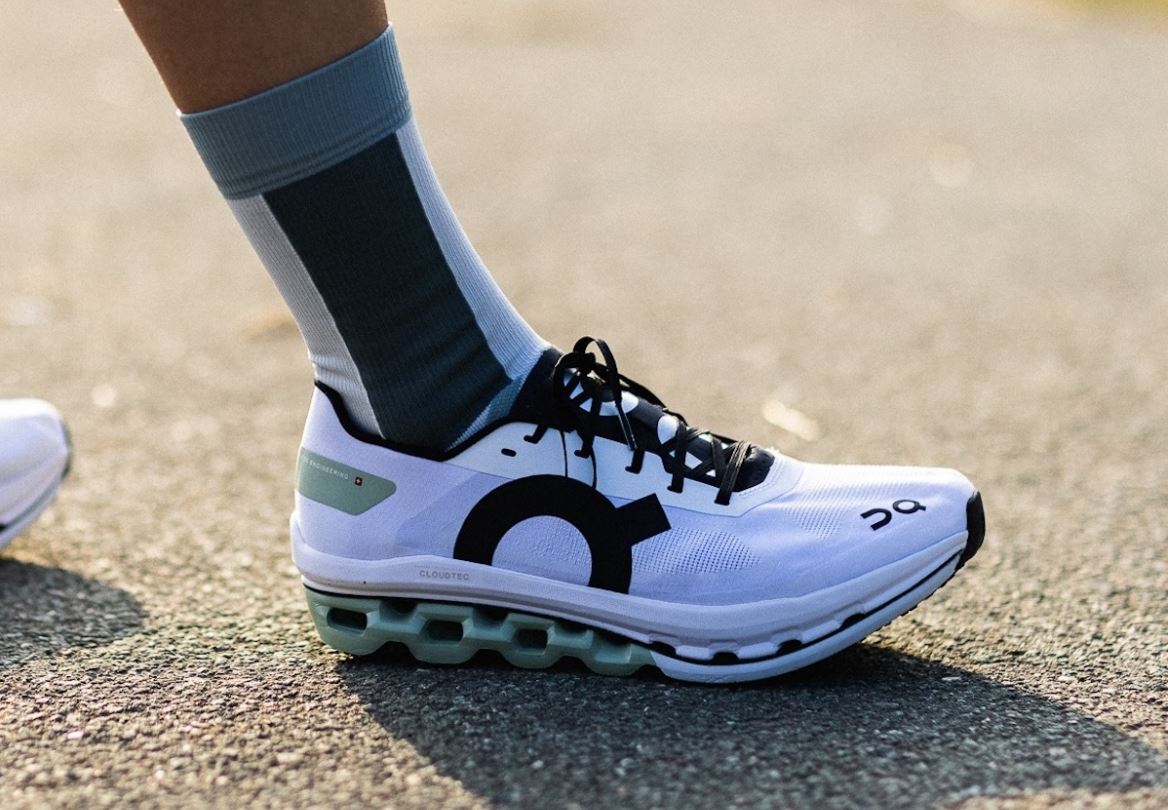 HIIT consists of high-impact exercises that get your heart rate up quickly and efficiently. Most of the workouts involve both feet being off the ground simultaneously and are also the first point of impact when you touch the ground. Therefore, the best shoes for HIIT women must provide the needed support to prevent injury and intense pressure on the foot. In other words, the shoes you choose to wear for HIIT exercises must be able to handle complex cross-training in a single HIIT session well.
Like the On Cloud X Sneakers or the Reebok HIIT Cross Trainers, for example, they have lots of cushioning under the soles that help reduce the impact on the foot by absorbing energy, reducing the risk of injury, and providing excellent energy return. It will bring performance benefits while protecting your feet from impacts. Not only that, these best shoes for HIIT women also have excellent stability, agility, flexible grips, and traction for multi-directional movements.
On the other hand, the Inov-8 F-Lite 235 V3 Sneakers or Nike Air Zoom Pegasus shoes will be the perfect choice for HIIT workouts, including box jumps, sprinting, burpees, and more. These best shoes for HIIT women feature superb shock absorption properties and energy return. Thereby they help absorb impact, reduce the force on foot, and create a pedal effect to help promote forward momentum. These shoes also have good traction for all the agile and forward, straight or lateral movements.
Besides, there are many best shoes for HIIT women on the list from many top sports shoe brands that you can check out. The list has Nike, Under Armor, Reebok, Ryka, and more shoes
View more: How To Pick The Lightweight Walking Boots in this post
Buyer Guide: How to Choose the Best Shoes for HIIT Women?
After the in-depth review, if you've chosen a product from my list to buy for yourself, that's great. But if there is still no product that makes you interested, you can still find yourself the best shoes for HIIT women in many other products on the market out there. This section will show you how to choose the best shoes for HIIT women and the factors you should keep in mind when shopping for the products.
Sufficient Support and Stability
The best shoes for HIIT women must certainly provide good support features to handle complex types of cross-training workouts. This factor is the most important that you need to consider because of the significant amount of stress put on your feet during a HIIT workout. Thus, it would help if you had the best shoes for HIIT women with support to help prevent injuries and foot or ankle pain.
Specifically, they must feature many cushions under the midsole to protect your arch from impact during exercise. Shoes with well-cushioned soles also provide good shock and energy absorption, helping to prevent severe impact on the foot that leads to injuries. In addition, the ability to return energy well also helps you exercise more effectively. Plus, shoes with good cushioning and padding also help you feel much more comfortable when you practice for hours in the shoes.
On the other hand, the best shoes for HIIT women must also ensure good stability and balance for all the high-impact exercises. Because of this, cross trainers for HIIT or heavy-cardio workouts often have a heel-to-toe drop design. It means less disparity between the height of the heel and forefoot. Shoes with a reduced toe drop, usually the drop will be up to 4mm, which will provide better stability. They keep your weight focused and stable to perform better in complex training.
Comfort/Breathability
Comfort and breathability are the next essential factors in ensuring your hours of training are as effective and enjoyable as possible. The best shoes for HIIT women should have uppers made of durable yet lightweight materials for you to perform well. They may also have additional support around the ankle for weight-based training. In addition, mesh fabric or breathable internal linings also contribute to the ventilation of the shoes, helping to keep your feet cool and not sweat your feet too much after hours of practicing in the room.
One important thing to ensure the comfort of your cross-training shoes is to find the ones with the snug fit. Look for shoes with the right size and width for your foot. Shoes too tight or too loose are not effective for HIIT workouts. Also, it would be best if you pay attention to the toe box too, as you'll need a little room in this area for your toes to move comfortably inside. Please measure your feet size and refer to the size chart of the store you buy to find the most proper shoe size for your feet.
Traction/Ground Grip
Exercises that include multidirectional sliding motions require a certain amount of traction and lateral support for you to perform the movements effectively. Therefore, running shoes designed for straight moves or forward may not be enough for HIIT workouts. You need cross trainers that provide stability, flexibility, lateral support, and a good ground grip. If your shoes can't keep you on the ground stably, you could slip and get injured.
Thus, choosing the best shoes for HIIT women with durable and flexible outsoles that provide adequate grip and traction for your training requirements would be best. You can aim for cross-training shoes with outsoles made of hard carbon rubber or rubber ones with a deep, strategic groove pattern that can deliver multidirectional traction for diverse types of workouts.
Long-Term Durability
The last but not least important factor in buying the best shoes for HIIT women is durability. The pressures and impact of highly intense HIIT exercises will cause your shoes to wear out quickly if they do not have good durability, quality materials, and firm construction. Therefore, longevity is key if you want to stick with your shoes for as long as possible and not need to replace a new pair after a period of use. You're better off investing in a quality and durable pair of HIIT shoes for long-term use.
So how do you know if a shoe is durable? The best way is to check the overall materials' strength and quality and the general construction of the shoes. The quality of the soles also greatly affects the shoe's life because the soles are the unit in direct contact with the ground when you perform the movement in the exercises. Therefore, you should also choose shoes with durable soles and sturdy construction to enhance the life of the HIIT footwear.
See more: How To Choose Shoes For Peloton Bikes in this article
Frequently Asked Questions
This section will include a few questions regarding purchasing and using the best shoes for HIIT women. You can refer to the answers for more helpful information and, at the same time, learn how to solve the typical problems related to the products.
What is the difference between running shoes and HIIT shoes?
The most significant difference between a running shoe and a HIIT shoe is the design of the soles. Running shoes are built for straight and forward motions or heel-to-toe movements. Thus, running shoes usually come with higher heel drop and supportive cushioning. Meanwhile, the best shoes for HIIT women for cross-training exercises will have to be suitable for multi-directional movements, predominantly horizontal (side-to-side) moves. Hence, they have a drop design and better sole flexibility to allow a wide range of motions.
Do shoes matter for HIIT?
You can do barefoot-style HIIT workouts. However, the best shoes for HIIT women will give you the best support and protection for your feet. They will provide more cushioning during workouts and absorb the shock and impact that movements cause to the feet, helping to relieve types of foot pain and prevent injury. Thus, wearing specialized shoes for HIIT workouts will be a better choice if you want better protection.
Can you do HIIT in running shoes?
Wearing running shoes for HIIT will limit you as they are designed for straight and forward moves. However, if your HIIT workouts consist primarily of sprinting, treadmills, or runs, running shoes with full support at this point will be a good choice. On the other hand, if you do cross-training workouts, your shoes will need good lateral support, ground grip, multidirectional traction, and flexibility.
How do I choose the right training shoes?
Refer to the video below to know how to choose the best shoes for HIIT women:
Can you use HIIT shoes for lifting?
The answer is yes. HIIT shoes also ensure that they provide the stable platform needed to safely lift weights and improve squat stability while handling the cardio elements of your workouts comfortably. If your activities include weight-based exercises, the best shoes for HIIT women will still provide the support you need.
How long do HIIT shoes last?
The lifespan of a pair of HIIT shoes will depend on use frequency, types and intensity of training sessions, as well as the quality and durability of the shoes. Usually, however, an average pair of gym shoes will last for about five to six months used for regular and intense workouts.
My Top Picks
So now we've come to the end of this review article on the best shoes for HIIT women. After reading what I have shared above, I hope that you can have for yourself the necessary and helpful information to buy the best shoes for HIIT women suitable for your training needs and preferences. In case you've landed on any of the products on my list, click the link to the Amazon website and buy them before they run out. However, if you still haven't found the right products for you, don't worry because you can use my tips and buying guide to find yourself the best shoes for HIIT women among thousands of products in the market outside.
Of all the items included in my list of best shoes for HIIT women, On Cloud X Sneakers and Reebok HIIT Cross Trainers would be my favorite choices for HIIT workouts that include complex cross-training. These shoes offer the ultimate support and protection for intense workouts, along with a great fit and comfort. In addition, the Inov-8 F-Lite 235 V3 Sneakers are pretty suitable for weight-based exercises like lifting or box jumping. Meanwhile, the Nike Air Zoom Pegasus will be ideal if your HIIT training sessions mainly consist of sprinting, long runs, or treadmills.
In short, I hope you can find yourself the best shoes for HIIT women to accompany you in all your training sessions. Ask me in the comment section below if you have any questions. Wishing you fun HIIT training experiences and achieving the expected results!