Since its founding in 2008, Hey Dude has become well-known for producing shoes that are not only comfortable and lightweight but also trendy and inexpensive. The company was founded in Italy to compete with the most successful footwear companies globally. 
Alessandro Rosano, the founder of Hey Dude, worked tirelessly to create a brand of shoes that meet his extremely high standards: they must be ultralight, comfortable, foldable for travel, machine washable, and eco-friendly.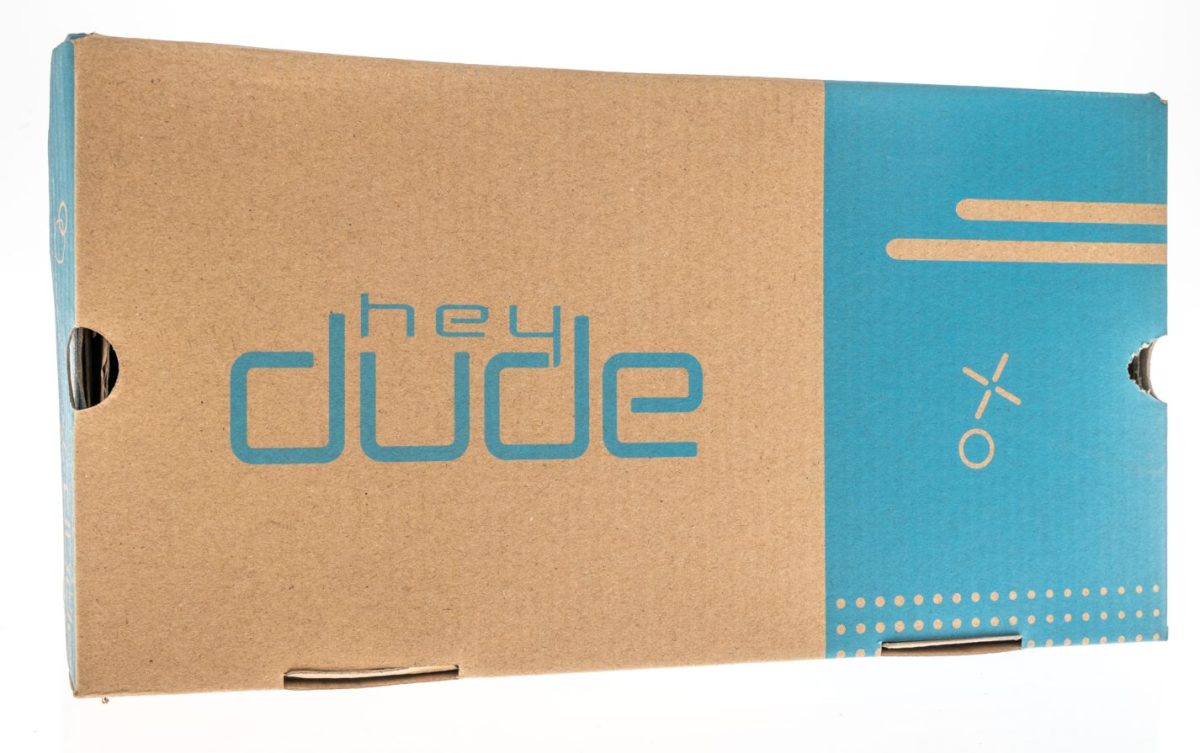 Customers simply need an essential awareness of the company's sizing method to get the most out of Hey Dude Shoes' wide assortment of footwear offered for both men and women. This article may teach you a lot about their shoe sizes and how well they fit, which will help you make informed decisions about purchasing their fashionable footwear. 
Let's find out everything there is to learn about this!
Hey Dude Shoe Size Chart For Women
The fact that they call themselves Hey Dude Shoe does not indicate that they just specialize in producing male footwear. You can choose from a large selection of women's footwear, with the best sellers being highlighted and showcased. Hey Dude Shoe sizes for ladies are typically half to one full size larger than those of other prominent shoe brands. You can, however, use the size chart that is provided below to ensure that you get the right size.
| | | |
| --- | --- | --- |
| Heel-toe measurement | US – Womens | EU – Womens |
| 8 3/8″ | W4 | 35 |
| 8 5/8″ | W5 | 36 |
| 9″ | W6 | 37 |
| 9 3/8″ | W7 | 38 |
| 9 5/8″ | W8 | 39 |
| 10″ | W9 | 40 |
| 10 3/8″ | W10 | 41 |
| 10 5/8″ | W11 | 42 |
| 11″ | W12 | 43 |
Hey Dude Shoe Size Chart For Men
You may find nice-looking shoes in various colors and patterns for guys, including white, camouflage, blue, brown, red, and gray. These are considered to be more mature color palettes for guys. Like the women's Hey Dude shoes, men's Hey Dude shoes tend to run on the large side. However, there are a few other models which they tend to run on the smaller side.
| | | |
| --- | --- | --- |
| Heel-toe measurement | US – Mens | EU – Mens |
| 9″ | M4 | 37 |
| 9 3/8″ | M5 | 38 |
| 9 5/8″ | M6 | 39 |
| 10″ | M7 | 40 |
| 10 3/8″ | M8 | 41 |
| 10 5/8″ | M9 | 42 |
| 11″ | M10 | 43 |
| 11 3/8″ | M11 | 44 |
| 11 5/8″ | M12 | 45 |
| 12″ | M13 | 46 |
| 12 3/8″ | M14 | 47 |
| 12 5/8″ | M15 | 48 |
| 13″ | M16 | 49 |
| 13 5/8″ | M17 | 50 |
Hey Dude Shoe Size Chart For Youth and Toddlers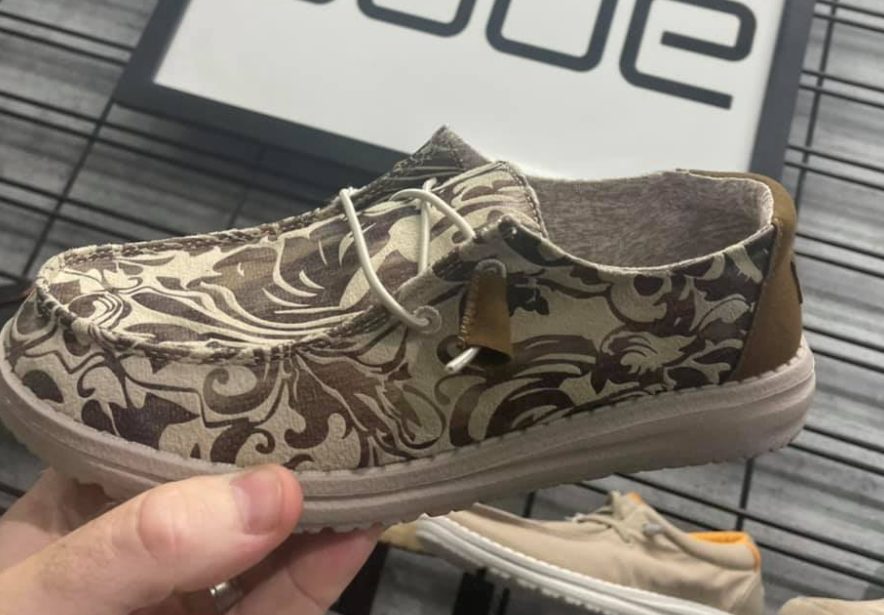 Hey dude shoe is a store where you may get your children's shoes if you've been looking to purchase them as well. Shoes are available for people of all ages. There are shoes for toddlers, girls, and boys. The "Youth Sizing" refers to the combined sizes of toddlers, small children, and big children. If you wish to purchase Hey Dude Shoes for a youngster, it is best to go with the usual size of the shoes because sizes vary significantly from model to model.
Hey Dude
Toddlers Shoe Size Chart
| | | |
| --- | --- | --- |
| Heel-toe measurement | US – Toddlers | EU – Toddlers |
| 4 7/8″ | TD5 | 22 |
| 5 1/8″ | TD6 | 23 |
| 5 1/2″ | TD7 | 24-25 |
| 5 7/8″ | TD8 | 26 |
| 6 1/8″ | TD9 | 27 |
| 6 1/2″ | TD10 | 28 |
| 6 7/8″ | TD11 | 29-30 |
Hey Dude
Youth Shoe Size Chart
| | | |
| --- | --- | --- |
| Heel-toe measurement | US – Youth | EU – Youth |
| 6 7/8″ | TD11 | 29-30 |
| 7 1/8″ | TD12 | 31 |
| 7 1/2″ | TD13 | 32 |
| 7 7/8″ | YT1 | 33-34 |
| 8 1/8″ | YT2 | 35 |
| 8 1/2″ | YT3 | 36 |
| 8 7/8″ | YT4 | 37 |
| 9 1/8″ | YT5 | 38 |
Hey Dude Shoes Pros And Cons
Pros
Cons

They come in child-friendly, women's, and men's ergonomically sound cuts.

Both the shoe material and the packaging are created using components that are obtained ethically.

They are not only comfortable but also breathable.

They also provide a payment option known as Quadpay as an alternative.

They have received favorable comments from previous clients.

Free shipping is yours to enjoy whenever you spend more than $50 on a single order.

Hey Dude footwear is adaptable and suitable for almost any informal setting.

You can wash the shoes by removing the insoles, washing them, and then letting them air dry.

There is no shipping available on an international scale.
Hey Dude Shoe Maintenance
You undoubtedly already know how fashionable and comfortable Hey Dude shoes are but did you also know that they are straightforward to clean? There are several different cleaning methods available to you if your go-to pair of shoes is starting to show some signs of wear.
Canvas
In contrast to the majority of shoemakers, Hey Dude claims that canvas shoes may be cleaned in a washing machine. If you have muddy canvas shoes, you should wait until they are dry before putting them in the washing machine to clean them. Tap the bottoms of your shoes on a wastebasket, newspaper, or another surface to remove loose dirt and debris.
After that, wipe them down with a moist towel to remove any remaining dust or dirt. After that, remove the replaceable insole (as well as the laces, if the shoe is of the lace-up variety) and place the shoe in your washing machine set to the cool wash, no-spin cycle.
It is important to note that Hey Dudes typically constructed of canvas fabric, have a hand finish cut, which creates the threads within the toe area of the shoe. Because of the delicate fabric's thread and the way the seams are sewn around the thong, this typically occurs in the first few days of use.
As a result, once the shoes have reached their final stretched-out position, this material loss will stop. The manufacturer recommends giving the shoe a mild trim to eliminate loose threads but cautions against cutting too close to the stitching so as not to compromise the shoe's structural integrity or longevity.
Sox
The stretchy fabric used to construct Hey Dude Sox styles has two layers. Because this material is designed to keep its shape while retaining the ability to bend, it enables the shoe to conform to the shape of the foot that is being worn by the person wearing the shoe.
Because they are constructed with a recycled plastic material that is long-lasting and neoprene that acts as a backing, these shoes require minimal TLC to remain in pristine condition while still serving their purpose.
When necessary, we advise cleaning your Sox Hey Dude shoes in a cold environment with a product that brings out the color in the fabric. It is important to remember to take the insoles out of the shoes before placing them in the washing machine.
How Comfortable Are Hey Dude Shoes?
Comfort is a crucial consideration when looking for new slip-on shoes. Nobody wants a pair of rigid, unwieldy slip-on casual shoes. But what about sneakers with the Hey Dude logo on them? Are you able to wear those Hey Dude shoes without any discomfort? To answer your question, yes, I did find the Hey Dude sneakers to be comfy for the following six key reasons:
Breathable
In the spring and summer, when it's warmer outside, these shoes are fantastic. The knit fabric used for the upper portion is exceptionally breathable. The insoles of Hey Dude shoes offer a pleasant level of arch support and cushioning. People with problems with arches or plantar fasciitis might benefit from wearing shoes that have been made particularly for them.
Stretchy
A wide variety of the Hey Dude shoe line is constructed with an upper made of flexible knit fabric and a liner made of stretchable cotton. Because of the stretchability of the upper material, Hey Dude shoes can easily accommodate a wide variety of foot shapes without appearing to be constricting.
It is important to note, however, that Hey Dude shoes are available in various materials and textures for the uppers. When it comes to comfort, Hey Dude shoes come in a variety of styles, but if you have a preference for a piece of stretchy fabric, you should check to make sure the design you choose has the appropriate fabric.
Flexible
The "flex and fold technique" that is used in Hey Dude shoes, along with the company's trademarked UltraLIGHT EVA outsole, results in a shoe that is flexible and pleasant for the wearer. Because of their flexibility, these shoes are pretty simple to stow away in a bag, whether it be a backpack or a suitcase. In addition to this, it ensures that the shoes won't make your feet feel unnaturally stiff as you walk.
Use Thick Comfortable Insoles
The insoles of Hey Dude shoes are made of a thick memory foam that not only helps absorb shock but also provides comfort under the foot while walking. These insoles made of memory foam are detachable, allowing you to clean or replace them whenever you see fit.
Lightweight
Additionally, Hey Dude shoes are exceptionally lightweight in construction. The traditional designs are crafted from a material that is not only light but also stretchy and feels almost exactly like one would expect a thick sock to feel against the foot.
The weight of a pair of men's size 12 Hey Dude Wally Sox Classic shoes was measured to be 0.45 pounds. I determined that each pair of Hey Dude Wendy Sox Classic shoes for ladies comes in at a weight of 0.34 pounds, with size seven being the heaviest.
Hey Dude has shoes for everyone
There is a style of Hey Dude sneakers that is perfect for you, no matter your age or gender. There are different styles of Hey Dude footwear available for men, women, and children. Sandals, boat shoes, slip-on, platform shoes, boots, and other types of footwear are all included in this assortment. And if that wasn't enough variety for you, each option is also provided in several different hues to choose from. Because you have such a wide selection to choose from, it is conceivable that you will require a separate shoe rack to store your Hey Dude shoes.
What To Look For While Buying Hey Dude Shoes?
Are you in the market for fresh kicks? It's possible that the tongue has become worn out and the sole has flattened. To assist you in determining whether or not it is worthwhile to look into the brand, I will investigate it in further detail.
Fashion that is easy on the eyes
When shopping for a new pair of Hey Dude shoes, the most significant factor to consider, in our opinion, is the shoe's style. Because there is such a large assortment to choose from, customers need to search the various possibilities with great attention to zero in on the design that most accurately reflects their individuality.
Grip
There are Hey Dude sneakers available with improved traction. This feature will be helpful to for you if you plan to wear your shoes in places with a risk of slipping, so be sure your footwear has it.
Width
There are some Hey Dude shoe models that are not offered in a wide-fitting option. If you have a wide foot, rather than going up to the next larger size, purchasing the correct size shoe in a wide fit can give you a better fit overall because the width of the shoe will better accommodate your foot.
How Well-fitted Are Hey Dude Shoes?
Let's find out how these Hey Dude shoes are supposed to fit, right?
Are Hey Dude Shoes narrow or wide?
Hey Dude Shoes strives to achieve the ideal fit for its customers, which is why its shoes are not excessively wide. When shoes tend to be overly narrow, they can frequently cause issues with the feet by restricting blood circulation. It is best to put on shoes that have sufficient space for your feet to move about in comfort.
Hey Dude availability of both wide-width and normal-width options in shoes makes it easy to choose the right fit. On the other hand, if you do not like the fit of the ready-made version, you can also have your size customized! Hey Dude Shoes is a firm that creates footwear with soles that can be altered to conform to the specific dimensions and shape of the wearer's foot. That is incredibly exciting news to get.
Should Hey Dude Shoes fit loosely?
Hey Dude Shoes are not designed to have a sloppy fit. If you had purchased the appropriate size, you would have seen that you could not move your toes freely inside the shoes. This is because Hey Dude Shoes were built specifically for physical activities such as dancing and running. During these exercises, a fit that is close to the body is recommended.
Are you considering buying a larger size to solve this problem? If you try to buy a larger size to avoid the item becoming too snug, this strategy might not work. Because Hey Dude Shoes do not come in half sizes, ordering the next size up from your exact size can result in a somewhat roomy fit. It may feel loose in the end.
Are Hey Dude Shoes available in a wide width?
There are a few of Hey Dude Shoes' styles that are available in a wide fit. Some Hey Dude Shoe models are not offered in the wide-width option. Despite this, the designs that are offered in the wide fit range are incredibly generous in terms of the amount of room that is provided for the foot. If you are concerned about the fit of the garment, rather than ordering a larger size, you can choose the wide fit instead. The clients have found that selecting this option is convenient for their needs.
FAQs
Are the sizes of the Hey Dude shoes accurate?
Because of its unique design and level of flexibility, finding the right size in your first pair of Hey Dude shoes may involve some trial and error, even though the brand recommends ordering a full size larger if you normally wear a half size. Be sure to heed any sizing advice provided in the description of a specific style to ensure the best fit.
Are socks worn with Hey Dude Shoes?
Hey Dude Shoes are made to be worn with or without socks, so you may wear them whether you choose to be barefoot or not. I find it very ingenious that every pair of sneakers comes equipped with an elastic band at the heel; this band prevents blisters on the heels and provides support when you're walking. The manufacturer claims that a number of consumers have elected to wear only their sneakers on their own.
Are Hey Dude Shoes produced in America?
The Hey Dude shoe website states that the shoes are manufactured in both China and Indonesia. The fact that the company "ensures equal opportunity and fair remuneration for their employees" is a cause for celebration, as the brand makes it clear on its website that they support fair labor standards.
Where can you buy Hey Dude Shoes?
You can get your Hey Dude shoes either straight from the company's website or through one of the many other reputable internet merchants.
Hey dude shoe

Nordstrom

Amazon

Walmart
Are Hey Dude Shoes healthy for your feet?
Yep! The arch support & plantar fasciitis treatment given by Hey Dude Shoes are created precisely to fulfill the needs of individuals who suffer from either ailment. According to what I've read, this is because of its Flex & Fold technology, which plays a crucial role in cushioning the heel and the sole when there is an impact. Memory foam insoles are also included in each pair of their shoes for maximum coziness.