Working as a plumber frequently entails working in wet, muddy, and slippery environments, or on a building site that is littered with construction materials, dirt, and debris from the building works. Furthermore, plumbers usually work with large tools and plumbing goods that can cause them to slip and fall. 
These considerations influence the type of work boots that are best suited for plumbers. So, I have chosen my top picks for the best work boots for plumbers.
Buying Guide: How To Choose The Right Work Boots for Plumbers?
There are several characteristics that differentiate premium or the best work boots for plumbers. And here are some of the most crucial things you should bear in mind if you have the intention of buying a pair. 
Comfortable Features
The best work boots for plumbers should have great comfort features because they stand for long periods of time on the job without taking their boots off. When shopping for this type of work boots, one of the most crucial elements is comfort.
To be comfy and relaxed to wear all day long, these boots should fit the size and natural shape of your feet, are equipped with padded collars (and tongue if any), and well-cushioned footbeds or insoles to remove strain and pressure. This design will help you avoid foot fatigue and aches when going home after a long work shift. You should also consider its flexibility because you will be in unusual standing upright positions at times.
Durability Features
As you might know, a plumbing job will require you to walk a lot across hard terrains and be subjected to dirt, water, mud, and other dirty liquids, which will cause your work boots to wear out and even tear much faster than usual. You certainly do not want to have to change your work boots on a regular basis, so you must invest in high-quality, long-lasting work boots.
When looking for the best work boots for plumbers, look for long-lasting materials and durable shoe construction methods, such as full-grain leather, Goodyear welt construction. Trustable boot manufacturer is also a good sign showing that your work boots are carefully made for long-lasting durability.
Dirt-Resistant And Slip-Resistant Outsoles
Another factor for the best work boots for plumbers is dirt-resistant soles. Ultimately, you wouldn't want your work boots to accumulate dirt, mud, and other debris, forcing you to take off your boots or observe your moves for dirt too often. What's more, the outsole s should be anti-slip because you will be working in muddy and wet conditions on a regular basis.
You should give heed to the surface friction of the outsole as well because non-slip outsoles with a great grip will keep you safe on the job. Also, bio-pollutants are available in plumbing jobs, and sliding or falling would put you in a possibility of exposure to bacteria which nobody wants.
Safety Toe Caps
Working with plumbing equipment and managing large loads and/or equipment tends to put your toes in hazard because an object could fall on them. Safety toe caps will protect your feet from being crushed by an incident that occurred.
There are different types of safety toe caps. But in general, work boots with steel toe caps, composite toe caps, and aluminum toe caps, are all excellent for plumbing jobs. Among these types, steel toe caps are considered the industry standard. A thinner layer of defensive aluminum is used to make aluminum toe caps to ensure lightweight. Despite being more lightweight in weight, aluminum toe work boots still meet industry safety standards.
Finally, toe caps can also be made of plastic, carbon fiber, or Kevlar are frequently quite large and look bulky.  Work boots with composite toe caps are an excellent pick if your working surroundings are metal-free because they don't include metal.
Waterproofing and Breathability
In a plumbing job, as many might know, you will be working in filthy conditions that are either sticky, damp, or wet. So, to keep your feet all-day dry and warm, pick a pair of plumber work boots that are both air-permeable and waterproof. Check to see if the lining materials are moisture-wicking or not. Generally speaking, mesh lining will ensure good ventilation for a dry environment inside. 
For waterproofing, you can look for full-grain leather uppers. Some pairs of work boots are also designed with a waterproof membrane, which is also excellent for avoiding water penetration.
See more: How To Choose Work Boots for Mechanics in here
Advantages Of Work Boots For Plumbers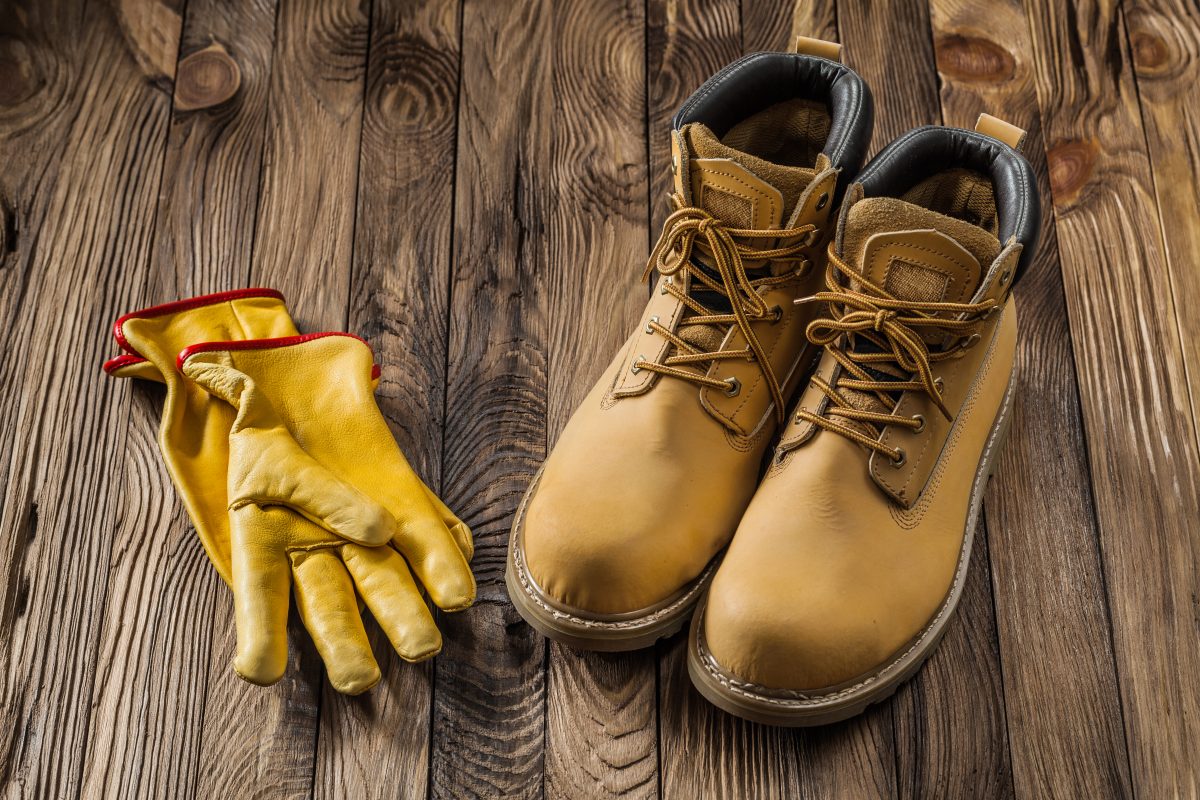 Below are some benefits when wearing the best work boots for plumbers.
Ultimate Protection
The best work boots for plumbers will protect your feet from injury risks, particularly if you'll be working in slick, wet conditions and with heavy loads. In addition to your feet, high-traction work boots will also keep you safe from potential slips, trips, and falls due to slick surfaces.
Alleviated Fatigue
Standing or walking all day long and being in unusual postures are part of the plumbing job, which causes various parts of your body to fatigue. In this case, the best work boots for plumbers with unmatched arch support and terrific cushioning will provide optimum comfort and reduce muscle strain.
Keeping Your Feet Dry And Warm
Plumbing entails being exposed to a lot of liquid and, at times, chemicals. So, a pair of high-quality work boots for plumbers are frequently waterproof (or at least water-resistant), allowing you to complete your tasks without having to worry about obtaining water and making your feet wet. As a result, your feet will also be warm as they are not getting cold due to water penetration.
Find more: How To Pick The Shoes for Overweight People in this post
Frequently Asked Questions
There are some frequently asked questions about the best work boots for plumbers that I want to give answers to. Let's see what those queries are.
What are plumbers' work boots typically made of?
Work boots for plumbers are typically made of leather, which is not only enduring but also soft. For the interior materials, it is usually crafted of moisture-wicking mesh lining for ultimate ventilation. 
Is arch support required in work boots for plumbers?
Not essentially, but arch support improves the comfort of plumbers' work boots by relieving foot pain.