Your feet are far more sensitive than you may believe, and even the cheap shoes you buy can leave an uncomfortable imprint on your feet after you take them off. If you're constantly breaking in new shoes or tired of spending to get a comfortable pair, change your go-to shoe shopping experience by investing in Skechers memory foam footwear.
So, are Skechers memory foam shoes good for walking? This post will provide some information about the benefits of wearing these comfortable shoes and what the shoes are made out of and will allow you to decide if it's worth your time to try a pair for yourself.
What is Memory Foam in Shoes?
Memory foam is made from polyurethane and is a form-fitting material that can be molded into any shape. When placed under pressure, memory foams conform to the shape of your foot and provide comfort by absorbing shocks. Memory foam shoes are typically made up of a polyurethane layer suspended between two polyester or nylon layers. The polyester acts as a support layer, and the nylon allows air to pass through the shoe to help keep your feet cool.
Type of Memory Foam
The memory foam used in Skechers memory foam shoes is made of an exclusive mix of polyurethane engineered to provide the same benefits as traditional foam. This exclusive material mimics the properties of plant-based materials like milkweed, which is commonly found in nature.
Since this type of memory foam technology was originally developed for use in sleeping mats, it holds up to the same performance criteria even when worn next to bare skin. This means you won't have to worry about the shoes being too hot and sweaty, even in warm weather.
To ensure a customized fit, memory foam used in Skechers footwear products is available in three different densities — standard, medium, and firm. By adjusting the density of the product you buy to suit your preferences, you can enjoy custom-made comfort that is sure to be different from anything else you've worn before.
The Skechers memory foam footwear was designed to provide comfort to people who do a lot of walking each day, especially anyone who spends a lot of time on their feet at work. The memory foam in the shoes acts as an additional cushioning layer that can help reduce shocks and impact when you're walking around. This makes them ideal for anyone who stands or walks a lot during the day, including even people who are on their feet all day at work.
Uses of Skechers Memory Foam Shoes
Good for Walking
Skechers Memory foam shoes are great for walking. Memory foam shoes are the perfect footwear choice for people with foot conditions such as plantar fasciitis and arch pain because they provide extra cushioning and support.
Memory foam is engineered to absorb impact from your feet to reduce fatigue and stiffness. This means that you'll have more control over your movements when walking on memory foam footwear than in regular sneakers or other shoes.
If your feet are bothering you in any way that makes walking difficult for you, we highly recommend that you try memory foam shoes before making an irrevocable decision.
Good for Flat Feet
If you have severely flat feet or have any other foot issues that commonly cause discomfort, Skechers memory foam shoes are the perfect shoe choice. Memory foam footwear can be quite beneficial for people who suffer from issues with their feet and have difficulty walking. Memory foam is designed to provide comfort and support to your feet so that you don't have to worry about soreness after a long day of walking or standing on them.
If you have a painful foot condition, you'll want to keep away from memory foam and consider other types of footwear designed for foot problems.
Unsuitable for Your Back
Skechers Memory foam shoes are not good choices for people with back issues. This is because the shoes do not provide the same support to your feet as regular footwear does. Because of this, memory foam shoes may cause back issues to worsen.
People with back problems worsened by memory foam footwear should avoid purchasing any type of memory foam shoe and look for something that will offer the support your feet need without causing you pain or injury.
Good for Plantar Fasciitis
Plantar fasciitis is a painful ailment caused by misuse of the foot and/or inflammation in the connective tissues at the bottom of the foot. Because memory foam shoes are designed to provide additional cushioning and support, they may be a good choice for people with this condition since they will not provide the same amount of shock absorption as normal footwear. This is because memory foam is engineered to absorb the impact from your foot rather than transferring it further into the soles of your feet.
Skechers Memory foam is the perfect choice for people who suffer from arch pain. Arch pain is commonly caused by overuse and can be very uncomfortable when standing or walking. The additional cushioning of memory foam shoes is a perfect way to help relieve this pain, which means that people with plantar fasciitis will also benefit from wearing memory foam shoes.
Skechers Memory foam is not the ideal choice for people who have other foot issues. If you have any other foot pains, such as achy feet and soreness that occurs while standing or walking, you'll want to keep away from memory foam and choose a shoe designed to offer customized comfort to your exact needs.
Rare Cause Knee Pain
Skechers Memory foam shoes can cause knee pain in some situations, but these instances are rare. If you are someone whose knee problems are worsened by knee joints that stay bent or flexed for long periods, it is best for you to avoid memory foam shoes at all costs.
Memory foam is designed to keep your knees bent throughout the day so that you don't have to adjust them very often. This can cause knee pain and discomfort in people who have difficulty bending their knees and need to keep them straight for long periods.
If you are someone who has knee problems, we recommend that you avoid memory foam shoe shoes.
Skechers Memory Foam Shoes are Supportive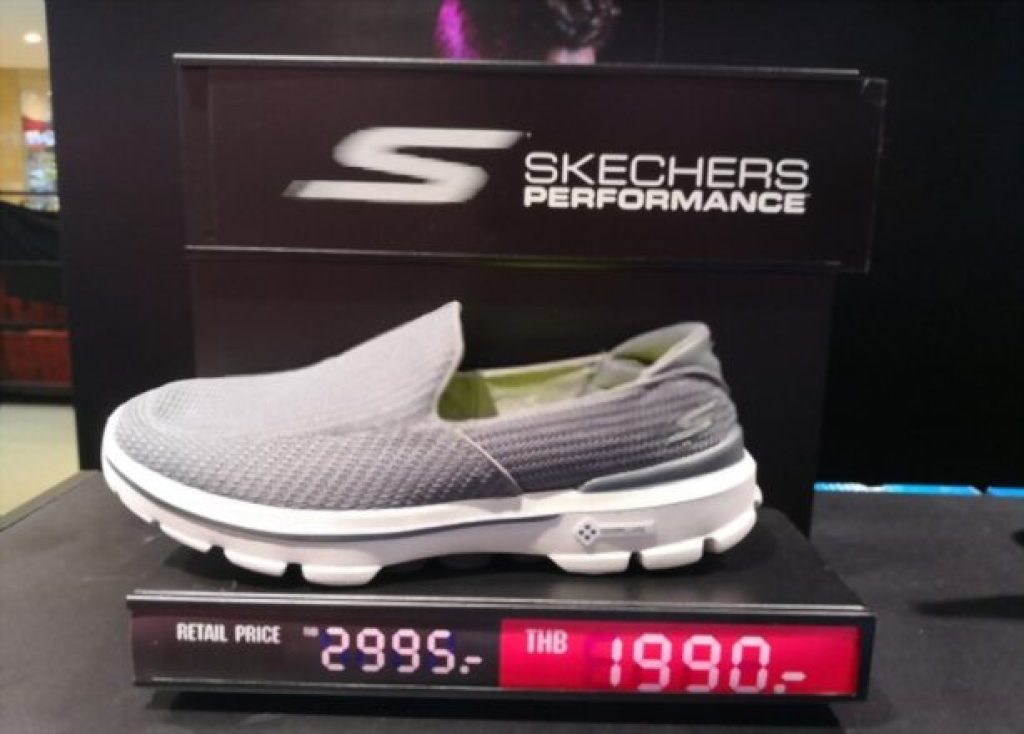 Skechers Memory foam shoes are supportive footwear that can be beneficial for most people. If you have problems with your feet, memory foam shoes can offer you extra cushioning and support to provide the stability that you need.
Memory foam is designed to absorb impact. This means that it will also absorb any pressure from your feet, which is beneficial because it will not be transferred further into your feet, legs, or knees.
Memory foam is not designed to support the joints in your feet, though. This means that you may experience soreness and discomfort if you walk, stand or run on memory foam footwear for too long without changing shoes or walking around with foot pain.
If you're a runner and are looking for a shoe that will reduce fatigue during runs, consider using memory foam footwear.
Not Good for Running
Even though memory foam shoes provide additional support for your feet when walking or standing, their cushioning does not make them the ideal shoe choice for running. If you're a runner and want to keep your feet as comfortable as possible, we recommend that you stay away from memory foam shoes at all costs. Memory foam shoes are specifically designed to offer the same level of protection from impact and shock that they do while walking. The shoes are specifically designed to take the stress off your feet while you're standing.
The issue comes up with running when you have to do an action that requires quick movement and a lot of force. Because of their shock-absorbent properties, memory foam shoes have a delayed response time, which means you'll have difficulty adjusting to sudden shifts and movements during your run. This can cause you to slip, trip or lose your footing, leading to serious injury if proper precautions aren't taken.
So Are Skechers Memory Foam Shoes Good Or Bad For You?
We think that Skechers memory foam shoes are perfect for people who are trying to avoid injury while using their feet and people who have foot problems and would like to find footwear that will provide custom comfort. However, we do not recommend memory foam footwear for runners or anyone who wants to keep their feet comfortable during intense physical activity.
Memory foam does offer some benefits to your feet, but this should be weighed against the potential risks of injuries and pain that can occur from wearing memory foam. If you are unsure whether or not memory foam shoes are right for you, we recommend consulting a doctor or a certified foot specialist before purchasing.
Why Do Memory Foam Shoes Smell?
Memory foam shoes do not have a strong odor or unpleasant odor because they are made of different materials and are designed to have a mild scent. In fact, memory foams have natural plant-based ingredients that give them subtle scents like lemon and minty fresh.
The scent from memory foam shoes is not overpowering, and the smell fades away after use. If you're seeking for a comfortable shoe, look no further that won't leave you with a lingering odor or make your feet stink, memory foam shoes can be the perfect solution.
5 Best Skechers Memory Foam Shoes for Walking
1. Skechers Go Walk 5
The Skechers Go Walk 5 is the perfect example of a great memory foam shoe for walking and other daily activities. A memory foam insole is included in these shoe that helps to absorb the impact and pressure felt by your feet while you're walking or even standing. The Go Walk 5 also features an elastic V-Strap that ensures that your heel will be kept stable, reducing sliding or shifting throughout the day. This is a fantastic feature for people who are constantly on their feet.
2. Skechers Men's After Burn
These Skechers After Burn shoes are another great choice for people who want reduced foot pain while wearing memory foam. This shoe features a memory foam insole designed to reduce shock and impact felt by your feet. The soft, cushioned outsole also makes the AfterBurn a fantastic option for people who have overpronation or plantar fasciitis.
3. Skechers Women's Breathe Easy
The Skechers Breathe Easy memory foam shoes are fabulous for women with foot problems. This shoe's insole is comprised of memory foam that helps to reduce pressure against the foot and relieve pain caused by overpronation or plantar fasciitis. The foam shape remains the same throughout the entire sole, ensuring that you'll get an even response when walking or standing.
4. Skechers Women's Go Walk Performance
The Skechers Women's Go Walk Performance is a great choice if you're looking for a comfortable and supportive shoe. This slipper features an easy slip-on design that is easy to put on, ideal for those with foot problems or arthritis. The memory foam insole absorbs shock while keeping your feet comfortable. This shoe is also available in multiple sizes, ensuring that everyone will be able to find their appropriate fit.
5. Skechers Men's Synergy Power Switch
If you're looking for a perfect shoe for both men and women, the Skechers Synergy Power Switch is a great choice. This memory foam shoe features an outstanding shock-absorbing insole that will help to reduce fatigue and discomfort felt by your feet, legs, and back. This shoe also comes with an extra traction outsole designed to ensure that your footing is secure.
FAQs
Is it necessary for me to wear socks with these shoes?
We recommend wearing socks with these shoes, especially if you have foot problems or are just trying to moisturize your feet. The memory foam material is not meant to be barefoot and can lead to blisters, sore feet, and other skin issues if left unprotected.
Can I wear memory foam sneakers if I have flat feet?
The great thing about memory foam footwear is that you'll be able to adjust the fit of your shoe by using a memory foam insole. This means that you can remove the existing insole from your shoe and replace it with a new one, which will allow you to add extra padding around your feet.
Why do these shoes cause my feet to hurt?
While memory foam shoes feature many fantastic advantages, they will not be the right choice for everyone. If your shoes are causing you to have severe pain, we recommend that you look at the size of your shoes. If they're too large, you'll be able to use a memory foam insole to help decrease the amount of pressure and impact felt by your feet. If they're too small, you may experience discomfort and pain because your foot will not be able to adapt to the shape of the shoe.
What is the best memory foam shoe for diabetes?
The best memory foam shoe for diabetes is made from a breathable and lightweight material. You also need to make sure that the insole has enough cushioning and padding to reduce pain while walking and support your feet while you're standing. Shoes too heavy can lead to strain and a lower arch, which will not be supportive enough to help keep your feet healthy.